Other Links
Editorial Board
Editor - Bill Kenny

Deputy Editor - Bob Briggs

Founder - Len Mullenger
Google Site Search
SEEN AND HEARD INTERNATIONAL OPERA REVIEW
R. Strauss, Die Schweigsame Frau:
Soloists, Real Orquesta Sinfónica de Sevilla. Conductor,Pedro HalfterTeatro de la Maestranza de Sevilla. 5.10.2009 (JMI)
Production from Wiener Staatsoper and Dresden's Semperoper.
Director: Marco Arturo Marelli.
Sets and Lighting: Marco Arturo Marelli.
Costumes: Dagmar Niefind.

Cast:

Aminta: Julia Bauer.
Sir Morosus: Franz Hawlata.
Henry Morosus: Bernhard Berchtold.
Barber: Klaus Kuttler.
Isotta: Elena de la Merced.
Carlotta: Karolina Gumos.
Vanuzzi: Felipe Bou.
Morbio: Alfredo García.
Farfallo: Pavel Kudinov.
Housekeeper: Barbara Bornemann.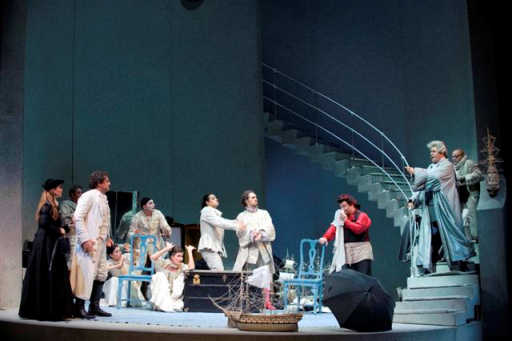 Seville chooses a German opera again to open its opera season, something of a tradition since Pedro Halffter took charge of the musical and artistic direction of the Maestranza theatre. In 2005 he opened with Salome, in 2006 it was Der Ferne Klang, in 2007 Wagner's Dutchman, and last year the choice fell to Busoni's Doktor Faust. This emphasis in Seville's repertoire highlights several things. Firstly, there's an eagerness to innovate, which is more than welcome from the any opera lover's point of view and secondly, it allows Pedro Halffter to choose programmes with which he feels most comfortable in the pit. Personally I find his choices quite interesting, although I am not convinced that his tastes are shared by too many of Seville's opera -goers.

Die Schweigsame Frau – the Silent Woman - has never been performed in Spain before and this first outing was rather uneven. The production was quite brilliant, although there are not too many around to choose from, and there was good enough musical direction, although with slight disappointments here and there but the cast had too many shadows.

Thisis one of the least performed operas within the Richard Strauss catalogue. Ever since I first saw it, I have considered the opera a most interesting work, truly Straussian, with a breathless mixture of lively and melancholic music. For readers who do not know it, it is rather like a Straussian Don Pasquale and I recommend it heartily to anyone with the chance of seeing it: it's unmissable and most enjoyable.

The production, give for the first time in 1996 in Dresden where the opera was premiered in 1934, suffered the consequences of the river Elbe's famous flood. It is directed by Marco Arturo Marelli and is a quite original and very attractive setting. Although unusual these days, this is not a minimalist production: on the contrary it has real sets, atrezzo and is full of life on stage. Marelli is also responsible for sets and he follows what the libretto says exactly showing Sir Morosus' home, with a room where there are staircases right and left. Some model sailing boat models remind us that the owner is a retired admiral and the very colourful costumes are a good complement to the design. Marelli's stage direction is also quite remarkable, with excellent handling of the "opera company" troupe, particularly in the episodes dealing with the selection of the bride, the wedding ceremony and the resulting divorce case. It's a excellent production which the audience clearly enjoyed.

Pedro Halffter's musical direction was rather irregular at some points of the score. From my point of view his reading was very good in the most lyric and melancholic passages. However, in the pure buffo moments, especially in Act I and at Sir Morosus's wedding, his baton lacked some grace and lightness. Although he descent sound from his orchestra, which is one of the very best for opera in Spain, I had the feeling that he would have been more in his element with other Strauss's other Frau.

When this production travelled to Vienna, Aminta (Norina in the German version) was Natalie Dessay, which says clearly what is needed for this character. Here in Seville, the young German soprano Julia Bauer sang the role and in my opinion she was not quite right for it. She is a light soprano (that's OK), with smallish volume, much too little in the lower range and even not too bright on the top notes. She is more Barbarina than Susanna, for example.

Sir Morosus (the German Don Pasquale) the key protagonist of the opera, demands a true bass with a resonant voice, besides being both a great comic and tragic actor. Franz Hawlata is not a true bass to begin with. Any major bass role that I have heard him sing has been something of a disappointment, compared to occasions when the same role was sung by darker voices. This happened in Rusalka, Der Rosenkavalier and Die Meistersinger and the same thing this time with Sir Morosus. His voice was not large enough, was almost inaudible at the lower extremes (a serious problem in this opera) and the top lacked much colour. It was difficult not to remember Kurt Rydl, even when not at his best, afterwards.

The best suited among all the singers was the Austrian baritone Klaus Kuttler, a good actor and singer, who offered a lively Barber (a reincarnation of Malatesta). His lyrical and well projected voice went very well with h the character.

Henry Morosus (or the German Ernesto) is an important role that has much to sing, especially the duet that ends Act II. The Austrian tenor Bernhard Berchtold seemed hardly more that an operetta singer and that was not enough here. In the secondary roles we had Felipe Bou as Vanuzzi, who was decent, though wither rather lightweight lower notes. Both Elena de la Merced (Isotta) and Karolina Gumos (Carlotta) were also good in their characters. The other two members of the "Vanuzzi Opera Company" were baritone Alfredo Garcia (Morbio) and Russian bass Pavel Kudinov (Farfallo), who fulfilled their tasks competently. Barbara Bornemann was mostly inaudible as the Housekeeper.

Unusually, the Maestranza theatre had some empty seats but there was a very warm reception for the artists, particularly for Julia Bauer and Pedro Halffter. The real success of the evening though went to the only person who couldn't take a bow. Bravo, Maestro Richard Strauss!

José M Irurzun

Picture © Guillermo Mendo