Other Links
Editorial Board
Editor - Bill Kenny

Deputy Editor - Bob Briggs

Founder - Len Mullenger
Google Site Search
SEEN AND HEARD INTERNATIONAL OPERA REVIEW
Verdi, Rigoletto:
Soloists, Orchestra e Coro del Maggio Musicale Florentino.Conductor: Stefano Ranzani.Teatro Comunale di Firenze. 10.10.2009 (JMI)
New Production.
Director: Franco Ripa di Meana.
Sets: Edoardo Sanchi.
Costumes: Silvia Aymonino.
Lighting: Guido Levi.
Cast:
Rigoletto: Alberto Gazale.
Gilda: Desirée Rancatore.
Duca di Mantova: James Valenti.
Sparafucile: Konstantin Gorny.
Maddalena: Chiara Fracasso.
Monterone: Armando Caforio.
Giovanna: Giorgia Bertagni.
Marullo: Roberto Accurso.
Borsa: Luca Casalin.
Conte Ceprano: Andrea Cortese.
Contessa: Ceprano Miriam Artiaco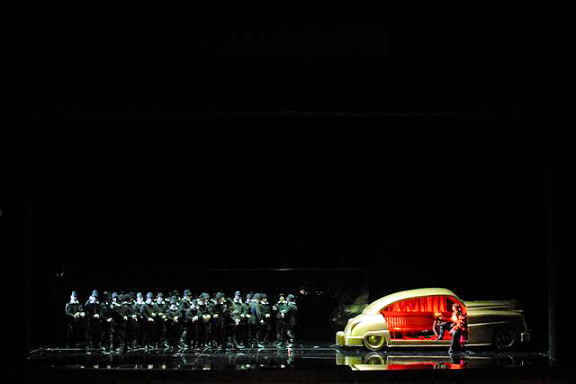 The third title in Florence's
Recondita Armonia 2009
was a new
Rigoletto
, produced once again by Franco Ripa di Meana and his team. Perhaps this is the most elaborate work of the three offered, but it is not wholly convincing. The sets were more modern and figurative, costumes were clearly more suited to "Le Roi s'amuse" although there is some good lighting, within a mostly dark production. The stage has a big and thick panel, rather a wall, which is moved around to facilitate the development of the action. Together with the panel we have a luxurious golden car, which provides the place for the Duke's orgiastic activities. What sense does a car at make at the Mantua court? Well, for Ripa di Meana it presumably represents power and lust and perhaps he has personal reasons for choosing it. Rigoletto's house is a kind of palafitte - a house on stilts - on the river and Sparafucile's is a beached boat, rather like that in
Il Tabarro
. The prelude is played as the naked Monterone's daughter goes from hand to hand, ending up finally in the Duke's car. Other interesting touches include Rigoletto with a false leg.
The Quartet "Bella figlia dell'amore" was not too credible, with the Duke and Maddalena Sparafucile's boat and Gilda and Rigoletto on the ground below. Sparafucile's room which he offers to the Duke at "tuona, e piovera fra poco" was, on top of the boat bridge, where the Duke sleeps "all'aria aperta." In short, an elaborate production that did not convince, at least for me. As on previous occasions, the direction of the chorus and extras was quite poor too.
Milan born Stefano Ranzani was in charge of the musical direction and his performance was not exactly sparkling. In general, there was too much volumed, which didn't help the singers at key and there were also clear problems with the chorus in the first Act. Tempi were somewhat erratic and the Orchestra was not at the same level of the previous days although the chorus did improve after a worrying start.
Rigoletto was the Italian baritone Alberto Gazale, who has without doubt, one of the best voices around today. While I have never found too convincing in the past as a singer, I was impressed by his Boccanegra at Barcelona's Liceu last year. His Rigoletto had two different strands to it. The first half, up to the middle of the aria "Cortigiani" was rather disappointing, meaning that he had more voice than artistry. However, from then onwards until the end of the opera, he was very much improved, continuing to show off his beautiful voice, but also singing with intention and conviction that I was not expecting from him: an agreeable and very pleasant surprise.
Sicilian soprano Desirée Rancatore was Gilda again and did exactly what I had expected from her; she was an excellent choice for the first half of the opera – Caro nome included - and rather poorer for the last two acts. Gilda needs a more dramatic voice than hers for this second these. I wasn't keen either, on her decision to come out to the stage to thank the applause of the audience after "Caro Nome".
The greatest disappointment was the Duca di Mantova sung by American tenor James Valenti. Many will forgive him anything, because of his figure and his bared torso are certainly spectacular and apart from that, he is a light-lyric tenor with a pleasant and homogenous voice, although rather lacking volume. His singing though seemed to me to lack expressiveness and his technique is reveals some problems with breathe control, particularly in the aria "Parmi veder". He sang alll the high notes, although some were almost inaudible and quite short, both in the duet with Gilda and the cabaletta "Possente amor." La "Donna è mobile" was not especially bright and he finished with a tight and very short high B. At the final "e di pensier" from the top of the boat, he delivered his high B with what sounded like pure falsetto. A big disappointment.
The Sparafucile was Konstantin Gorny, a good actor a with a not too pleasing voice. Chiara Fracasso was the dark and sonorous contralto, that Madalena should always be. Unfortunately she was not helped by the production.
The theatre was full including numerous couples with young children (many below 12 years) proving how Italians remain so identified with this music.
Rigoletto
in Italy, with a few exceptions apart, is always a success and, of course, La Vendetta always has to be encored. At the final bows Alberto Gazale gained a triumph and and so (almost) did Desirée Rancatore. The response to the rest of the team didn't go much beyond politeness, except for Maestro Ranzani, who was very warmly received.
The performance began with a silent homage to the victims of the Messina earthquake.
José M Irurzun
Picture © Teatro Comunale di Firenze