Other Links
Editorial Board
Editor - Bill Kenny

Founder - Len Mullenger
Google Site Search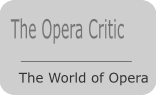 SEEN AND HEARD INTERNATIONAL OPERA REVIEW

Bellini, Norma: Vancouver Opera, soloists, cond. Richard Bonynge, dir. Tazewell Thompson, scenic and costume designer John Conklin, lighting designer Alan Brodie, chorus director Leslie Dala, Queen Elizabeth Theatre, Vancouver, British Columbia, 5.12.2009 (BJ)

Norma as a whole–both the opera itself, and this production of it–adds up to more than the sum of its parts.

Operatic plots are by no means always as silly as they are given discredit for, but this one is just about the silliest of them all. Stuffed full of unlikely emotional volte-faces, the story lacks any kind of verisimilitude in its details–but at its heart the friendship of Norma and Adalgisa, bumpy yet enduring, carries warm human conviction. Musically, along with the famous show-stopping aria Casta diva, the piece veers between duets and trios of characteristic Bellini-esque grace and, in the first act, far too much reliance on a march tune of stupefying banality. In both spheres, Vancouver Opera's presentation did justice to all these extremes, even if it never quite succeeded in reconciling them.

Tazewell Thompson's production allowed us to listen to the overture without the distraction of a premature raising of the curtain. Playing the whole work on one set (borrowed from Cincinnati Opera) added to the unlikeliness of certain plot elements, and the gestural vocabulary in general was conventional, but the blocking was clear and effective, especially in regard to the marshaling of choral groups. Leslie Dala's chorus, otherwise a shade unimpressive, created a glorious effect in the sudden radiant hush that takes over at one point in the first act. Richard Bonynge, returning to Vancouver Opera after a 32-year gap, kept musical matters competently together, though I have heard the orchestra sound more beguiling under the baton of the company's music director, Jonathan Darlington.

Among the lead roles, the best singing came from Kate Aldrich as a most attractive Adalgisa and from Alain Coulombe's sonorous Oroveso. Barbara Towell and John Arsenault were good as Clotilde and Flavio. Richard Margison will think this no compliment, but I think he carried more conviction, in last season's Seattle Opera Elektra, as the loathsome Aegisth than now as the merely contemptible Pollione (and thus in German rather than in his unidiomatic-sounding Italian). Attacking some of Bellini's stratospheric high notes with commendable fearlessness, he emerged somewhat the loser, and he seemed much more comfortable in the lower range, which was finely projected and often eloquently phrased.

But Norma, in the last or any plausible analysis, depends on Norma. And in this role Hasmik Papian's performance mirrored the entire production in ranging from excellent to much less so. Her voice, which has an appealing mezzo-ish quality one rarely encounters in such roles, is well produced. There were patches, including a long one at the start of Act 1 Scene 2, of genuinely beautiful singing. But even here, as happened several times over the course of the evening, with Adalgisa's entry Papian seemed to lose vocal focus. And the physical portrayal of desperation does not fall easily within her powers: even while she was singing so well in this scene, her demeanor as she oscillated between murderous and remorseful impulses toward her children was suggestive not so much of a life-and-death inner struggle as of someone vacillating over what to cook for her husband's dinner.

My last complaint is directed at Stuart Tarbuck, whose supertitles perpetrated a couple of grammatical howlers, including "the voice of she who . . ."–a solecism no less objectionable for being, these days, sadly common. Yet, despite my various negatives, Bellini's fitful but compelling magic worked its spell, and I left the theater much moved and musically more than a little satisfied.

Bernard Jacobson