Other Links
Editorial Board
Editor - Bill Kenny

Deputy Editor - Bob Briggs
Founder - Len Mullenger
Google Site Search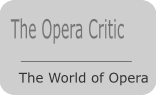 SEEN AND HEARD INTERNATIONAL OPERA REVIEW
Wagner, Lohengrin: Bavarian State Opera, Kent Nagano, National Theater, Munich 08.07.2009 (JFL)


Production Team
:
Conductor
Kent Nagano
Production
Richard Jones
Set
&
Costumes
"Ultz"
Lighting
Mimi Jordan Sherin
Choreography
Lucy Burge
Chorus
Andrés Máspero
Video
Silke Hozach
Cast:
King Heinrich
Christof Fischesser
Lohengrin
Jonas Kaufmann
Elsa von Brabant
Anja Harteros
Telramund
Wolfgang Koch
Ortrud
Michaela Schuster
Herald
Evgeny Nikitin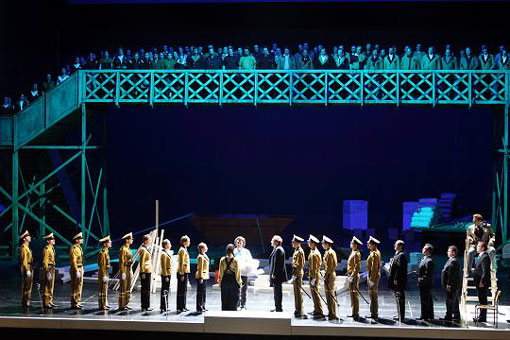 A. Harteros (Elsa), J. Kaufmann (Lohengrin), C. Fischesser (Heinrich), W. Koch (Telramund), F. Petrozzi, K. Roberson, I. Bakan (Vier Brabantische Edle), E. Nikitin (Heerrufer), Chor der Bayerischen Staatsoper
A wonderful bad production. Richard Jones' Lohengrin at the Munich Opera Festival forcefully makes the point that it's possible to warm even to a bad idea. The bad idea? Overusing the building of a house as a — far too simplistic — metaphor for the opera's admittedly odd story. Worse: Jones mocks his own direction through strained ironic distance, lest anyone accuse him of taking Lohengrin seriously. Lohengrin's duel with Telramund is a cartoonish cutlass-ballet that makes Errol Flynn's such seaborne adventures look of positively Olympian restraint. And while Ortrud using Telramund's gun to kill herself is an inspired touch, having the entire Brabantian chorus off themselves in identical fashion makes an extraneous point — perhaps about losing freedom and fearing the new, old, totalitarian order under Führer Gottfried — that contradicts, not enhances, what the text and music tells us. Scenes to which closing your eyes won't do; eliciting, if perhaps not demanding, the audience's juicy boos after the first and third act.


For the many who gained nothing from Jones' overarching idea, there were the singers to enjoy, their acting, and the direction's superb craftsmanship. When has there last been a cast so good, young, and homogenous for a production of Lohengrin? From Christof Fischesser's virile king to Evgeny Nikitin's sung (not belted!) Herald, to Michaela Schuster's curiously seductive, finely frayed Ortrud, and Wolfgang Koch who makes a believable, euphonious Telramund, it was the even excellence of the singers that makes this Munich Lohengrin a feast for the ears.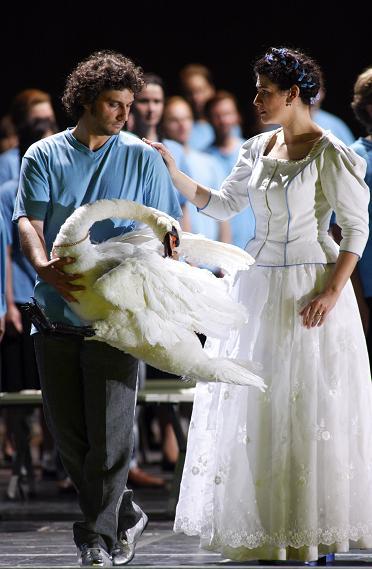 Jonas Kaufman (Lohengrin), Anja Harteros (Elsa), Choir of the Bavarian State Opera
Anja Harteros outshone even Jonas Kaufmann. Apart from singing with unlimited reserves of steeled luster, she pulls off being hopelessly adorable in ordinarily unflattering overalls, handling a bricklayer's trowel. Her Elsa defiantly ignores the accusations hurled at her, insisting on building her nest … err, house. Fortunately she gets a handy-man helper in the form of Kaufmann, whose gritty and earthly Lohengrin makes an ideal partner-in-masonry.

The setting is an odd mix of a 1960s collegiate society with the red-headed men in their Brabant-High letter jackets and wavy hairdos and a vaguely fascist Telramundian regime. Costumes and set are by "Ultz", lighting by Mimi Jordan Sherin. Building the new house - …that is post-dictatorship Germany? - the society changes into loosely Swabian costume when they consecrate Mr. & Mrs. L.'s new abode, replete with a cradle that Lohengrin incinerates when the relationship fails. While the metaphor of the house is by now stressed well beyond breaking point, it works rather well as a set, populated with two such consummate actors who turn Lohengrin into an intimate story of love-gained-and-lost. The interplay of the couples, Ortrud and Telramund, Lohengrin and Elsa, is defined by great sensitivity and moving tenderness … alas, what Richard Jones giveth, Richard Jones taketh away when he insists on instilling extraneous ideas that don't organically develop from the story.


Jens F. Laurson


Photos © Bayerische Staatsoper