Other Links
Editorial Board
Editor - Bill Kenny

Deputy Editor - Bob Briggs
Founder - Len Mullenger
Google Site Search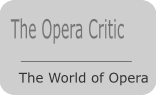 SEEN AND HEARD INTERNATIONAL OPERA REVIEW
Monteverdi, Il ritorno d'Ulisse in patria: Buenos Aires Lírica. I Febiarmonici Conductor: Juan Manuel Quintana. Teatro Avenida, Buenos Aires. 17.7.2009. (JSJ)


Director: Alejandro Bonatto
Sets: Jerónimo Basso
Costumes: Sofía Di Nunzio
Lighting: Gonzalo Córdova
Chorus: Cecilia Elías

Cast:

Ulisse: Víctor Torres
Penelope: Evelyn Ramírez
Telemaco: Franco Fagioli
Time/Neptune/Antinoo: Oreste Chlopecki
Human frailty/Pisandro: Damián Ramírez
Anfinomo: Pablo Pollitzer
Eurimaco: Jaime Caicompai
Juno/Melanto: Pilar Aguilera
Eumete: Carlos Ullán
Iro: Osvaldo Peroni
Jupiter: Gustavo Zahnstecher
Fortune/Minerva: María Cristina Kiehr
Love: Nadia Szachniuk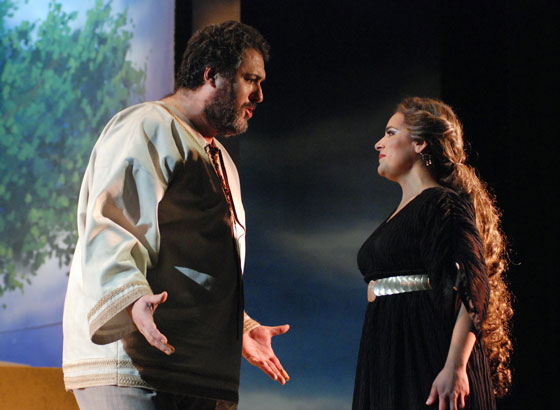 Victor Torres (Ulisse) and Evelyn Ramírez (Penelope) .

It should have been a busy month for opera in Buenos Aires. That was before the swine flu containment measures which have produced a series of postponements. One fixture however emerged unscathed and that was the long awaited South American premiere of Monteverdi's Il ritorno d'Ulisse in patria by Buenos Aires Lírica.

It is the second of Monteverdi's three extant operas and was written in his 74th year. The work is now available in several adaptations. Buenos Aires Lírica opted for the full version with prologue and three acts lasting (excluding the two intervals) just short of three hours.

The action was set around a simple but effective central cylindrical "tree" with sliding doors. Opened up this revealed Penelope's palace, instantaneously transforming the scene from exterior to interior or vice versa.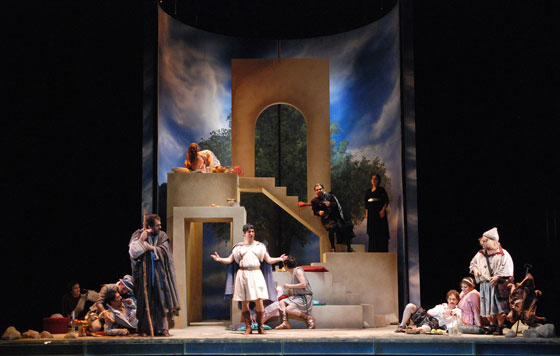 An Act II scene from Il ritorno d'Ulisse in patria
For accompaniment, the 13 member early music ensemble I Febiarmonici, with string quintet, flutes, cornetti, theorbos, viola da gamba, dulcian and harpsichord were under the baton of Juan Manuel Quintana. Quintana, who himself plays the viola da gamba, has worked on Monteverdi's works with people such as Marc Minkowski and René Jacobs. His interpretation was lucid and precise and quite splendid.
The vocal effect, with many of the cast experienced in this repertoire, was also without exception excellent. Victor Torres, a high baritone, was a commanding Ulisse, to the firm Penelope of Evelyn Ramírez and the brilliant counter-tenor of Franco Fagioli as Telemaco. Highlights were Penelope's lament and the duet between Ulisse and Telemaco. Also outstanding were Carlos Ullán's Eumete, Gustavo Zahnstecher's Jupiter, and Chileans Jaime Caicompai and Pilar Aguilera as the lovers Eurimaco and Melanto (the latter also playing Juno). Osvaldo Peroni was a vulgar Iro.
At times there was just a little too much action so that it became distracting, particularly an Act II orgy. This was a minor irritation in what is a major achievement for opera in Argentina and for Buenos Aires Lírica in particular.
Jonathan Spencer Jones
Photos © Liliana Morsia
Ba
ck to Top
Cumulative Index Page