Other Links
Editorial Board
Editor - Bill Kenny

Deputy Editor - Bob Briggs
Founder - Len Mullenger
Google Site Search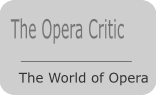 SEEN AND HEARD INTERNATIONAL OPERA REVIEW

Mozart, Idomeneo: Soloists, Bayerisches Staatsorchester. Chor der Bayerischen Staatsoper.Munich's Cuvilliés-Theater. 26. 7.2009 (JMI)
Production from Bayerische Staatsoper.

Direction: Dieter Dorn.
Sets and Costumes: Jürgen Rose.
Lighting: Tobias Löffler.

Cast:


Idomeneo: John Mark Ainsley.
Idamante: Pavol Breslik.
Ilia: Juliane Banse.
Elettra: Annette Dasch.
Arbace: Rainer Trost.
High Priest: Kenneth Robertson.
Oracle's Voice: Christian Van Horn.

The Cuvilliés is a beautiful rococo theatre, taking its name from the architect who built it in the mid-18th century. The theatre stood near the Residenz of the Prince Elector and it is a real jewel of decoration. In January 1781 the premiere of Mozart's Idomeneo took place here. During World War II, with the high risk of destruction, all the ornamentation was taken apart and stored in a safe place. In 1944 the theatre was in fact destroyed, and years later Munich decided to rebuild it within the Residenz with all the original ornaments. Thus, we are at the original theatre, but in a different location. It is a privilege to attend an opera performance in this jewel of the Baroque, with only around 500 seats (some of them with restricted views) and it is even better if the opera is Idomeneo.
The Cuvilliés was closed for several years recently to undertake technical improvements. Reopening took place in June last year with this new production of Idomeneo by the German director Dieter Dorn. The production is not spectacular, nor can it be considering the limited stage possibilities. It does, however, make use of all the stage area, including back stage up to the closing wall. This brings with it serious acoustic problems, since the back stage is wide and quite open, which means that the voices don't reach the audience very clearly.


There are no proper sets, but instead there are a few stage props, which mark the changes of scene, although sometimes they also impede the movement of the singers across the stage. Costumes are mainly modern, with some surprising touches - especially the arrival of Idomeneo's army dressed as Samurai soldiers. The action is brought up to date, with good stage direction.
As last year, Kent Nagano was in charge of the musical direction in an opera that is not part of his most familiar repertoire. Being played with modern instruments, one might think that Nagano's reading would be truly romantic, which it was not. Last year's reviews were in general not very enthusiastic about his work, but in this case I must say that I was most satisfied with his reading, which I found extremely careful and delicate, with extraordinary moments such as the breath-taking introduction to Idomeneo's last aria.

Nagano gave the most complete version of this opera available (in fact, following the full version seen at the premiere in this theatre) including the reintroduction of several minor cuts, the addition of the duet between Idamante and Ilia in the second Act, the full Elettra recitative that precedes the aria "D'Oreste è d'Ajace" and finally offering the ballet music after the final chorus "Scenda Amor". This long ballet was played with a lit theatre, with the orchestra being raised to stage level.

More debatable was the decision to give the version with Idamante as tenor. In the premiere in 1781 a castrato sang it and Mozart was not satisfied, later revising the part for tenor, although even later, it became normal to have a mezzosoprano in the part to have a better vocal contrast with Idomeneo. In any case, I think we should thank Nagano for offering such a complete version of Idomeneo.

The Bayerisches Staatsorchester was excellent, as was the Chorus. It is surprising that at the much the same time in the National Theatre there was a performance of Luisa Miller, with the same Orchestra and Chorus, which truly shows off the broad range of their talents.
Idomeneo was played by the English tenor John Mark Ainsley, whom I had not seen perform for 7 years. I found him much improved. His voice is more powerful than before, although the quality of the timbre is not extraordinary. His projection is very good though and he is an excellent singer, giving a fine exhibition of breath control and agility in his great aria "Fuor del mar".
The Slovak Pavol Breslik gave life to Idamante and he is a great find, having everything to help him become a very important singer. Young, with a good figure, he has a warm and very well projected voice and he knows how to use it. He is a light-lyric tenor who will be perfectly suited to Mozart and be lcanto characters.
Swiss soprano Juliane Banse was a rather disappointment as Ilia : her voice is darker than is usual in this character. This would not be important, if it were not for the fact that her instrument also lacks flexibility and the upper register is rather too hard. She is a good singer, but I do not believe that this was the right choice for Ilia.
German soprano Annette Dasch was an outstanding Elettra. She is a singing-actress of the first order, as she demonstrated a couple of years ago in Salzburg in Haydn's Armida. She has a spectacular figure too which makes her the focus of attention when she is on stage. She gave a very good performance, although she was not helped by the production in her final aria, which she sang in a very remarkable way.
Rainer Trost has been most usually found singing Mozart tenors in recent years. On this occasion he covered the part of Arbace and he too gave a good performance, particularly in his second aria.
There was a full theatre and the public gave the work an enthusiastic reception, rewarding all the singers and Kent Nagano with warm applause. In all this was a very special opera in a very special theatre.

José M Irurzun