Other Links
Editorial Board
Editor - Bill Kenny

Founder - Len Mullenger
Google Site Search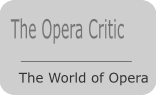 SEEN AND HEARD UK OPERA REVIEW
F. Alfano, Cyrano de Bergerac: Real Orquesta Sinfónica de Sevilla. Coro de la Asociación de Amigos del Teatro de la Maestranza, Conductor: Marco Guidarini. Teatro Maestranza de Sevilla. 18.11.2009. (JMI)

Production: Opera National de Montpellier and David Alagna.

Direction: David Alagna.
Sets: David Alagna.
Costumes: Christian Gasc.
Lighting: Laurent Fleutot.
 
Cast: 
Cyrano de Bergerac: Roberto Alagna.
Roxanne: Natalie Manfrino.
Christian: Jorge de León.
Count de Guiche: Nicolas Rivenq.
Ragueneau: Carmelo Corrado Caruso.
Captain Carbon: Jean-Luc Ballestra.
Le Bret: Richard Rittelmann.
The Duenna/Sister Martha: Itxaro Mentxaka.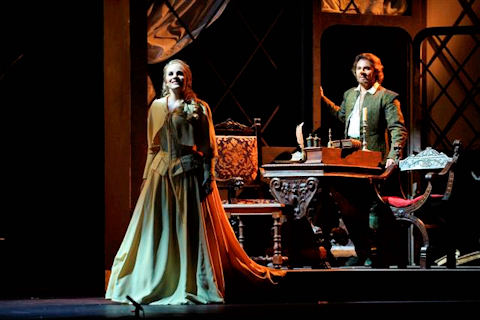 Natalie Manfrino (Roxanne) and Roberto Alagna (Cyrano)
After the performances of Alfano's
Cyrano de Bergerac
in Valencia some three years ago, this opera returns to another Spanish stage. First time round, the title role was sung by Placido Domingo and now the focus turns to Roberto Alagna. I have to say that on each occasion the outcome was a huge success with interpretations from both great stars which were magnificent.
The Seville production comes from Montpellier, where it was premiered in 2003 and was subsequently revived in 2006. I saw it there in March 2006, when it was turned out to be a most unfortunate evening, since Roberto Alagna withdrew during the first scene and was replaced by an immature cover. The Montpellier production was credited with stage direction and sets by both David and Federico Alagna, while now David's name appears in the programme. The production is thoroughly traditional with the action taking place as written, i.e. in the 17
th
century and is still most effective, although the direction of the singer/actors is not particularly good, particularly in the crowd scenes. There are suitable period costumes and very decent lighting which at Montpellier was responsibility of Aldo Solbiati; here it was Laurent Fleutot's. In general, the production worked rather better in Seville, probably due to very difficult circumstances in Montpellier surrounding at the 2006 revival. A DVD of the Montpellier premiere is also available for comparative purposes.
As at Montpellier, the musical direction was in the hands of Marco Guidarini who repeated his excellent reading of the score. It is clear that Mr. Guidarini knows the opera very well indeed and he also knows perfectly how to conduct with Roberto Alagna on stage. He drew a very good performance from the Seville orchestra, which is second only to Valencia's among any opera orchestra in Spain. The Maestranza Chorus was a disappointment however, too rigidly static on stage, short of vocal strength and with poor French diction.
It was good to see Roberto Alagna singing Cyrano after the "Cyrano interruptus" in Montpellier. He gave the best performance of any that I have seen from him so far, altogether is excellent, singing with great vocal freshness and living the character intensely. The final scene was splendidly exciting, while in the balcony scene he sang everything with very good taste and an unfailingly bright tone. I believe that in this repertoire he shines significantly better than he does in Verdi while comparison with Domingo is inevitable, I can say with confidence Alagna is not bettered by Superman. These are two great interpretations by two very great artists.
Nathalie Manfrino once again played the Roxanne, always Cyrano's true love in this production and after three years since the Montpellier revival, I found her very much improved in vocal terms. Earlier she had struck me as a light-lyric soprano, rather lightweight for the character in fact, but now she is perfectly suited to the the role's demands. On top of this, she looks the part exactly with a figure that many sopranos might well envy and she is an outstanding actress.
The rest of the characters are generally much less important, although the role of Christian stands somewhere in the middle. Here, it was interpreted by the Spanish tenor Jorge de León, who produced a wide and well pitched voice, although he needs to show rather better expressiveness. There is no question though that his is an important voice and he sould have a fine career ahead of him.
The French baritone Nicolas Rivenq made a rather mediocre Guiche but there was a good performance from Carmelo Corrado Caruso in the part of Ragueneau. Jean-Luc Ballestra sang Captain Carbon from Castel Jaloux with an interesting and well projected voice and Richard Rittelmann was a sonorous Le Bret. Itxaro Mentxaka doubled as the Duenna and sister Martha and she showed, as always, that she is a great professional; a real guarantee of quality for these minor characters.
The theatre had some empty seats but the audience offered a very warm reception to the artists, with great enthusiasm and cheers to Roberto Alagna, and almost as many for Nathalie Manfrino. Jorge de León and Maestro Marco Guidarini were much applauded too.
José M Irurzun
Picture © Teatro Maestranza de Sevilla