Other Links
Editorial Board
Editor - Bill Kenny

Deputy Editor - Bob Briggs
Founder - Len Mullenger
Google Site Search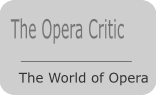 SEEN AND HEARD UK FESTIVAL REVIEW

Barber, Dvorak, Mahler, Mendelssohn, Sasha Siem, Schubert, Schumann, Zemlinsky, Zev Gordon. Elizabeth Watts, Catherine Hopper, Christianne Stotijn: Cheltenham Music Festival, July 2009 (RJ)
Schubert's Winterreise is regarded as a cornerstone of the lieder repertoire, but how do you feel about his Fruehlingsreise? No need to head for Grove's Dictionary. As far as one can tell, he didn't write a song cycle of this name, but that didn't deter soprano Elizabeth Watts from arranging a number of his songs into a song cycle under this title.

It has clearly been a labour of love "to create a group of songs that lead the ear through both the subtle and sudden changes of life", as she puts it. I have to admit I am favourably impressed. The sequence begins with Fruehlingslied (Spring Song) marking the transition from winter to spring, but it is not long before love rears its head in Im Fruehlingsschatten fand ich sie (In spring shades I found her). Alas, as in Schubert's other cycles relationships can prove short-lived - Die Liebe hat gelogen (Love has lied) says it all - and the singer seeks refuge in melancholy (Wehmut) and finally adopts a more philosophical stance.

Elizabeth, who won the Rosenblatt Recital Song Prize at the 2007 BBC Cardiff Singer of the World Competition is clearly a singer of great promise and she brought a commendably wide range of expression to these Schubert songs. However, I was even more impressed by her performance of Samuel Barber's Hermit Songs. The Heavenly Banquet was a joyous affair, The Monk and his Cat was full of charm, while in The Desire for Hermitage the mood moved from sadness to solemnity, defiance to inconsolable loss. Pianist Paul Turner provided very effective support.

Elizabeth Watts' recital was the first of three very different song recitals held in the second week of the Cheltenham Music Festival. The second recital, entitled Songs of the Dispossessed, offered a considerable challenge to mezzo-soprano Catherine Hopper who had to perform no fewer than two premieres and sing in four languages. Her programme focused on the underdog, notably Jews, gypsies and the captive Mary Queen of Scots.

Michael Zev Gordon's Mandelstam Settings is a powerful work which captures the tenderness and the angst of Mandelstam's poetry. In Black Sun, which Mandelstam wrote as an epitaph to his mother, the feeling of desolation is intensified by the harsh, often frenzied piano accompaniment. Zev Gordon is one of those composers who is able to turn personal experience into universal truths.

The other world premiere, From the White Dictionary by Sasha Siem, was very much the joker in the pack. Sasha won the Royal Philharmonic Composition Prize in 2008, so she is clearly a talent to look out for.

The work, a mini-opera for voice and harp based on imaginary dictionary entries and quotations from Rameau's opera Dardanus, was highly original in concept. The words are intoned rather than sung, and while I cannot fault the committed efforts of the performers, I have to admit the piece did not work for me. Indeed, I found it boring and pretentious.

After that Catherine Hopper's fully engaged performance of Dvořák's colourful Zigeunermelodien, aided and abetted by pianist Simon Lepper, came as a great relief. Earlier she had sung Schumann's heart-rending settings of poems by Mary Queen of Scots as if every word counted.

The Dutch mezzo-soprano Christianne Stotijn was the final recitalist of the week. This former BBC Young Generation Artist has clearly arrived, and her rich creamy voice added lustre to her selection of Mendelssohn's often underrated songs.

Singing Zemlinsky's Six Songs after poems by Maurice Maeterlinck was somewhat risky: the first performance in Vienna in 1931 caused a riot. Cheltenham audiences are used to avant-garde music and this work must have seemed positively mainstream to most. The poems are dreamlike and often grim and the music seemed to have a number of antecedents. Sie kam zum Schloss gegangen, for instance, had echoes of Kurt Weill.

The second half of the programme was devoted to songs from Des Knaben Wunderhorn by Mahler. This study in contrasts ranged from the humour of St Anthony's Sermon to the Fishes to the desperation of the girl dying of hunger in Mutter, ach, Mutter! es hungert mich. Christianne Stotijn's wonderfully expressive voice was complemented by Julius Drake's instinctive piano playing.

Roger Jones