Other Links
Editorial Board
Editor - Bill Kenny

Deputy Editor - Bob Briggs
Founder - Len Mullenger
Google Site Search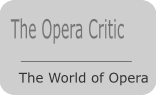 SEEN AND HEARD UK CONCERT REVIEW

Bernstein on Broadway:
Sarah Eyden, Kim Criswell, Graham Bickley, Royal Philharmonic Orchestra, Carl Davis, Cadogan Hall, London, 20.8.2009 (BBr)
Leonard Bernstein: Candide Overture Three Dance Episodes from On the Town, songs from On the Town, Peter Pan (1950), Wonderful Town, Candide and West Side Story


I know that I'm sticking my neck out here, but, for me, Leonard Bernstein wrote his best music for the Broadway theatre. Forget the symphonies, the Mass, the operas, the concert works and the rest, here is Bernstein at his greatest and most endurable.

This was a very well thought out and presented entertainment based round Bernstein's stage works and planned chronologically. Four songs and the Dance Episodes from On the Town got things off to a good start. Graham Bickley gave a suave and understated performance of I'm So Lucky to be Me and was followed by Kim Criswell having a good time with I Can Cook Too, which was sassy but lacked the required sexiness. The Three Dance Episodes gave the RPO a chance to swing and they certainly did, especially reveling in the dreamy blues of Lonely Town, the middle piece.

Bernstein's, almost, non musical Peter Pan was written for a production of J M Barrie's famous play which starred Jean Arthur and Boris Karloff, neither of whom could sing, so Wendy was graced with some lovely music. Here we were treated to a real WOW experience – the fabulous voice of Sarah Eyden, a soprano of great expression and agility with a wide range, clear diction and, best of all, an ability to sing without wobbling, she merely uses a discreet vibrato when necessary. What a joy it is to hear a voice like this! Her three songs from Peter Pan were given a distinguished performance and she brilliantly conveyed the various emotions from childlike innocence to dreaming of building a life with Peter.

To totally break this magical spell Bickley gave us the hilarious Pass the Football (from Wonderful Town) in which a guy, who can barely read or write, add up, and seems to lack all social graces, has done good because he can pass a football!

The size of the orchestra was determined by the pit band for West Side Story (plus two violas) and thus it was understrung for both the Dance Episodes and the Candide Overture, and although this didn't ruin the music, the big moment in the latter where the tune requires a full string section was lost. The three songs from Candide were well done especially Eyden's Glitter and be Gay which she sang with a small personal microphone and not one of the big ice cream cone mikes which were used throughout the rest of the show and here was the answer to my dislike of amplification in this hall. Every word could be heard because there was no excessive swallowing of the mike and she sounded as if she was singing au naturel. It was wonderful. In future, all amplification for singers in this hall should be done this way for it will be to the advantage of both singers and the audience alike.

The show ended with excerpts from West Side Story, a very good Balcony Scene (Tonight) from Eyden and Bickley, a troubled A Boy Like That from Criswell and Eyden and a boisterous America from the full cast.

A very good show with the RPO sounding like a gigantic swing band having a good time and, for the first time in some time, Ms Eyden gave us the chance to hear some fine, almost perfect singing.


Bob Briggs