Other Links
Editorial Board
Editor - Bill Kenny

Deputy Editor - Bob Briggs
Founder - Len Mullenger
Google Site Search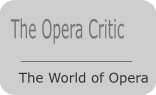 SEEN AND HEARD INTERNATIONAL OPERA REVIEW

Olli Kortekangas, Isän Tyttö (Daddy's Girl): (Helsinki Premiere) Soloists, Chorus and Orchestra of Finnish National Opera, Helsinki 24.1.2009 (BK)

Libretto: Michael Baran and Olli Kortekangas

Conductor: Mikko Franck
Director: Michael Baran, Anna Kelo
Sets and lighting: Mikku Kunttu
Costumes: Erika Turunen

Cast:
Anna: Riikka Rantanen
Siiri, Anna's mother: Päivi Nisula
Urho, Anna's dead father: Jaakko Kortekangas
Axel, Anna's ex husband: Juha Kotilainen
Vera, Anna and Axel's daughter: Mari Palo
Juri, Anna and Axel's son: Nicholas Söderlund
Taisto: Juha Riihimäki
Ulla, Axel's second wife: Jeni Packalen
Olga, Juri's wife: Anna Danik
Young Anna: Sanni Vilmi
Ruth, Vera's adopted daughter: Rebecca Holm

Chorus of Finnish National Opera
Orchestra of Finnish National Opera
Finnish National Opera's children's choir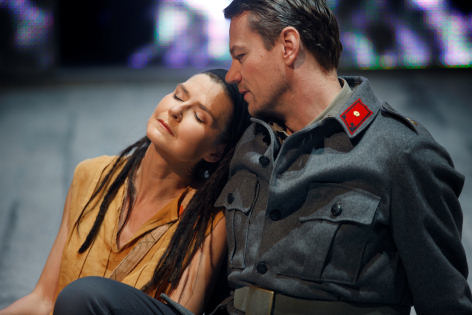 Riikka Rantanen (Anna) and Jaakko Kortekangas (Urho)


After making its debut at the Savonlinna Festival in 2007, this was the Helsinki premiere of a revised version of Olli Kortekangas's latest opera. Commissioned by both Savonlinna and the Finnish Government, the opera looks at the way in which one Finnish family has been affected by the events of the past 60 years. Three generations recount significant episodes - from the death of 'Daddy's Girl' Anna's father Urho in the war, through the subsequent political and economic ideologies that lead the opera's characters to end in the present day with a vision of a multi-cultural future.

Showing a developing society using the medium of only one family is a difficult task, and at first sight this might seem to be the major weakness of the piece. Instead of a straightforward story-line, we are given a series of scenes which illustrate each major ideological epoch in Finnish post-war history. Anna's mother Siiri, is a die-hard capitalist and entrepreneur, left in poverty by her husband's death initially, but rising through her belief in hard work to achieve economic security running a successful clothing factory; though sadly without much feeling for the workers she employs. Anna herself - in reaction to her mother's values - becomes a radical socialist who, with her husband Axel, wants to build a better society based on a vision which is more humane and has rather more than material wealth as its goal. After their divorce, Anna runs away to travel in Africa, helping people in the developing world on her journey and only returning when she is dying, on her mother's 80th birthday. Axel meanwhile, gives up his radicalism and lives a comfortable middle-class life with his second wife Ulla, exactly like his son Juri - hampered with his Russian name during his parents' radical years.

Of the third generation in the family, Anna and Axel's daughter Vera is the most interesting. She has been in a mental hospital having had a breakdown because of the failure of her financial career. Resonating perfectly with recent events in America and much of Europe, it turns out that Vera had followed the 'continuous growth model' of financial investment which resulted in immense wealth for herself and her clients. All went well until the Finnish recession hit in the 1990s after which Vera, feeling responsible for the subsequent losses, attempted suicide. Later she recovered and now lives with her adopted daughter Ruth, a mixed race child symbolising Finland's multi-cultural future. Over the sixty years, Grandmother Siiri has developed a lasting relationship with Taisto, the janitor in the tenement where she lived immediately after the war.

The opera's title 'Daddy's Girl' signifies the opera's recurrent and linking theme - Anna's regular visions of her father, who appears to her at critical moments to repeat the advice he wrote in a letter to her shortly before he was killed. The advice is always the same: that people should be always there for their families and that everyone has a moral duty to improve themselves as best they can during their lives.

The opera's structure may seem rather unwieldy, flipping as it does between the generations in a non-chronological order, but since both Kortekangas and Michael Baran are fond of film and the use of flashbacks in particular, the dramatic device transfers very easily to the stage, once all the characters have been identified. The various ideological phases shown are by no means unique to Finnish experience and much of Britain's post-war history could easily be portrayed in the same way – materialism during the need to rebuild following a war; socialist idealism verging on communism in the 60s and early 70s; an economic boom in the 80s followed by recession (in the 90s for Finland) - these are all common elements for much of western Europe and mean that what is ostensibly a very 'Finnish' opera has a much wider application than might have been expected. In fact there is only one specifically Finnish political episode in the opera apart from occasional comments about Finnish culture from the chorus, the use of a recording of vote counting during the election of the former Prime Minister of Finland Urho Kekkonen, to the post of President in 1956.

Musically, the work is very accessible, with its sound world (for those unfamiliar with the composer's work) reminiscent at times of both Rautavaara and Janacek, but having Kortekangas's own distinctive voice. The programme notes describe it as 'late Romantic', but if so it is very late and it doesn't hesitate to use dissonance where necessary. Incorporating a variety of styles including leitmotiven for characters and particular historical periods, there is great beauty in this music: in the scene where the workers in Siiri's clothing factory see themselves as they once were when children, and a children's choir sings that they shouldn't be afraid to remember who they used to be, for example. And again near the end of the work when the protagonists sing of living now instead of constantly striving towards 'the future', whatever that might mean for them. There is also a further astonishing chorus (always a great strength at FNO) shortly before the final scene.

In this production, all of the roles were filled by singers with excellent voices, all of whom were well-suited to their roles and to the music. Kortekangas has a gift for writing lines which bring out the best in his singers, and this score showed off this ability very well.

While it seems almost wrong to pick out any individuals for particular attention, the singing of Riikka Rantanen as Anna and Mari Palo as Vera was truly excellent. Of the men, Nicholas Söderlund as Anna and Axel's son Juri, was in particularly good form too as was Jaakko Kortekangas as Anna's deceased father Urho. The orchestra and chorus of FNO were, as usual, forces to be reckoned with, and the conducting of Mikko Franck was, as ever, an inspiration.

Finally, the lighting has to be mentioned. Mikki Kunttu's scheme included a split panel at the back of the set showing images to provide reinforcement to the emotional changes happening on stage. These, projected behind a simple set which consisted mainly of a movable split stage, added to the emotional intensity of the piece and acted as a unifying force. My only slight complaint was that raising the house lights at the opera's end, to unify the tale told by those standing silently on stage with those of us watching in the audience, was superfluous. There was no need for that; there never is. This was a fine piece of music theatre in itself and we had understood its message - really.

Bill Kenny

Picture © Stefan Bremer

Back to Top Cumulative Index Page