Other Links
Editorial Board
Editor - Bill Kenny

Deputy Editor - Bob Briggs
Founder - Len Mullenger
Google Site Search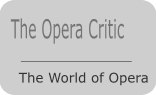 SEEN AND HEARD UK RECITAL REVIEW

Mozart, Schubert, Dvořák: Wihan String Quartet, Old Market Coffee Series, Hove,Sussex, 8.2.2009 (RA)

Mozart, Quartet in G K387
Schubert, Quartet in A Minor D804
Dvořák, Quartet in Ab opus 105.


They didn't play the game. The Hove Coffee Concert format is 'music in the round' but the Czech Wihan String Quartet left out the interesting bonus bit. The custom is that the musicians change seats after each work so that the surrounding audience get a different view of them. But they stayed put.

This is not simply frivolous musical chairs but a gift to the listener of a different camera angle onto the instruments and also the interesting and often engaging personalities playing them. It draws the audience even more magnetically into the performance and enhances the experience and value for money.

But were the Wihans, their line-up unaltered after almost 20 years together, stuck in old-dog's tricks, I wondered? They presented the same faces and backs of heads to an Old Market audience now accustomed to being allowed even more fully into the intimacy of chamber music performance. The proven Coffee Concerts forma are now in their 10th season and capable of selling the place out. Even so, the placement is not that big a deal or even a beef with the Wihans. What's the more important, after all? The music or its presentation?

The concert began with the first of Mozart's six forward - leaping quartets dedicated to Haydn - K387. This was a reading of grace yet with momentum, with apparent spontaneity couple with control. But instead of leaving the stage between pieces to create a natural pause for breath, after two bows to the applause, the Wihan quartet sat went straight on to Schubert's A minor Quartet D804. This was a different kind of presentation, with a sense of continuity and flow from one musical voice in Vienna to another. It had an effect; but I'm not sure that it satisfied everyone.

It's a moot point. Does a chamber music audience – or indeed any classical music audience – need a moment or two to digest what they have heard and enjoyed? And also a further moment more to prepare for the next work, with a sense of anticipation if they know it? Or else, if not for those reasons, don't listeners need time to empty their receptive sensory slates and reach for fresh ones? I rather think so.

After playing the Mozart with all repeats, the Wihan Quartet may well have disappointed waiting worshippers of Schubert's "heavenly length" by omitting his first movement repeat. For myself, I happened to fall this morning into the category that opted for the more cerebral and succinct approach which asks "Why say again what has been sufficiently been stated already?" The counter arguments go something like this of course, "Hey, but I liked (or cherished) this music so much that I wanted (or was desperate) to hear it again" - or, "Thank you, but please, may I be allowed to enjoy deeper insight the second time around?" Whatever the audience expected however, the Wihans were the people with the artistic prerogative. And such is the power of Schubert to enrapture with his rich harmony and sense of dreamy exploration of mood, that if the Quartet had been lengthened by the repeat, the players might not have achieved their intended balance within the morning's programme.

To come after the interval was their own countryman Dvořák's post-American work, the Quartet in Ab, Op 105. It seemed to amount roughly to the same length as the Schubert and its purpose and effect was to present a contrasting impetus and outlook to the inescapably introverted Schubert.

Schubert was always going to walk away having left us the more memorable tunes. But Dvořák lifted the heart because Schubert, even despite switching his finale - the work's most energetic movement – from his A minor scheme to A major, temperamentally, maintains his impulse to cloud his new soundscape with the darker shade of an A minor episode which he uses twice.

After Schubert's agitated and unquiet opening movement, the Wihans gave us a gentle and ruminative account of his endearing Rosamunde variations. Leading with Ales Kapric's low-breathing cello, they created a deep and recurrent melancholy in the Menuetto – as though the vertically-challenged Schubert could persuade none of the ladies to have the last dance with him.

But in the finale, within the contained moderate tempo Schubert requested, I was lifted by the Wihan's deft and subtle performance of music that made me imagine him playing hide and seek with, this time, a willing female companion, in a large and beautiful, asymmetrically laid-out garden - music of painfully brief passing happiness with a sudden moment at which the game seems halted in shock. By him unsuccessfully trying to steal a kiss perhaps? Or, as I would prefer to think, by his discovery, on the grass, of a dead song thrush? I apologise for these romantic metaphors . . . perhaps I love this music just a little too much.

Richard Amey

Ba
ck to Top
Cumulative Index Page