Other Links
Editorial Board
Editor - Bill Kenny

Deputy Editor - Bob Briggs
Founder - Len Mullenger
Google Site Search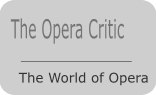 SEEN AND HEARD UK OPERA REVIEW

Wagner, Der fliegende Holländer: (Premiere) Soloists, Orchestra of the Royal Opera House, Marc Albrecht (conductor). Royal Opera House, London, 23.2.2009 (MB)

The Dutchman – Bryn Terfel
Senta – Anja Kampe
Daland – Hans-Peter König
Erik – Torsten Kerl
Mary – Claire Shearer
Steersman – John Tessier

Tim Albery (director)
Michael Levine (designs)
Constance Hoffmann (costumes)
David Finn (lighting)

Chorus of the Royal Opera House (chorus master: Renato Balsadonna)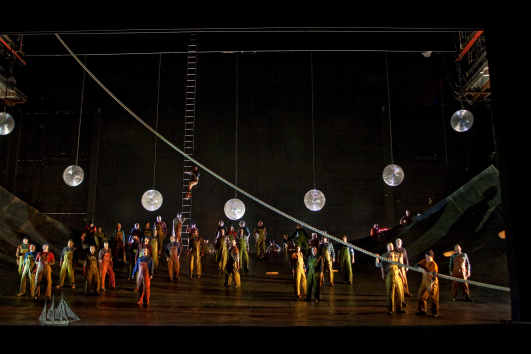 Production Shot - The Chorus as Sailors



The Flying Dutchman

seems as ill-fated at Covent Garden as its eponymous hero is in Wagner's drama. I do not remember anything much about Ian Judge's production, last seen in 2000, but I do remember some of the worst Wagner conducting I have ever had the misfortune to encounter, courtesy of the incomprehensibly esteemed – at least in some quarters – Simone Young. Marc Albrecht, whose work I had greatly admired last year in Munich for The Bassarids, was not so bad as that; at least he did not sound as though he was learning the score en route. On the evidence of this performance, however, he is no Wagnerian, which is distinctly odd, given that the very qualities standing him in such good stead in Henze's opera should have done so here too.

That is why I wonder whether Albrecht's decidedly stop-start, non-'music-drama' approach was deliberate: a revisionist attempt to direct us to (a handful of) the opera's sources rather than to explore what it became. The Wagnerian melos – I do not believe it in any way illegitimate to employ terms Wagner had yet to coin – was nowhere to be heard. Instead of a guiding symphonic thread, there was merely a collection of numbers strung together, connected by carelessly-constructed – in performance, that is – orchestral passages. A backward-looking approach might have worked in theory, I suppose, at least for those more charmed by the hangovers from Italian opera than inspired by the extraordinary dramatic journey on which Wagner here truly commences. Even then, quite why one would wish thus to reduce the work's stature, would remain a matter for the psychoanalyst.

In reality, however, all that was accomplished was to make a taut, concise score drag interminably. The gains that ought to have accrued from the rightful decision to perform the work without an interval – in this case, I do not think the alternative is even worth considering – were squandered by a performance that married drawn out, lifeless slow passages with caricatured Solti-like, or Solti-lite, excitability. There were also serious lapses of coordination between stage and pit, especially when Solti-lite came to the fore. Given the wrongheadedness of the conducting, it was perhaps surprising to note that the orchestra itself was on rather good form. A few slips notwithstanding, there was a commendable richness of string tone, complemented by some splendid contributions from the brass. Orchestral execution in the Overture was of a high standard, yet it appeared to go on forever; without the requisite implacability of line, it veered dangerously close to an operatic pot pourri. Sadly, this set the tone for the rest of the performance.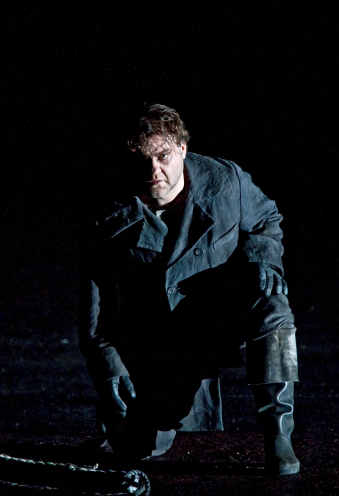 Bryn Terfel as The Dutchman

There were a few other straws at which to clutch. The choral singing was excellent, for which great credit must go to Renato Balsadonna's preparations. Anja Kampe, barring the occasional overly-operatic exaggeration, shone as Senta, at least insofar as the production allowed her to do so. Hers was a powerfully musical and dramatic portrayal, within the constraints with which she had to work, signalling a vast improvement upon her Act II Isolde under Vladimir Jurowski last December. If Kampe sings as well as this at Glyndebourne in the summer, Jurowski's Tristan might turn out to be something quite special. Torsten Kerl was not a bad Erik, but there was nothing unforgettable about his performance, quite unlike Klaus Florian Vogt in Vienna last year. Kerl was musical but somewhat anonymous: perhaps fair enough for the role, but Vogt showed what can be done with it. It is difficult to imagine Kerl as the Glyndebourne Tristan he is slated to become. John Tessier made a good job of the small role of the Steersman.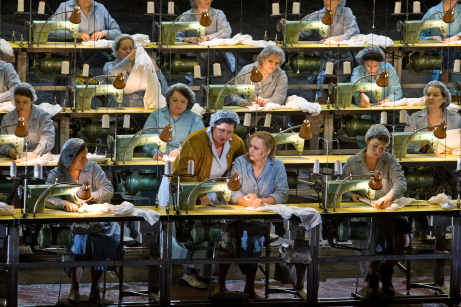 Mary – Claire Shearer and Senta – Anja Kampe


Otherwise, the cast was disappointing. Bryn Terfel doubtless suffered from the bizarre lack of interest shown by the production in its central character; indeed, one sensed an understandable bewilderment concerning the nature of his role. One could hear without straining every word of the text he delivered, which makes a welcome change from many interpreters. Nevertheless, his was a performance that poorly repaid the Royal Opera's forgiveness in having him back, following his crying off the Ring. When he sang, there were passages not entirely lacking in his former vocal beauty. Much of the text, however, was either despatched in an irritating 'ghostly' whisper or simply barked. No one seemed to have told him that Italianate musical values were to be the order of the day, since his phrasing was as choppy as the North Sea. Hans-Peter König made something of Daland's venality but a richer tone would have been appreciated. Poor Clare Shearer, made up like Nora Batty, made little other impression as Mary.

This brings me to Tim Albery's production, perhaps the greatest disappointment of all. Its sole virtue was seen during the Overture, with a surprisingly effective suggestion of wind and rain upon a makeshift stage curtain. As mentioned above, the figure of the Dutchman seemed to hold no interest for Albery. Wagner's myth was brought down to the level of dreary realism, which appeared to aim at social commentary, yet spectacularly – or, better, wimperingly – misfired. This was Wagner as deflated EastEnders. So far as I could discern, the production seemed more interested in portraying a slice of life in a community randomly relocated to a time and place irredeemably unfashionable: was this 1970s Grimsby? I say 'irredeemably,' since redemption, or even its denial, did not seem to figure at all. Senta merely seemed silly – and most probably a little mad, though not too much. This was no study in hysteria; it was just a bit gloomy. For some reason – or rather, as it seemed, for none at all – she brought on to the stage a toy ship during the Dutchman's monologue. It would remain there in subsequent scenes, serving most confusingly as a substitute for the picture to which Senta sings her Ballad. The nondescript costumes of the sailors and the tarty yet unrevealing garb of their girls seemed somehow to suggest a Carry on Sailing meets Play for Today, and yet it signally failed to amuse, let alone to proffer any insights. The attire of the Dutchman's crew appeared to suggest the nineteenth century. Again clutching ever more desperately at straws, I wondered whether some kind of opposition was being posited between (relatively) modern times and the period of composition. If so, nothing was made of it.

Harry Kupfer unforgettably portrayed the Dutchman as Senta's dream. This was not even interesting enough to be a nightmare.
Mark Berry

Pictures © Clive Barda

Back to Top Cumulative Index Page