Other Links
Editorial Board
Editor - Bill Kenny

Deputy Editor - Bob Briggs
Founder - Len Mullenger
Google Site Search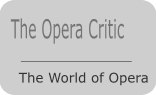 SEEN AND HEARD INTERNATIONAL CONCERT REVIEW

Elliott Carter at 100: Daniel Barenboim (piano), James Levine (piano and conductor), Boston Symphony Orchestra, Carnegie Hall, New York City, 11.12.2008 (BH)

Boston Symphony Orchestra
James Levine, Music Director, Conductor and Piano
Daniel Barenboim, Piano
Schubert: Fantasie in F Minor for Piano Four Hands, D.940
Beethoven: Piano Concerto No. 3
Elliott Carter: Interventions for Piano and Orchestra (NY Premiere)
Stravinsky: Le sacre du printemps


So the day finally arrived—Dec. 11, 2008—when Elliott Carter marked one hundred years of existence on Planet Earth, and I am happy to report that Carnegie Hall, Daniel Barenboim, James Levine and the Boston Symphony Orchestra all did the man proud. The novel opening featured the two conductors and one piano in Schubert's Fantasie in F Minor, the second time in a month that I'd heard these two together; a few weeks earlier they did Schubert's Sonata in C Major, the "Grand Duo" (review here.) As before, Levine seemed to have the slight upper hand in getting the notes, but Barenboim may have trumped him in articulation. In any case, their delicacy imbued the air with some intimacy, as if the two had secretly contracted to present Carter with a little present.

Despite the mellow yet forceful contributions from the Boston players, the Beethoven Third Piano Concerto was a bit disjointed, only because conductor and pianist often couldn't seem to agree on a tempo. Now and then Levine whirled around to glance with a nervous smile as if to say, "You do see me, don't you?" The result often seemed to outfox any truly satisfying collaboration.

But after intermission the real party began, with Interventions, which had its world premiere in Boston just a few days earlier. (Carter completed the score in 2007.) As with many of the composer's mature works, this one is flooded with life, its piano line veering off into uncharted waters while the orchestra makes its own explorations. Now and then the piano does "intervene" sometimes with deadpan humor, such as a huge orchestral chord seemingly extinguished leaving a single piano note in its wake. Crowds of tiny gestures rush by like schools of fish, before being interrupted by enormous grinding chords. Of course a single performance of a new piece leaves unanswered questions, but Barenboim's glitter, coupled with Levine's forthright navigation, seemed to point toward a substantial piece of writing. And at the risk of belaboring the point, it is astonishing to contemplate its being completed when the composer was 99 years old.

With waves of applause engulfing the hall, the composer slowly made his way to the side stairs leading to the stage, and as soon as he arrived, the roar only grew louder. Not in a million years would I have ever imagined a packed, standing Carnegie Hall cheering for Elliott Carter. As the orchestra launched "Happy Birthday" with many in the audience singing, the composer stood, surrounded by Levine, Barenboim and the beaming Boston Symphony musicians, while a towering birthday cake emerged from the wings, decorated with musical staves and piano keys, capped with a sparkler, and a sign in front with "Happy 100th, Elliott."

And as a generous finale (starting at about 10:15 p.m. and making the concert almost three hours), Levine gave Carter and everyone else what may have been the most exciting gift of all, a scorching Le Sacre du Printemps. With the conductor eliciting maximum precision and color from the Boston ensemble, I couldn't help but recall the touching back-story: Carter heard the New York premiere of the Stravinsky score in 1924, when he was just fifteen years old, which moved him to become a composer himself. Given the power Levine and the Bostonians unleashed, I wondered how many 15-year-olds were in the audience on this occasion, inspired to take up the mantle themselves.

Bruce Hodges

Note: On the same day in London, Anne Ozorio and Mark Berry were in the audience for the celebration with Pierre-Laurent Aimard, Pierre Boulez and the Ensemble Intercontemporain. Their reports are here.