Other Links
Editorial Board
Editor - Bill Kenny

Deputy Editor - Bob Briggs
Founder - Len Mullenger
Google Site Search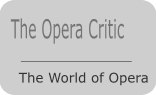 SEEN AND HEARD UK CONCERT REVIEW

Stravinsky, Korngold and Rachmaninov: Nikolaj Znaider (violin), London Symphony Orchestra, Valery Gergiev, Barbican Hall, London, 8.5.2009 (BBr)

Stravinsky: Symphony in Three Movements (1942/1945)
Korngold: Violin Concerto in D, op.35 (1945)
Rachmaninov: Symphonic Dances, op.45 (1940)

This was almost a repeat of last night's concert (see review) – the difference being that instead of the Schoenberg Concerto, we heard the Korngold and I wonder why the change was made. I have no trouble with the Korngold being substituted for it is the most loveable of Violin Concertos but we do hear it often these days. Gil Shaham recently said that when he offers the Korngold to orchestras they say that everyone is playing it and could he perhaps do something else? The Schoenberg is still a rarity in the concert hall. Its fearsome difficulties will always militate against it entering the repertoires of many players. Perhaps the change was made simply because the LSO thought that two nights of difficult Schoenberg might not fill the hall. Tonight the Barbican was packed – and I, for one, am not complaining for I got to hear, again, live, one of my favourite violin concertos.

Znaider is a superb player and has an easy way with him on stage which readily communicates with the audience and puts one at ease knowing that if he's comfortable in himself then the music-making will be good. And tonight it was very good – Znaider played the Korngold as if it was in his blood, even though he had the music in front of him, and he brought out links with Korngold's earlier music, from before the first war, when he was one of the most radical, in terms of harmony and counterpoint, composers alive. However, from his position he consolidated his style into one of rich and sweeping romanticism; not for him the experiments with 12, or any other number of, notes – he knew exactly what to do with a tradition which has served music well for hundreds of years. By the time of the composition of this work he was better known as a composer of music for film and here he re–used certain themes from his Hollywood scores. Thus the first movement opens with the sweeping tune which is the opening theme of Another Dawn, and how well Znaider sang this music, the winsome second subject coming from the Paul Muni film Juarez; this is a theme of limpid beauty and, again, Znaider phrased it with loving care. The slow movement uses music from Anthony Adverse and contains some delightful and colourful writing for vibraphone. Towards the end, the soloist plays some lines of tortured harmonic implication, which, I am sure, like Rachmaninov's quote from his own, then unknown, 1st Symphony in the Symphonic Dances, is a reminiscence of things gone, and lost, forever. Znaider was at his heart-breaking best here. The finale is a fast and furious, not to mention hilarious, set of variations on the main theme for his score for The Prince and the Pauper. Full of the most ferocious pyrotechnics for the soloist this is music of high spirits and Znaider and the LSO threw themselves into it with a real feeling of devil–may–care. The performance was everything one could have wished for – excellent fiddling and a magnificent and rich accompaniment. That said, the interpretation was lacking in real romantic, not to say erotic, warmth. A friend of mine, in the interval, put it quite succinctly – the soloist, he said, didn't sound as if he was having good sex, and that sums up this performance to a tee for I felt no deep love in Znaider's playing.

The Stravinsky and Rachmaninov performances were another matter. Gergiev directed the music with a much weightier emphasis than I have ever heard before in these works. The Symphony in Three Movements – which seems to be a work without tunes, just accompaniment – was excellent: nervous and on edge, full of rhythmic bite and seeming to hark back to the disjointed rhythms of Le Sacre, albeit more urbane. The slow movement was almost balletic and the coda was huge and all-consuming. Likewise the Rachmaninov, a bold and hard-won battle was fought here and, as I have said so often concerning the finale of this piece, the apocalyptic vision was played out to the end where, instead of allowing the final tam-tam blow to ring in the empty air, Gergiev had it cruelly cut off, as if saying that there is no more, the apocalypse has happened and that's it. Last week, in the Festival Hall, Hugh Wolff and the Philharmonia gave a very cosmopolitan performance of this score, whereas tonight we heard an interpretation which was Russian to the core, and was almost unbearably intense.

The LSO was on top form throughout and Gergiev's direction brought about one of the most satisfying and exciting concerts I've ever heard under his direction.

Last night's concert, about which my colleague Gavin Dixon wrote, will be broadcast on BBC Radio 3 on Thursday 14 May 2009 at 19.30h. If that performance of the Stravinsky and Rachmaninov was anything like the one I heard, to read Gavin's piece is to make one believe that it was, it will be well worth a night in.

Bob Briggs