Other Links
Editorial Board
Editor - Bill Kenny
London Editor-Melanie Eskenazi
Founder - Len Mullenger
Google Site Search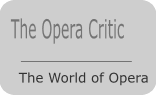 "From Wagner Swimmer to Opera Director" : Göran Forsling talks to Birgitta Svendén, due to take over the Royal Stockholm Opera in 2009 (GF)


During a coach ride from Bayreuth to the Franz-Josef-Strauss Airport in Munich I was able to spend a good hour in the backseat with Swedish Royal Court Singer Birgitta Svendén. The evening before we had both attended a performance at the Festspielhaus of the controversial production of Die Meistersinger von Nürnberg, directed by Katharina Wagner. The reactions of the audience were divided. On the one hand there was heavy booing, on the other delighted shouts of 'bravo' and intense stamping of feet. Birgitta and I were unanimous in our appreciation of the staging: unorthodox no doubt, rather rebellious but very clear in its message and with large portions of humour. Some of the booing was probably not directly related to the production, Birgitta said. There are still aspects concerning the leadership of the festival and the Wagner family's former association with the Nazis that haven't been fully sorted out. Moreover there is a tendency that new productions that are washouts end up as established favourites a few years later. Birgitta should know, having spent thirteen seasons in the house on the Green Hill.

She was hardly out of the University College of Opera when she was invited to audition for the role of Flosshilde, one of the Rhinemaidens in Das Rheingold. This was in the new Ring cycle with Sir Georg Solti and Sir Peter Hall in 1983, and besides the singing there was another prerequisite for being accepted: could she swim? Wagner was not exactly Birgitta's cup of tea at the time, but she could swim and she knew one 'song' by Wagner: Erda's Warning. Solti liked what he heard but he already had an Erda, so Flosshilde it was.

Why swim? Well, Sir Peter Hall had created a River Rhine on the Festspielhaus stage in the shape of a water-filled basin or pool with a large mirror in a 45 degrees angle above, showing the maidens from a bird's eye view. As for costumes there were none: the rhinemaidens were to appear in the nude. For the curtain calls they were however given nice red robes, which caused some disappointment from the male part of the audience and another grumble was that one of the maidens – Birgitta – was wearing a white bikini also in the water. This wasn't true but she had spent a lot of free time swimming in ice-old water and sunbathing that summer and acquired a healthy tan, which was in sharp contrast to those parts of the body that were protected from the sun.

But let's start from the beginning. Swimming in ice-cold water was no big deal for Birgitta Svendén, having grown up in the northernmost part of Sweden, close to the Arctic Circle. Music was in important part of her childhood, her father playing the piano and accordion in an amateur dance orchestra and her mother singing in the local church choir. Birgitta was soon enrolled in a children's choir, she played the recorder, took piano lessons. Vuollerim is a small place and what else was there to do? The cantor supported her and she was soon able to stand in for her. When she came to Stockholm for further studies she used to deputize for the organist at Högalidskyrkan, earning some extra money to finance her studies. She obtained diploma as a singing-teacher and later joined Operastudio 67 and the University College of Opera.

It was while she was still studying there that she came to the public's notice. Students now and then got small parts at the Royal Opera and Birgitta had already been a nun in a production of Puccini's Suor Angelica when she one day was summoned to the principal, the great bass at the Royal Opera, Arne Tyrén. 'What have I done now?' she thought when she stepped into his office, a bit shaky. 'The Royal Opera want you for Tintomara,' he announced. 'How nice!' she said. 'Which role?' 'Tintomara,' Tyrén said. 'Yes, I heard, but which role?''Tintomara,' Tyrén repeated. 'You are to sing the title role!' With two years to go before her exam this was certainly a sensation and a flying start to her operatic career. This was in 1979, I saw this production and was deeply impressed by this young singer, small of stature but with a powerful deep mezzo-soprano, verging on contralto. She can be heard in an aria from Tintomara on a Caprice record with excerpts from Swedish 20th century operas.

Her first role as permanent member of the ensemble was Dorabella in Così fan tutte, which is a high-lying part, and Birgitta was a bit hesitant at first but she took up the gauntlet and then she quickly assumed several leading parts. She came to the Royal Opera at a time when there was a change of generations in the house. Those singers who had been pillars of strength since the 1950s – the 'Iron Gang' – went into retirement one by one and in the new 'gang' Birgitta Svendén soon became one of the strongest pillars. In 1986 she took part in a meeting between generations that attracted much attention. It was in Hans Gefors's opera Christina with a libretto by Lars Forssell. Christina is the 17th century Swedish queen, daughter of King Gustavus II Adolf. Her father fought for the survival of Protestantism during the Thirty Years War and fell in battle at Lützen in 1632. Christina abdicated, converted to Catholicism and moved to Rome – something that stirred the minds of the Swedish people. In Gefors's opera Birgitta Svendén was the young Christina while the old Christina was sung by one of the most illustrious members of the 'Iron Gang' – Margareta Hallin. This is one of the best Swedish operas of recent times, I was much taken by it back in 1986 and a revival a few years ago – a rarity as far as modern opera is concerned – showed that it has stood the test of time.

Birgitta remained a member of the Royal Opera until 1994 but she became increasingly in demand in the rest of the world. During her thirteen seasons at Bayreuth she appeared in a total of 157 performances, was soon promoted from Flosshilde to Erda in the Ring – a role she can be seen in on the Barenboim Ring cycle on DVD – sang Waltraute in Götterdämmerung and Magdalene in Die Meistersinger von Nürnberg, to mention a few roles. But she also sang at the MET during ten seasons between 1986 and 1998: the Wagner roles of course, but also another Maddalena, the sister of the murderer Sparafucile in Rigoletto, where she had to seduce Luciano Pavarotti's Duke of Mantua – quite a heavy task, I presume. The Queen of Spades and Eugene Onegin were other operas she frequently appeared in.

From 1995 she has worked on a freelance basis, having initially been invited to join the ensemble at Staatsoper Unter den Linden in Berlin under the aegis of Daniel Barenboim but Birgitta felt that this would encroach on her freedom and eventually backed out.
Has she regretted all this Wagner? Not for a second. Wagner is addictive. Birgitta doesn't use that expression but one can read between the lines. Favourite role? Unnecessary question, I knew the answer: 'The one I'm working on at the moment'. But she soon settles for Wagner: Erda and Waltraute.

What about all the travelling that is part and parcel of a life as freelance singer? 'I have always wanted to travel. I am curious of new places. My father also wanted to travel. He never got the opportunity, but I have been privileged to be able to combine my two passions: travels and music. Of course in the long run one's existence becomes rather restricted, there are limited opportunities to have a normal social life and four or five years ago I felt that I wanted to cut down on travelling. By an act of providence the post as principal of the University College of Opera in Stockholm became vacant, I applied and since 1 August 2005 I have a permanent job after ten years of freelancing.'

Birgitta doesn't teach herself, but she is deeply involved with the development of each and everyone of the students. 'It is important to be straight and explicit,' she says. 'There is no point in turning a blind eye to deficiencies. Studying to be an opera singer is no feather-bed job. It's hard labour and there are no shortcuts. The purpose of the education is that the students should be able to compete on the international market, where competition is hard as nails.' Job opportunities in Sweden are fairly limited, even though the market has widened the last few years. Stockholm, Gothenburg and Malmö have permanent ensembles but there is also Karlstad, Norrlandsoperan in Umeå and Folkoperan in Stockholm. Add to this a number of smaller companies that perform less regularly and also sundry summer festivals. Many gifted Swedish singers have gained their livelihood in Germany, where there have been opera houses in practically every town of any importance, but there has been a cut down even here.

The job at Operahögskolan – the Swedish name of it – doesn't mean that Birgitta has had to shelve her own career for good. Six to eight weeks per year are still available for projects, which amounts to one opera production each year. Throughout her career she has also appeared on the concert platform, singing for instance the Brahms and Verdi Requiems, Mahler – I remember a superb Das Lied von der Erde at Berwaldhallen in Stockholm with Esa-Pekka Salonen conducting in September 1991 – and with pianist Thomas Schuback she has through the years built up a large repertoire of songs and Lieder.

But next year Birgitta Svendén's existence will change direction once more, when she takes up the post as Director of the Royal Opera in Stockholm. This is indeed a challenge but Birgitta looks confident and focused. She has the great advantage, compared to most candidates, that she knows the house from within since almost thirty years. She is familiar with every nook and cranny of the building, she knows the majority of the staff and she has that hard-to-define sense of the spirit and atmosphere that is unique for every place of work. And most important of all: there is enormous potential at the Royal Opera.

'Like most opera houses the Stockholm Opera has had its ups and downs,' she says. 'About ten years ago it went through a bad patch but at present the standard is on a very high level.'

Having covered every new production and several revivals during the last four years I can unreservedly endorse that statement. The crowning glory has undoubtedly been the Ring cycle that was completed a year ago but I haven't seen a weak performance and the umpteenth revival of Folke Abenius's 37-year-old Rosenkavalier in April this year was as fresh as it was when I saw it in 1971.

The Royal Opera has always been a repertory theatre and Birgitta Svendén sees no reason to change this. Block programming has its advantages, not least to facilitate the engagement of guest singers, but the Stockholm public have been used to the possibilities of having a choice of works, not having to wait until the next work comes up. A combination of established classics and largely unplayed works, spiced with newly written operas is Birgitta's recipe for sensible programming and she is busy investigating items of interest.

'We haven't been very good at French repertoire,' she says. 'Carmen, Faust and Hoffmann of course, Werther some years ago but there must be other pieces as well.' I mention Dukas's Ariane et Barbe-Bleu and Birgitta makes a mental note. It's some time since there was a new Swedish opera but in December Sven-David Sandström's Batseba will be performed, ten years after his previous opera Staden (The City). To attract an international public the libretto is in English, and this is in line with Birgitta Svendén's intentions: to exchange productions with other opera houses.

A central problem these days, not only for opera houses but for the classical music world at large, is to attract new (read: young) visitors. There is no simple solution to this, of course, but Birgitta wants to wipe off the all too common opinion that opera is upper-class snobbery, that it is incomprehensible to 'ordinary' people, that opera singers are strange creatures on a pedestal and other misconceptions.

'The house should be open to everyone,' is her maxim, 'and people should be able to drop in after work for some good entertainment. There is no need to search for hidden messages and deep philosophy all the time. Of course this aspect should also be satisfied, but there is no point in starting with heavyweights like the Ring. Operas like La Bohème and La traviata deal with ordinary people and feelings that are universal.'

Letting people meet the singers and see that they are no different from other humans is another way of making opera more earthbound. Question is: How do we get out with the message? How do we get people to come and try? I mention the different age distribution at the Finnish National Opera in Helsinki, where there is a surprisingly high amount of young visitors, teen-agers and even younger children. We ponder a while over this fact and conclude that there is a different cultural climate but also that if young people get an early introduction to the world of opera there is a great possibility they will continue also when they grow up. Education from parents, education from music teachers, should be one way to go.

Another potential category of visitors are music lovers in the provinces, where there are no regular opera performances. I know from experience that when there is the odd visit of a touring company people flock in large numbers. What happened to the touring activity that the Royal Opera pursued some decades ago? Birgitta has no answer but supposes that it is a question of money, but this is of course another aspect to consider. When the Stockholm Opera closes for renovation touring might be one way of keeping the company alive.

With all due deference to renovation, a new opera house is still sorely needed. Stockholm has lagged behind the other Nordic capitals. Helsinki got a new house in 1993, Copenhagen in 2005 and the new Oslo opera opened this spring. There have been discussions about a new house in Stockholm for quite some time but so far no decisions have been made. While waiting for this Birgitta sees subsidiary stages as a priority and new stage technique is also a necessity to be able to keep up with the development elsewhere.

Whatever will happen it is going to be very interesting to follow the development at the Royal Opera during the next few years.

Göran Forsling


Ba
ck to Top
Cumulative Index Page