Other Links
Editorial Board
Google Site Search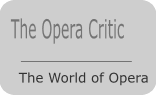 SEEN AND HEARD CONCERT REVIEW

Debussy, Copland and Rimsky–Korsakov: James Meldrum (clarinet), Royal College of Music Symphony Orchestra, John Wilson, Cadogan Hall, London, 13.11.2008 (BBr)

Debussy: Prélude à l'après-midi d'un faune (1892/1894)
Copland: Clarinet Concerto (1949)
Rimsky–Korsakov: Scheherazade, op.35 (1886)


This concert was as good as anything you'd be able to hear in any Concert Hall in London with playing of the very highest calibre and a spirit and enjoyment which comes with youth. John Wilson, himself still quite a spring chicken, was exactly the right man to encourage such fine performances.

Debussy's famous Prélude got things off to a very satisfactory start. From the sensuous flute solo – played with admirable simplicity, whilst oozing sensuality, by Amalia Tortajada – to the final bars with muted horns and antique cymbals, Wilson directed his young charges with a restraint which allowed him to build the most beautiful, and full, climax in the middle. What playing and what understanding.

This was followed by the Copland Clarinet Concerto, written for Benny Goodman, and one was impressed with James Meldrum's control of the difficult solo part. What really made an impact was his expert handling of the second, jazz–inflected section. Many players see fit to pull Copland's carefully written line about, in the strange belief that this will make the already jazzy music even jazzier. This is, of course, incorrect. If this music is played as written, and Meldrum stuck to the part (as far as I could tell from memory, not having the dots in front of me), it is all the more jazzy and makes a very effective, and exciting, foil to the laid–back slow waltz which makes up the first part of the work. Meldrum has only recently graduated from the RCM and he seems set for great things. Wilson's accompaniment was never backward in coming forwards and he encouraged the small orchestra of strings, piano and harp to make the most of the varied and colourful music given to them.
After the interval came a performance of Rimsky's Scheherazade which raised the roof in its power and intensity. The full orchestra reveled in this marvelous score, enjoying the virtuoso scoring and vivid and brilliant writing for the instruments. Leader Martyn Jackson, taking the part of the eponymous heroine, was striking in his role as storyteller, and he was ably aided by harpist Jose Antonio Domene. For their part the orchestra played its collective heart out for Wilson whose vision of the piece was of a large scale drama – with a delicate love scene in the third movement – and the sound was truly awe–inspiring in its fullness and richness. There is no doubt in my mind that this was a great performance where everything went just right and it could not have been bettered. The quiet ending left the audience spellbound and sitting in silence at the sheer magnificence of what it had heard.

Before the music John Wilson gave a short speech about Nicholas Branston, a promising horn player from the RCM who had died in July in a road accident, telling the audience that the concert was dedicated to his memory and a scholarship had been set up in his name, asking that we contribute so that young musicians can benefit and continue to give performances of the highest quality. The scholarship is a wonderful idea and if you wish to contribute, and we should all be grateful for what we are priviledged to hear courtesy of our Music Colleges, please contact Susan Sturrock, Director of Communications at the RCM on 020 7591 4780 or ssturrock@rcm.ac.uk. As Bob Geldrof once said, "Give us your…money". You won't regret it.

A fabulous show, one of which both the students of the RCM, and the RCM itself, can be very proud.

Bob Briggs


Back to Top Cumulative Index Page