Other Links
Editorial Board
Editor - Bill Kenny
London Editor-Melanie Eskenazi
Founder - Len Mullenger
Google Site Search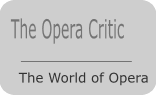 SEEN AND HEARD BBC PROMENADE CONCERT REVIEW

Prom 57, Stucky, Gershwin and Stravinsky: Jean-Yves Thibaudet (piano), New York Philharmonic, Lorin Maazel (conductor) BBC Proms, Royal Albert Hall, London 28.8.2008 (CR)


This was the first of two Proms performances by the celebrated New York Philharmonic. With its bright, strong sound and reputation for excellence, the orchestra had no difficulty in attracting a capacity audience at the Royal Albert Hall.
The concert opened with the world premiere of Steven Stucky's Rhapsodies for Orchestra, a joint commission from the BBC and the New York Philharmonic. Described by the composer as 'viral', the work develops solo lines which are joined by other instruments in the surrounding sections and then spread throughout the orchestra. The concept of a rhapsody gave the work an element of freedom, with quasi-improvisatory material evolving in a chain-like development. This was a well crafted work, making use of a wide range of orchestral colours and creative orchestration. My only slight reservation was the overall conservatism of the musical language. There was little here to break down boundaries, and in that respect, this was a 'safe' commission which would not ruffle any feathers.
Gershwin's Piano Concerto in F followed; a patchy work which nevertheless has its appeal. This performance by the New York Philharmonic was idiomatic, and conjured up images of the orchestra's home city. This was an atmospheric performance, with a clear sound and some excellent string playing. The solos from various members of the orchestra were executed to the highest standards, and particularly worthy of mention was the lengthy trumpet solo, with its jazz style performed naturally and without force. Jean-Yves Thibaudet's piano playing was exemplary, with the kind of understanding of the piece one would expect from a native American. Despite not being one of my favourite works, this performance was a memorable one.
The Rite of Spring, Stravinsky's early twentieth century showcase for orchestra, is, on the other hand, one of my favourite pieces, and one I have heard many times in performance. The orchestra were typically excellent, with fantastic ensemble playing, perfectly balanced sounds within the various orchestral sections and faultless intonation. Despite this, though, the performance lacked the earthy excitement and intensity I had hoped for. The overall sound was dominated by the brass and percussion, which, although featured some excellent individual performances, meant I struggled to hear some of the intricate woodwind lines. I also felt that the performance was over- interpreted; the strength of this work lies in its rhythmic drive, which was frequently interrupted by Maazel's slow tempi and rubato. His choice to emphasise the brass glissandi by lengthening the bars at those points seemed to interrupt the flow and to trivialise some of the more powerful moments of the work. As a result, and despite some excellent playing, the performance seemed to lack energy and never quite reached the orgiastic frenzy I had hoped for.
The audience was treated to two encores, a fast-paced Prelude to Act Three of Wagner's Lohengrin, and a Brahms Hungarian Dance, which demonstrated Maazel's undisputed reputation as a brilliant technician.

Carla Rees