Other Links
Editorial Board
Google Site Search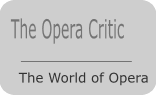 SEEN AND HEARD BBC PROMENADE CONCERT REVIEW

Prom 14 : Messiaen, La Transfiguration de Notre Seigneur Jésus-Christ Gerard Brouwhuis (piano), Adam Walker (flute), Julian Bliss (clarinet), Sonia Weider-Atherton (cello), Colin Currie (xylorimba), Adrian Spillet (marimba), Richard Bejafield (vibraphone), BBC National Orchestra of Wales, Thierry Fischer (conductor) BBC Symphony Chorus, Philharmonia Voices, BBC National Chorus of Wales, Royal Albert Hall, London, 27.7.2008 (AO)


Messiaen's La Transfiguration de Notre Seigneur Jesus Christ is a blockbuster - 200+ singers, huge orchestra, 7 soloists, three banks of marimbas and a drum 2 metres tall. Ideal for the Royal Albert Hall, perhaps. But this Prom was a reminder that what makes a performance isn't the venue, the acoustic or even, sometimes, the music. It's the performance. This was Elgar on steroids, not Messiaen.

Of course Messiaen was a devout Catholic and the text is liturgical. As Peter Hill, the great Messiaen specialist, said long ago, you need to be a Catholic to appreciate why there are shrill bells before a powerful silence, and why the tenor soloists relates to the small tenor ensemble. But as always with Messiaen, getting behind the surface is infinitely more rewarding. Messiaen's religion is infinitely closer to the intoxicated heterodoxy of the Middle Ages, where faith was a glorious revelation, not a neat system of rational belief. That's why Catholicism is so firmly rooted in places like Peru, Mexico and the Philippines, hybridised with indigenous traditions which share the same flamboyant intensity. Messiaen's music is, fundamentally, a "transfiguration" where the commonplace is transformed by a vision of the inexpressible sublime. The human body does after all produce chemicals that can produce "highs". Just look at the images of the saints Messiaen admired - see how they glow, intoxicated with fervour ! So Messiaen may write highly detailed liturgy, but at the same time his music operates on a much more intuitive, exalted sense. It may be easier for a Turkish dervish or a Kathakali dancer in South India to "get" Messiaen than some of the folk who think standing in the Arena automatically makes you an instant expert in music.

The Transfiguration in this piece refers to the miracle in which Jesus, the man, is transformed into God. Yet Messiaen's music is nothing like conventional church music. Listen to those bizarre, angular rhythms, those discordant squirls of sound. This is wild "Hollywood" extravaganza in vivid technicolor. The inference is that all things, however oddball, have the divine within them. So a good performance of La Transfiguration is one where the massiveness gets electrified by hyper ecstatic energy. The orchestra and especially the singers have to let go of conventional inhibitions. BBCNOW stands for National Orchestra of Wales not "now" as in the sense of "music of now", and the singers have most probably come up through the ranks of sober hymn services. Getting a piece of music this big off the ground is a herculean task at the best of times, but what this performance needed was rehearsals of a completely different kind. Conventional church music is beautiful in its own terms, but Messiaen's music isn't conventional. These choirs are excellent, but this music needs a certain amount of enhanced frenzy.

After the relative stillness of the Gospel, the 12th section should be "shock and awe", every bit as terrifying as what the term was invented for, to blitz away all resistance. "How awesome is this place" goes the text, it's overwhelming, terrifying because it is strange, new territory. Men don't get made God every day. This, however, was pretty sedate, perhaps because there was too much focus on the "birdsong" which runs riot, as in a dawn or evening chorus. Birdsong in Messiaen is another aspect of Messiaen that shouldn't be taken too literally. Ornithologists probably get a lot out of his music because they can identify specific birds and know why Messiaen used which bird when, because he uses them with deliberate meaning. But good ornithologists also know that birds don't just sing - they observe their movements, habits, habitats. Birdsong in Messiaen is nothing like birdsong in, say, Schubert or Mahler. Messiaen studied birds from life. So he knew they don't sing nice little melodies, they sing to mark territory, to alert others, and also because they enjoy it. Even the most eloquent sing in snatches, breaking off in different directions, following quirky rhythms and intervals. So Messiaen's birdsong is radically different in terms of how it affects musical form. Only Janàĉek, who notated the chickens in his garden, comes near.

Messiaen's birdsong defies conventional symphonic development. It's organic, evolving of itself, rather than from a preconceived harmonic idea. It moves, changes direction, follows odd little riffs and cells. Listening to Messiaen this year has enriched my feel for Boulez tremendously. Nadia Boulanger's intense dislike of Messiaen and his circle extended to Boulez and even to Yvonne Loriod, who was instantly dropped when she took up with Messiaen. Her influence on many English language writers and musicians still prevails. Perhaps Boulanger, who did have a good ear, but was fixated on Stravinsky, realised where Messiaen might be heading.

So this Proms didn't ignite into the mind-blowing experience it might have been. Listen out for Nagano this autumn at the South Bank, and listen to the recordings (Cambreling, Myung whun Chung and recently de Leeuw). But we listen to music (or at least I do) for what it gives us, not because we're searching for "definitive" perfection. I got lots out of this Prom even though it dragged in places, even though I'm a long term fan. I can't at all blame those who walked out or fell asleep. But a friend told me he'd seen a little girl with thick glasses, listen rapt with attention through all 14 sections. Now that must surely justify this Prom and indeed the whole Prom tradition. If the joy of performance can touch even a small girl way up in the galleries, the Proms serve their purpose. Does our government even begin to understand what an asset the BBC Proms are to the cultural life of this country ?

Listen to this Prom online on http://www.bbc.co.uk/proms/2008/. It was also televised so you can watch the film, too ! The live performance was spoiled because the music had to stop for regular radio commentary. Of course people benefit from knowing "about" the music but interrupting a performance kills whatever atmosphere there might be, so it's self defeating.

Anne Ozorio

Ba
ck to Top
Cumulative Index Page