Other Links
Editorial Board
Google Site Search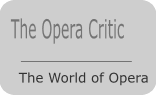 SEEN AND HEARD OPERA REVIEW

Handel, Partenope: Soloists and Orchestra of English National Opera/Christian Curnyn. 9.10.2008 (CC)

Cast:

Partenope Rosemary Joshua
Rosmira Patricia Bardon
Arsace Christine Rice
Armindo lestyn Davies
Emilio John Mark Ainsley
Ormonte James Gower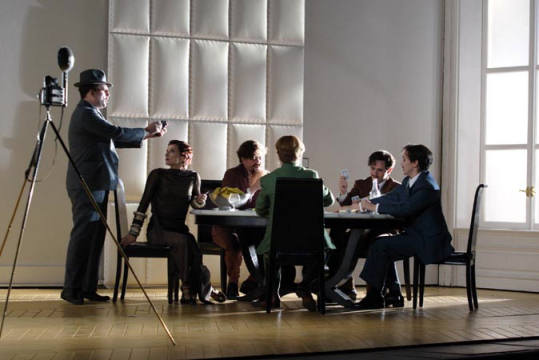 The Full Company



English National Opera certainly seems to have an affinity for Handel. In 2003, they put on Semele with a cast that included Carolyn Sampson and Ian Bostridge (and Patricia Bardon, the only singer common to both productions). It was a splendid production, but I had some doubts as to the evenness of invention of Handel's music. No such caveats here (the run time of 3 hours 45 minutes flashed by)

just a lingering question: why has Partenope been so side-lined? The Chandos recording (Chandos Chaconne CHAN0719) appears to be the only currently available account. The score reveals an unflagging invention married to a true understanding of the dramatic and comedic possibilities of the chosen subject. Luckily, the recording shares the same singer in the title role as in this staging – the astonishing Rosemary Joshua.

The text for Handel's piece was anonymously adapted from a libretto by Silvio Stampiglia; we heard it in the English translation by the ever-excellent, ever-witty Amanda Holden. Director Christopher Alden sets this Partenope in a twenties Parisian salon. I am one of those with no objections to (intelligent) resetting of operas, and the elements of farce, the quick-fire movements of partners (with everyone ending up with the "right" one), not to mention the plethora of cross-dressings seem to suit the quixotic, quicksilver nature of the 1920's as we perceive it now. Surrealism plays a huge part in the staging, most obviously in the casting of Emilio (sung by John Mark Ainsley) as the photographer Man Ray, who seeks to record, to manipulate and to transform all around him while remaining a character in the opera itself. Actual pictures by Man Ray inspired much of the more oblique moments we were treated to. Lighting, by Adam Silverman, was amazingly inventive and clean, reflecting the generally minimalist aura of the staging. There is plenty of "cleverness" all around. Background hiss is introduced for an aria, "This music with sorrow surrounds me" from Act III, which is accompanied (ostensibly) by a gramophone.

Partenope herself is portrayed as omnipotent, and we the audience, are the privileged observers of her inner circle. Nothing here, as the ENO blurb attests, is what it seems. Disguise is rife (almost right away, we see the character of Rosmira dressed as a man – although in spite of this (s)he is recognised by an Ex, Arsace). Jealousy is the inevitable by-product of Partenope's sexual popularity, resulting in rivalries that lead to a duel.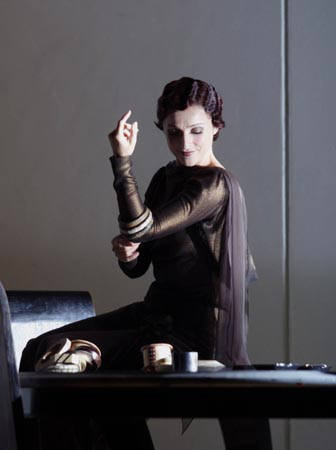 Rosemary Joshua as Partenope



Rosemary Joshua's stamina, her vocal accuracy and her musical acuity would probably be enough to carry the show single-handedly. She looks the part too, slim and sophisticated. Her vocal agility never flagged ("Both Destiny and Love shall battle in my name" from Act 1 being a high point). Countertenor Iestyn Davies was Armindo, his voice bright and clear, his pitching always seeming to find the middle of the note, and his acting convincing (he did seem positively distraught in "How I long to explain my sighing").

Mezzo Patricia Bardon was a proud-of-voice Rosmira (disguised as Eurimene), overshadowing perhaps a little her Arsace, Christine Rice, who could come across as somewhat weak vocally (as well as in terms of acting, in Act II) while Iestyn Davies' Armindo provided plenty of fun. Poor old John Mark Ainsley as the camera-toting Emilio, negotiated his runs with ease (better be careful how I phrase things, as he sings an Act II aria from a toilet!) while being asked to sing in a variety of improbable situations (including half way up a ladder dressed in a kilt!) Only in the final stages of the opera was a certain amount of air around his notes noticeable. By the way, was the similarity of looks between Emilio and Eric Morecombe accidental, I wonder? Am I the only one who noticed it?

It was hangovers all round for the opening of Act III, where the slogan of the opera, and certainly this staging, is made explicit: "Things are not always what they seem; Love can be blind."

Christian Curnyn was making his ENO debut (he conducts the Chandos recording, but the forces there are the Early Opera Company). The pit orchestra probably played as tightly as I have ever heard it, with rhythms crisp and alive and with high strings articulating at speed with superb ensemble, yet capable also of the deepest forms of expression.

Please note that this performance of Partenope will be broadcast on BBC Radio 3 on Saturday November 8th at 630pm. Do hear it. This piece is rarely done (this run is the first London staging since the 1982/83 London Handel Festival) and deserves all the support it gets. Superb.



Colin Clarke

Pictures © Catherine Ashmore

Back to Top Cumulative Index Page