Other Links
Editorial Board
Google Site Search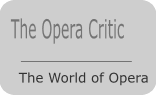 SEEN AND HEARD OPERA REVIEW

Rossini, Matilde di Shabran: (London Premiere) Soloists, Orchestra and Chorus of the Royal Opera House, conducted by Carlo Rizzi. Directed by Mario Martone. Covent Garden, 23.10.2008 (ME)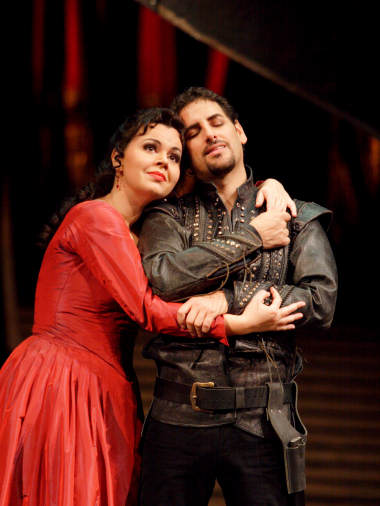 Aleksandra Kurzak (Matilde) and Juan Diego Flórez (Corradino)



What was that, sir? Alma rea! Perché ti'involi? Fuggi invan gli sdegni miei? I think that was what Juan Diego Flórez sang as he hurtled down the very noisy double helix staircase – well, to be honest, I know that was what he sang, but I didn't hear it because his first lines were drowned out by applause. Groan. Took me back, I can tell you – right back to Wolverhampton Grand Theatre about 30 years ago, to a creaky old Priestley production in which Joan Plowright starred. When the diva tottered on, the grateful populace broke into clapping, and a bow was taken before a single line was uttered. Thankfully our hero last night continued singing, but I hope the practice of 'welcoming' applause may be encouraged to stay in the provinces where it belongs. Needless to say, most of us were at the Royal Opera House last night to hear Flórez – don't tell me that three and three quarter hours of relatively obscure Rossini would sell out otherwise, and he did not disappoint even if he was not at his world-beating best on this first night.

Matilde di Shabran, ossia Bellezza, e cuor di ferro (Matilde of Shabran, or Beauty with a Heart of Iron) is a 'melodrama giocoso' seeking to bridge the gap between opera seria and opera buffa and in many ways it feels quite Shakespearian – think echoes of Twelfth Night mixed with shades of The Taming of the Shrew, except that in this case it's more 'The Taming of the Tyrant.' As well as the main plotline of the feisty Matilde's crusade to tame and sweeten the martial Corradino, aided by his doctor Aliprando and the itinerant poet Isidoro, there is a touching sub-plot concerning the imprisoned nobleman Edoardo and the fate of his elderly father, both strands seamlessly interwoven in both Rossini's music and Mario Martone's production. Apart from the noisy staircase, Martone and the associate director Daniela Schiavone have done the composer proud: that staircase looks beautiful and not only allows elegant placing of the principals and much near-farcical action but also forms a crucial central focus, directing the eye towards mysterious shadows and recesses. The movement is exceptionally well drilled (always a necessity with Rossini) and even the chorus joins in the somewhat over-the-top antics – not to be deplored when the singers are given such sympathetic direction as they are here.

The part of Corradino is the one with which Flórez shot to fame in 1996 after standing in for Bruce Ford, and of course he has made it his own. I'm always surprised when critics say that he can't act – he is in fact a graceful and genuinely funny stage animal, and this part gives him the chance to be something other than milquetoast of Nemorino or Tonio. I've noted in many past reviews – in fact I think I may have been the first critic to say so – that the brilliance of his coloratura and his phenomenal breath control are excelled, if that is possible, by the elegance, refinement and tenderness with which he sings the quieter, more lyrical passages. We were treated to plenty of those on this occasion, all wonderfully sung, and it was only in the more dramatic, forceful music that I felt him to be holding back just a little. 'Ah, capisco, non parlate' the duet with Matilde, was the moment when he really found his best form, and from then on he produced streams of silvery, lucent sound.

Reviewing her house debut as Aspasia in the Royal Opera's 2005 Mitridate, Re di Ponto, I wrote of Aleksandra Kurzak that she had 'a vibrant personality, a really outstanding voice with a confident ring and mastery of the highest notes' – perfect for the title role in Matilde, and here she managed the challenging feat of not being upstaged by the star tenor, singing with fearless accuracy, colourful phrasing and even tenderness when required. Both she and Flórez are the antithesis of can belto, with a sound made up of seemingly effortless production allied to an intimacy with language which is a joy to hear. Her final big scene, where Matilde triumphs in her romantic victory over Corradino, Tace la Tromba alterra, Spira tranquillità was as stunning a display of vocal acrobatics as I've heard in a long time.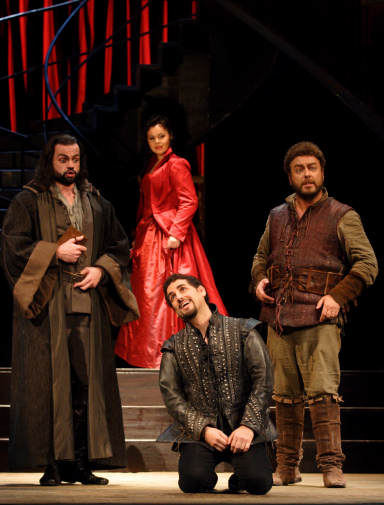 Vinco (Aliprando) Flórez (Corradino) Lepore( Ginardo) and Kurzak (Matilde)

The two principals were supported by a strong cast, with Alfonso Antoniozzi's Isidoro endearing in histrionic terms although he did not always shape the phrases as fully as one might hope. Marco Vinco's Aliprando made the most of his status as the one into whose arms the hero scuttles whenever he feels a sniffle coming on, and he was another ROH debutant of whom I expect to hear more, with a confident stage presence and a finely cultivated bass-baritone voice. Vesselina Kasarova was a convincing Edoardo, sympathetic in his / her plight and producing wonderfully burnished sounds throughout most of the three octave range of the rôle, although some of those low notes tended towards the booming. Enkelejda Shkosa was a striking Contessa, and there were strong contributions from Mark Beesley as Lopez and Carlo Lepore as Corradino's servant. Indeed, coupled with the excellent choral singing, this was one of the few occasions when one can say that a Covent Garden production, despite the usual quota of 'stars,' really felt like a proper company show.

Of course the production is not new – it comes to us from Pesaro so there has been time to achieve the required intimacy, and that sense was further highlighted by Carlo Rizzi's lively, affectionate account of the score. There were times when the playing was just a shade too loud, but overall this was music-making at the level of the singing and the production, that is to say the very highest. If you haven't booked, it is well worth trying for a day ticket for one of the five remaining performances.

Melanie Eskenazi


Pictures © Catherine Ashmore

Back to Top Cumulative Index Page