Other Links
Editorial Board
Editor - Bill Kenny
London Editor-Melanie Eskenazi
Founder - Len Mullenger
Google Site Search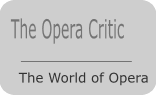 SEEN AND HEARD OPERA REVIEW

Offenbach, The Tales of Hoffmann : Mid Wales Opera, Roses Theatre Tewkesbury, 17.9.2008 and touring England and Wales until November 9th (RJ)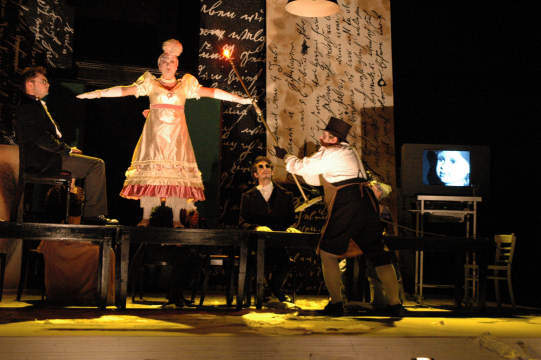 I have a sneaking admiration for small touring opera companies which do one night stands all over the country, performing on rudimentary sets with minimal technical backing supported by just a handful of musicians or just a piano. While these are brave attempts to bring opera to everyone, unfortunately they are often not quite the real thing.

Happily, Mid Wales Opera's production of The Tales of Hoffmann currently touring Britain is in a superior league. The company now has 20 years' experience behind it and clearly knows what works. It has an ingenious set designed by Anthony Baker complete with lighting rig and its own ten-piece chamber orchestra.

Offenbach never completed what is regarded as his masterpiece, and over the years it has been performed in various different versions. According to the programme notes this production keeps as close as possible to the composer's original intentions, and Tim Hopkins' new translation is exemplary.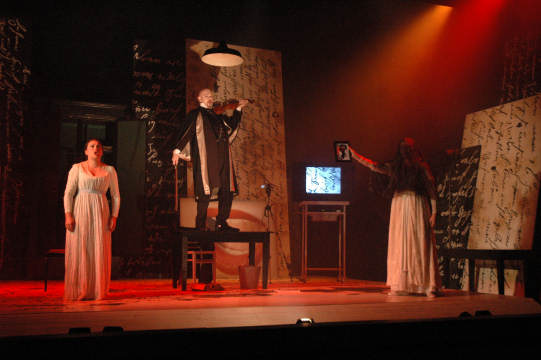 The opera's central figure is the 19th century German Romantic writer E T A Hoffmann who becomes the principal protagonist in three of his fantasy stories, falling in love with three very different (and totally unsuitable) women. Overseeing his actions is another force - his Muse, convincingly played by Carolyn Dobbin - who is keen to steer him away from romantic attachments to concentrate on his creative work.

James Edwards is a somewhat desperate Hoffmann who drowns his sorrows in drink and ignores the girl who really loves him. The fantasies he conjures up have a nighmarish quality with grotesque figures, faces that look strangely familiar, and bizarre situations over which he has no control.

The women in his life and stories are played by the versatile New Zealander Rebecca Ryan who excels in the roles of the mechanical doll Olympia whose mechanism goes awry, the singer Antonia who is forbidden to sing, and the scheming Venetian courtesan Giuletta.

The sinister Wyn Pencarreg in his undertaker's hat also plays multiple roles bringing a macabre edge to the action as Lindorf, Hoffman's rival in love, as the scientist Coppelius, as the sorcerer Dapertutto and the deadly Doctor Miracle. (For some performances these roles are taken by Christopher Steele, Catherine May and Dean Robinson respectively.)

There was a particularly strong young supporting cast - all terrific singers in their own right - and there was not a dull moment in Tim Hopkins' lively production which moved seamlessly from scene to scene and built up into tense dramatic climaxes. Under Keith Darlington's dynamic direction the orchestra managed to produce a full-bodied tone despite the dry acoustic of the theatre, and the evening was full of musical highlights. The wistful duet between Antonia and Hoffmann was especially poignant and the ensemble singing in the lilting Barcarolle was the stuff of dreams.

The set was dominated by panels depicting Hoffmann's writings, the lighting by Robert Wallbank was very effective and the nineteenth century costumes looked quite splendid. But it was difficult to see the point of a TV monitor and a portable typewriter. Hoffmann would surely have used a quill pen for his writing? Yet these were minor blemishes. This Mid Wales Opera production is a cornucopia of delights which will hold even the most discriminating opera-goer enraptured.

The tour goes as far afield as Colchester, Canterbury and the Isle of Wight, but I note there is no performance in Cardiff. Perhaps Mid Wales Opera is afraid of upstaging WNO!



Roger Jones

Pictures of the Tewkesbury cast courtesy of Mid Wales Opera.

Back to Top Cumulative Index Page