Other Links
Editorial Board
Google Site Search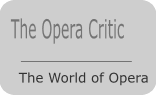 SEEN AND HEARD CONCERT REVIEW

Hayden, Mozart, Messiaen, Stravinsky: Gil Shaham (violin); BBCSO/David Robertson. Barbican Hall, 8.12. 2008 (CC)


The main point of interest here was surely Sam Hayden's Substratum. The date given for this work is 2004-6; a previous, shorter version was premiered at the Proms. The present performance, then, was the World Premiere of the complete score.

Hayden uses a huge orchestra. As the title, Substratum, implies, the bass end of the orchestra is extended and emphasised and, indeed, the work is harmonically conceived from the bass upwards (albeit not in terms of traditional tonal harmonic structures). The contrabass clarinet and the contrabass trombone both augment the lower part of the sonic spectrum.

The geological metaphor of the title makes immediate allusion to Birtwistle's Earth Dances, wherein strata of the earth perform a "dance", constantly shifting in relation to one another. But with his "bass up" stance, Hayden's work seems (excuse the pun) more grounded. He uses pauses frequently, and they perform a variety of functions: purely gestural; full stop; harmonic clarification and, more accurately, distillation by the sustaining of several vital pitches (this latter occurring at either end of the dynamic scale). In effect, they provide welcome periods of reflection for the listener. Incidentally, Hayden's compositional process was to create a complete rhythmic map of the piece before any pitches were added, thus "humanising" the score, as Hayden put it in the pre-concert talk.
The sound can be complex, as Hayden writes up to seven strata simultaneously. Brass-saturated passages are hugely moving on a primal level. The piece even sounds angry at various points. Hayden's idea of coalescing several strata into one sound-image and creating shifts of perspective therein plays huge dividends – one gets the impression this is an inexhaustible score. Yet, this never sounds dense; just busy. Gesture is clearly to the fore at the work's opening; soon, however, Hayden gives the impression of the orchestra as a vast, slow-moving monolith. This is a mightily impressive piece. It would be good to have it on disc, to savour its complexities.

David Robertson, the Chief Guest Conductor of the BBCSO, directed the performance expertly, shaping the sections with precision. This type of music, something both players and listeners can get their teeth into, is traditionally the orchestra's bread and butter. Long may this tradition continue.

After Hayden, Mozart. David Robertson's brother-in-law, Gil Shaham, was the soloist in Mozart's Violin Concerto No. 2 in D, K211 of 1775. Although there was a post-Hayden mass exeunt on stage, the contrast was not as jarring as I had feared. The orchestra, suave and stylish, brought forth smiles of delight from Shaham as he watched and listened intently to the orchestral exposition. The last time I heard this concerto in this hall was with Mutter (LSO/Colin Davis) in late 2001. Mutter's subtlety still resounded in the imagination, though, and Shaham's tone was not as sweet. Shaham projected well, and one had a real feeling of technical security with him (the stopping of the first movement cadenza was simply lovely). Alas, he was less on Mozart's wavelength in the Andante. A moment of near-beauty, a held-breath pianissimo, was nearly blown by a lumpy phrase. At least the Rondeau finale had plenty of life.

The other concerto, and the final piece on the programme, was the Stravinsky, for which Shaham elected to use the music. Another Barbican comparison comes into play here, this time Hilary Hahn in 2003 (with the San Francisco Symphony under Tilson Thomas). Here Shaham just gets the laurels. While Hahn felt a little removed, a little as if the music was not quite under her skin throughout, Shaham only gave that impression initially, before warming into the performance. Perhaps Robertson's handling of the orchestra helped, for he caught the circus qualities of the music well in the brisk first movement. Soloist and orchestra gelled in Aria I, with Shaham at his most delicate against a perfectly delineated orchestra. There were just a couple of moments of questionable ensemble here. Shaham enjoyed the Romantic gestures of Aria II before a finale which was shot through with fun (a special mention here for the excellent bassoonist, Julie Price).

In between the two concertos lay Messiaen's Un Sourire (1989), written for the bicentennary of the death of Mozart and first performed (in Paris) on the exact day of the anniversary (December 5th, 1991). The title means "A Smile" and refers to the sunny character of much of Mozart's music, even in the face of adverse life conditions. It is a lovely nine-minute piece. Bird song is alluded to without the exact origins of the songs being specified. No double-basses or heavy brass are used, giving the music a sense of space (in spite of its brevity) and freedom. The performance left something to be desired though – the perilous oboe of the opening; the lack of rapt delivery to the long string phrases. More seriously, the feeling of controlled ecstasy that runs through the score was almost entirely absent.

A shame to end on a negative note, when there was much to admire in this concert. The Hayden is what emerged as most memorable, and I look forward to renewing my acquaintance with this piece.

Colin Clarke


Back to Top Cumulative Index Page