Other Links
Editorial Board
Google Site Search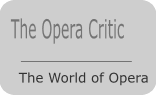 SEEN AND HEARD INTERNATIONAL OPERA REVIEW

Mozart, Le nozze di Figaro : Kitsap Opera, soloists, Bremerton Symphony Orchestra, cond. Elizabeth Stoyanovich, harpsichordist Sarah Silvia, prod. Leone Cottrell-Adkins, stage dir. Tom Sunderland, set design, lighting design, and technical direction Emily Andrews, costume designers Lavender and Holly Oehler-Sandras, choreographers Heather Neuhofel and Theresa Ballew, stage manager Theresa Ballew, Bremerton Performing Arts Center, Bremerton, WA, 21 and 23.11.2008 (BJ)
Le nozze di Figaro–best translated as "Figaro's Wedding"–is two quite distinct kinds of miracle at once. Here, on a superficial view, is the epitome of the artificial 18th-century opera buffa plot, replete with intrigues suspected and real, complete with young-man role for female singer, and culminating in a night-time garden scene that outdoes all rivals with its mêlée of mistaken meanings and identities and of selectively overheard asides. Yet it was this same piece of theatrical clockwork that led Bernard Shaw, invoking the spirit of Shakespeare himself, to celebrate Mozart as "the most subtle and profound of all musical dramatists."
In terms of its artificiality and the built-in minor unlikelihoods of its plot, Figaro is as hard or as easy to take as any opera. Once you have accepted the basic convention that singing is the characters' natural everyday mode of expression, the other more localized conventions follow readily enough. It is the dramatic profundity, the human truth of their application here, that makes the result unique.
It is hardly possible that a work possessed of such complexity and such depth should be anything but supremely difficult to produce successfully. Over the years, indeed, I have seen productions by fully accredited professional companies that failed to convince, including at least two that I walked out of in disgust at their frivolous betrayal of the opera's gravity and power. So it is with the utmost pleasure, and perhaps even a touch of surprise, that I can hail the effort under review, mounted in a school auditorium in Kitsap County west of Seattle by an essentially amateur opera company and a largely amateur community orchestra, as nothing short of a triumph.
During the past sixteen years Leone Cottrell-Adkins, the founder of Kitsap Opera, has produced twenty fully-staged operas for the company; I reviewed her La Bohème enthusiastically last November. She has also usually conducted them herself. For this production, however, she handed the musical leadership over to Elizabeth Stoyanovich, music director of the Bremerton Symphony Orchestra (in whose first concert, an incredible 66 years ago, Ms. Cottrell-Adkins played contrabass), and the opera was presented by the two organizations in collaboration.
Such an abdication of podium responsibility must have been bitter-sweet for this wonderful champion of community opera, but I hope she will have found it much more sweet than bitter. Faced with the intricate challenge of opera conducting for the first time, Maestra Stoyanovich acquitted herself with admirable assurance. The 33 members of her orchestra played cleanly and beautifully–there were some particularly good solos from principal oboist Amy Duerr-Day and principal clarinetist William Ferman, but the strings also far surpassed amateur standards–and ensemble between pit and stage was close to impeccable.
On that stage, on a simple but for the most part effective set (I'll come to the exceptions in a moment) and in equally serviceable costumes, a cast of remarkable vocal quality had been assembled. As they must be, the principals of the title's wedding were the mainspring of the action: Jonathan Silvia was all quick-witted resourcefulness as Figaro, Leann Conley made a perfectly adorable Susanna, and both sang with sumptuous tone and fine technique. Marana Avant was no less convincing as the pint-sized page Cherubino; she was even better in the second of the two performances than she had been in the first, achieving a truly magical (and flawlessly accompanied) performance of her second aria, Voi che sapete, including a discreetly stylish embellishment at the end.
Also much stronger the second time around was the Countess of Eleanor Stallcop-Horrox, her line on Sunday sounding much firmer and her voice more appealing, and her Italian diction was particularly clear and idiomatic. All the smaller roles were well taken: they included Eric Molgard's suitably pompous Bartolo, Corinne Stevens's feisty Marcellina, James Walter's Basilio and Don Curzio, Angela Moore's Barbarina, and James Howland's Antonio, though it must be said that the last-named was more convincing dramatically than vocally.
If I have left Count Almaviva till last, it is because David Borning's gorgeously sung assumption of the role was so interesting as to demand special comment. At first I found his want of real dignity, his constant fidgeting, to be a distraction. The Count is usually played as a figure at least outwardly aristocratic in his assurance and authority. But as the opening performance continued, I came to realize that what this reading of the part was doing was to externalize the inner difference between the two opponents in the story. Next to the stillness and grace of Silvia's Figaro, Borning's Count laid bare all of that imperfect nobleman's inward weakness and self-indulgence. It was a perfectly legitimate and valid interpretation, and, like Mozart's and Da Ponte's masterpiece, it made ironically clear the accident of birth–for in this opera the servant is the true aristocratic, and the nobleman a pathetic boor.
There were a few details that I thought didn't quite work–and here I come first to my reservations about the set. There was one door too few on stage–it's absurd to have the Count, in Act II, admitted through the door by which Susanna has just left and asking why it was locked, and the wardrobe in which first Cherubino and then Susanna secreted themselves was no adequate substitute for the door to a real dressing-room. The Countess, when she leaves the stage after singing Dove sono, surely ought to be registering the deep sadness of her situation rather than a haughty affronted dignity. And in the finale scene (which was too brightly lit, making the mistakes of identification hard to believe) she surely ought to have made her climactic appearance on the other side of the stage–from "the other arbor," as the stage directions prescribe–which was where she had gone a few minutes before.
If you are going to project English translations above the stage, they need to be more carefully marshaled and timed than they were on this occasion. And I despair of ever encountering an American stage director properly sensitive to historical European class-distinctions–there were several inappropriate touchings that transgressed the barriers between aristocratic and peasant, and between master and servant. But these are trifling complaints when set against the touching and illuminating beauty of the production as a whole. Stage director Tom Sunderland deserves the highest praise for presenting Figaro's Wedding–the work I should cite if I were asked to justify the existence of humanity by just one of its products–at the level it deserves. Even the redoubtable Seattle Opera is going to have its work cut out to match this when it presents the opera next May.
Bernard Jacobson