Other Links
Editorial Board
Editor - Bill Kenny
London Editor-Melanie Eskenazi
Founder - Len Mullenger
Google Site Search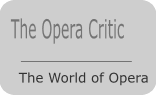 SEEN AND HEARD OPERA REVIEW

Mascagni/Leoncavallo, Cavalleria rusticana & Pagliacci: New productions by Richard Jones and designed by Ultz. Soloists, Chorus and Orchestra of English National Opera. Conductor: Edward Gardner. The London Coliseum, London. 26.9.2008 (JPr)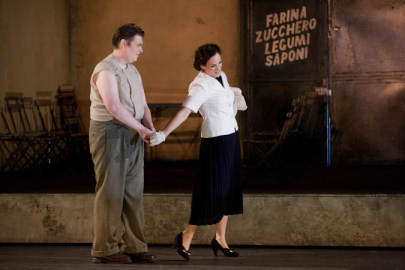 Robert Ewens as Turiddu's brother, Fiona Murphy as Lola


As the nineteenth century drew to its close, audiences turned from Wagner's gods and heroes to embrace post-Verdian verismo with stories that reflected real-life happenings. The birth of this movement came with the première of Mascagni's Cavalleria rusticana in Rome on 17 May 1890. It was soon twinned with Leoncavallo's 1892 Pagliacci and together they caused verismo to sweep Europe influencing many diverse art forms.

Although most recently seen as a Raymond Gubbay Royal Albert Hall extravaganza, Cavalleria rusticana and Pagliacci, or 'Cav & Pag', have not been seen together in London's main opera houses for quite some time. They once were as popular as the regularly performed Puccini operas or genuine Verdi masterpieces (Rigoletto, La Traviata, Un ballo in maschera, Aida etc.) in the affections of opera lovers. Recently they have fallen out of favour somewhat and perhaps a reassessment of them is overdue? Modern audiences seem to get an overdose of naturalism whenever the houselights dim in a theatre or opera house these days and so these operas, with their tales of love-triangles and bloody revenge, can be easily written off as mere lurid melodramatic potboilers.

In Cavalleria rusticana ('Rustic Chivalry') we have the soldier Turiddu who is sleeping with Lola, the wife of the local cart-driver Alfio, while he is away; and also cheating on his girlfriend Santuzza, who begs him to give Lola up. When he refuses, she tells Alfio the situation and he kills Turiddu in a knife fight. Mascagni rarely wastes a second of this 75 minute opera of almost symphonic beauty.

Richard Jones acknowledges this when he calls Cavalleria rusticana 'a conductor's piece' - comparing it with Pagliacci ('Clowns'), 'a director's piece'. That may well be true but Pag is also a singer's piece. This is clear from the moment that Tonio steps from behind the curtain to sing the opera's famous prologue 'Si puo?' Tonio is the crippled clown in a travelling commedia dell'arte troupe which stops for a night in Calabria. There Nedda, the beautiful wife of Canio, the troupe's intensely jealous leader, is reunited with her secret lover, Silvio, and they make plans to run off together after the performance. Tonio, whose advances Nedda has scorned, overhears their plans and tells Canio about his wife's betrayal. While they are performing a stage farce (also about a wife's betrayal) which mirrors the offstage love triangle, Canio stabs both Nedda and her lover Silvio, who has leapt onstage to save her, to death.

Like Mascagni, Leoncavallo possesses the basic essentials for writing a successful opera; he has a strong sense of colour, the feeling for melody, dramatic force, declamatory power, and musical characterisation. Here again the action of the drama never flags. This is not to say everything is perfect as Leoncavallo has his faults. His music often recalls other composers, Wagner included, his emotional gear changes are occasionally over-exaggerated and his orchestration a bit noisy. On the other hand, his dramatic grip is greater than Mascagni's, as is his power of characterisation.

What might Richard Jones, one of today's leading figures of 'director's opera', make of these stories? The more I am distanced from his production of the Ring Cycle of the late 1990s at Covent Garden the more wonderful are my recollections of it. There are many other iconoclastic yet illuminating Jones stagings which I have enjoyed including a brilliant early Das Rheingold for Scottish Opera, his fantastical Hansel und Gretel for Welsh National Opera, a visceral Lulu for English National Opera and an electrifying Lady Macbeth of Mtsensk at Covent Garden. I anticipated an evening to remember and he did not disappoint me.

Cavalleria rusticana ('Sicilian Revenge' as Sean O'Brien new translation calls it) is the more unremittingly dark of the two short operas. Eventually the audience realises less money has been spent on this work, and less directorial effort too it seems, yet its unfolding drama is gripping from beginning to end. The ENO warehouse has been raided and use has been found for a low one-storey set from their abandoned Ring. We are clearly where we should be in Sicily although not outdoors but in a claustrophobic, much-used, 1930s dirty tin-roofed, community hall/soup kitchen. Here the women gather to make rabbit stew for after Easter Sunday Mass. It is a closed community where every minor indiscretion becomes public knowledge.

Easter Sunday happens outside the hall but religion heavily influences the happenings within it. During the prelude Turridu meets Lola for sex and then his 'offstage' serenade at the opening of the opera is sung directly to her. Yet directorial sloppiness here (which does not happen in Pagliacci) has neither Lola's dress dishevelled nor Turridu needing to adjust his trousers. The wronged woman, Santuzza, seems an embittered outsider, pregnant before marriage, who has lost the respect of the community. However it becomes 'all for one and one for all' as Alfio gets his bloody revenge when Turridu's eyes are gouged out and he is stabbed before dying in Lola's arms once again. It is left to the invented character of Turridu's 'brother' with cerebral palsy to scream that he has been killed.

My only criticisms are that the single set often gets rather crowded and that the translation is a little contrived at times 'Back home I know Lola's pining, but soon we'll be combining' and some single words are spread unmusically over too many notes - 'hon-on-our' and 'fore-ev-ver' were just two jarring examples.

From his first aria, Peter Auty's heavy drinking and abused Turridu was an ardent interpretation, with warm heroic tones and ringing secure top notes. He was at his best in 'Mamma' as he said farewell to his mother. He did not seem the best of actors and looked strangely child-like in his blue trousers and boots. Jane Dutton who impressed me last year at ENO as Amneris sang Santuzza with great heart; she was wonderfully neurotic and hungry for revenge. As Alfio Roland Wood was rather dry-voiced and failed to fill the theatre with sound and Fiona Murphy's Lola was only intermittently seductive.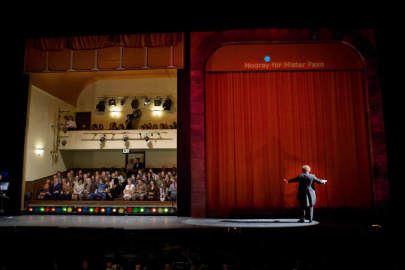 Pagliacci


Richard Jones gives the principal singers from Cavalleria rusticana an extra curtain call after the interval and we go straight into Lee Hall's new English adaptation of Pagliacci. It is renamed 'The Comedians' and one old form of theatrical comedy – commedia dell'arte – has been replaced by another. An ensemble of ageing comics from a seemingly successful 1970s' TV show – 'The stars of ITV's Bless My Soul" - are touring with a typical British sex comedy Ding Dong. Christopher Purves's Tony has a bright blue suit and silly horn-rimmed thick-lensed glasses and together with a corpulent Kenny 'Mr Paxo' Evans, he strongly reminded me of Little and Large who had a prominent photograph in the programme.

The sense of character was outstanding and it was as if I had known them all my life; Tony O'Sullivan (Tonio), Kenny (Canio), Nelly Scrimshaw (Nedda) and Silvio (Woody, the stage carpenter). When Kenny begins his tragic aria 'On with the make-up' Jones (and his designer Ultz) show him and the other leading characters side-by-side in their small grimy dressing rooms and sadly we remember all those comics of yesterday for whom there was always sadness behind the laughter and smiles. I remembered particularly my own backstage visit once to meet Ken Dodd.

The sets were a marvel from the company's arrival at what possibly is the Sunderland Empire of the 1970s, through onstage and backstage views of the theatre and to the final scene where the 'auditorium' fills half the stage and we have the bedroom farce carrying on as people would see it in the other half. In the final moments we have stage action and audience's reaction brilliantly shown together. As matters reach their deadly climax and the swearing begins 'You better f****** tell me what's his name' as Kenny demands answers from Nelly, we see shocked parents, relatives and children leaving their seats and going home. Kenny shoots Nelly and Woody before dispatching himself with a shot through the mouth. Jones has Kenny sink down on stage very much as Tommy Cooper did when he died during a live TV broadcast - with some laughter still resounding from those who - as here - think it is still part of an 'act'. Though never has Kenny's final spoken 'The comedy is over' seemed less of a laughing matter.

With its more compelling story, stronger cast and subtler direction Pagliacci is undoubtedly the stronger half of the double bill but then, don't we really expect that? The adaptation never seemed to work against the opera even when Kenny sings 'Laugh Mr Paxo'. The greatness of this staging is to take these characters who are real enough anyway and then truly make them live.

Mary Plazas's vivacious comedienne Nelly sparkily sings her aria, 'The birds where are they going?' as she rehearses her show-stopping song dancing with a cane, in scarlet dress and silver heel heels. She is also a compelling actress in lingerie during the bedroom farce in which Richard Jones makes use again of one of his favourite stage props – a wardrobe. She shares vocal and acting honours with Christopher Purves's sleazy and lustful Tony, the antithesis of the clown he becomes when before the public. His Prologue was compellingly sung with great vocal ease and his performance was masterly throughout the opera. Mark Stone's Woody has a wig that makes him look like Robin Askwith from the 'Confessions of' films, as illustrated in the programme and was a more significant character than Silvio usually is. His was another good performance.

Geraint Dodd of course, had the short-straw as Kenny as the role lies high and is also emotionally strident. The singer must sing like a Tristan while Richard Jones makes him act every cuckolded moment of his limited time on stage. During the 'farce' his indignity at having his trousers lowered was almost Oliver Hardy-like. Dodd's tone became a bit unremitting towards the end and showed too much exasperation in his voice, although it did match well with the character he showed us in his 'performance'. Nevertheless his Kenny was very affecting at his death, perhaps because of those resonances already alluded to.

The greatest plus factor for ENO at present is their musical director, Edward Gardner, who seems to have energised the music staff to get performances from chorus and principals for which we have to go back many years to have heard at the Coliseum. He conducts the lush scores with breadth and rumbustiousness letting the music organically build up to the frequent impassioned climaxes. It was remarkable how much Cavalleria rusticana sounded like a symphonic poem, under his baton when no one was singing. He is supported by excellent playing from his orchestra and all in all – at last – here is genuine competition for the Royal Opera. There is no longer just one show in town.

Jim Pritchard

Pictures © Robert Workman

Back to Top Cumulative Index Page