Other Links
Editorial Board
Editor - Bill Kenny
London Editor-Melanie Eskenazi
Founder - Len Mullenger
Google Site Search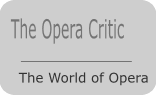 Price Comparison Web Site
SEEN AND HEARD INTERNATIONAL OPERA REVIEW
Wagner, Tristan und Isolde: Soloists, Estonian National Opera Symphony Orchestra and Opera Chorus / Arvo Volmer, Estonian National Opera, Tallinn, 17.5.2008. Premiere. (GF)

Directed by Neeme Kuningas
Designed by Ervin Õunapuu
Lighting design by Neeme Jõe, Neeme Kuningas and Ervin Õunapuu
Cast:
Tristan-Heikki Siukola
Isolde-Irmgard Vilsmaier
Brangäne -Helen Lokuta
Kurwenal-Rauno Elp
King Mark-Priit Volmer
Melot-Mart Madiste
A young sailor-Andres Köster
A steersman-René Soom
A shepherd-Vladislav Horuzhenko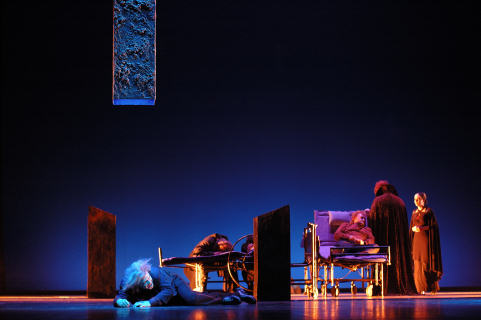 The central drama in Tristan und Isolde takes part primarily on an emotional level while the 'action' is limited to the end of Act II when Melot and Tristan fight, and in the final scene when both Melot and Kurwenal are killed. As a consequence, director Neeme Kuningas has chosen to discard most external adornment in the Estonian National Opera's new production of the opera and makes it a symbolist, to a certain extent even absurdist, play. A bare stage, evocatively lit and with a few props is the backdrop during the five-hour performance and the revolving stage is diligently employed. The costumes are timeless modern, no weapons are used in the fighting scenes – Tristan's sword is seen on the stage and also coming down from above but only as a symbol. Hospital beds are on stage in the first and – more naturally – third act, when Tristan is mortally wounded. In the first act, Isolde and Tristan are in bed on either side of the stage, tended by Brangäne and Kurwenal – who is old and walks with a stick. Both 'lovers' wear black glasses which are removed towards the end of the act when their eyes are being opened. But even after that, they mostly avoid looking at each other and they hardly touch. In the love scene in Act II they both sit on little stools, to which a tree with dry branches is connected. The long love duet is sung with the lovers lying on the floor and the tree tops touch each other. The whole performance is permeated by lack of contact. Only at the climactic end of the love scene do their bodies meet – but they are standing back to back, and it is in this position that King Mark finds them. In the last act, when Isolde arrives at Kareol to reunite with Tristan, she sits down by his side and really cares about him – but by then he is already dead. There is a sense of distancing in this performance – and whether this makes the story more universally applicable is probably a matter of personal attitude – but in its coolness and reserve it is very beautiful and leaves room for various interpretations. It definitely shuns passion as a central element – at least in traditional terms.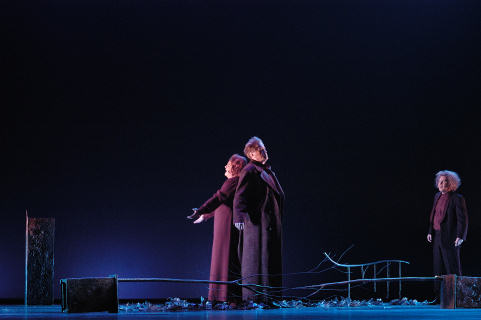 Musically there is no lack of passion, quite the contrary. The Estonian National Opera Symphony Orchestra under its chief conductor Arvo Volmer played at this premiere with an intensity and a lustre that surpassed anything I have heard from them, and Volmer's reading was voluptuous and sensual. From the first bars of the prelude he signalled that this was not going to be a lengthy affair in the Bernstein mould but a vital, airy and fairly swift performance – rather in the no-nonsense way of Karl Böhm's Bayreuth version or the recent Stockholm Opera production under Leif Segerstam. And he didn't hold his fire in the impassioned and dramatic moments. In a way his handling of the score was in contravention of the stage direction but I would rather state that it was complementary.

And he was lucky to have soloists who could withstand his volcanic eruptions without being drenched in the lava stream. In fact all the central characters were large voiced singers and, in the case of the loving couple, singers with real stamina. The Finnish tenor Heikki Siukola has sung Tristan in 21 productions of the opera and his was a powerful baritonal voice that showed very little strain and – almost unique for a Heldentenor with so many heavy roles behind him – none of the dryness and lacklustre delivery that disfigure so many of his colleagues. He was at his most impressive in the first act, where the tessitura is somewhat lower, but in spite of a slight flicker every now and then in the second act, the love duet was impressive and in the third act he was back on top form. His Isolde was the German soprano Irmgard Vilsmaier and she was sensational. A former pupil of Astrid Varnay, she made her debut some ten years ago in Elektra and now she is an Isolde to challenge the best, not only of today's singers but she is also worthy to be mentioned in the same breath as her teacher and even Birgit Nilsson. It was a large voice, perfectly produced with rounded tone and ringing top – and truly beautiful. It is difficult to know how well she projects in a larger house but it seemed that she has resources even for the MET.

Slight of stature but with a great voice, the young Helen Lokuta was a Brangäne to match even this formidable Isolde and she was a convincing actress. Rauno Elp was also a convincing Kurwenal, who improved after a slightly hesitant start and was tremendous in the last act. I saw him as Don Magnifico in La Cenerentola half a year ago and Alidoro in that performance was Priit Volmer who has a grand bass that he employs with great expressiveness. The only problem with his King Mark was that he looked far too young for the role. The minor parts were all well handled with an extra plus for Vladislav Horuženko's beautifully sung shepherd.

In the first interval there was a picnic in the Glyndebourne manner, even though the chill and some drizzle deterred the majority of the audience from dining in the open, but there was enough space indoors.

This was a triumph for the Estonian National Opera, where there hasn't been a new Tristan und Isolde since the 1930s. There are three more performances scheduled this Spring with other singers in some of the leading roles. It should also be mentioned that the Estonian National Opera are celebrating their 100th Anniversary this year – on 27 November to be exact – with a performance of Rigoletto. More information can be found on www.opera.ee



Göran Forsling

Pictures © Harri Rospu


Back to Top Cumulative Index Page