Other Links
Editorial Board
Editor - Bill Kenny
London Editor-Melanie Eskenazi
Founder - Len Mullenger
Google Site Search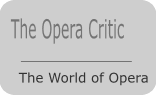 Price Comparison Web Site
SEEN AND HEARD RECITAL REVIEW

Concerto Celebration - Ibert, Rachmaninov and Sibelius: Andrew Somerville (alto saxophone), Alexander Ullman (piano), Anna-Liisa Bezrodny (violin), Southbank Sinfonia, Simon Over. Cadogan Hall, London, 1.7.2008 (BBr)

Jacques Ibert: Concerto da Camera (1935)
Sergei Rachmaninov: Piano Concerto No.2 in C minor, op.18 (1900/1901)
Jean Sibelius: Violin Concerto in D minor, op.47 (1903/1904 rev 1905)


This concert presented the winners of the fourth Computers in Personnel International Concerto Competition, and what a fascinating array of talent we were treated to!

How often does the public get a chance to hear Ibert's delightful Concerto, I wonder? It's a very enjoyable piece but fiendishly difficult to play. Andrew Somerville rose to the challenge and emerged victorious. The saxophone has a growing repertoire these days but few of the works are as easily assimilated by an audience as this. Perhaps the orchestra was a bit too large – half the number of strings might have been better for balance as the soloist was, on occasion, overwhelmed by the accompaniment – and although this is a small point, it might be considered by Somerville next time he plays the work. The sax doesn't have the expressive range of its close relation the clarinet – indeed, in some hands it can sound quite boring because of the lack of variety of tone employed by the player – but Somerville obviously has all the ability and intelligence needed to not only avoid this pitfall – the slow movement especially impressed for the tenderness and calm he displayed – but to continue the good work already started by others by expanding the repertoire for his instrument.
Alexander Ullman played the Rachmaninov Concerto very well indeed, he impressed with the ease with which he seemed to throw off all the difficulties put before him in the score but I felt that there was no real personality behind the playing. Admittedly, Ullman is only 17 years old and, hopefully, as he progresses through his studies, he will come to understand how to really interpret the music he is playing. Please don't misunderstand me, this was no mere run through but it lacked genuine insight.
The very best was kept for last. It's only two days since I enjoyed a performance of the Sibelius Concerto given by Nikolaj Znaider in the Barbican, and now here's Anna-Liisa Bezrodny giving us the same work with the same intensity and breadth of vision. Bezrodny is every inch the musician – she uses a wide range of expression, an even wider range of dynamic (her pianissimos were breath taking) and a subtle use of rubato. Her first entry was gossamer thin in tone, distant and ethereal, and it was obvious that she knew exactly where she was going. There were pyrotechnics a-plenty in the first movement, with much full bodied, very fruity, work on her g-string and a glowing display of lyrical concentration. The slow movement allowed her to show us her singing qualities – tender and warm playing here, a trifle understated perhaps, but all the better for that. The jaunty polonaise finale was a joy, full of humour and, most importantly, she made the virtuoso writing work on behalf of the music, not as a platform to prove that she could do it. There was so much to enjoy in this performance and with such a solid technique and her seemingly innate understanding of the music we should hear much more of her. I, for one, am really looking forward to hearing her again.
The Southbank Sinfonia played very well indeed. On paper, an orchestra with only eight first violins and two double basses would seem to be too small for the Rachmaninov and Sibelius works, but it filled the hall with sound and one never felt that there were insufficient players. Simon Over directed strong and characterful performances and encouraged a full fortissimo from the orchestra when it was necessary.
After each performance the soloist was given a trophy celebrating their success in the competition. This was done with such amateurishness that one cringed with embarrassment at the musicians having to undergo the farce. The final prize, to Bezrodny, was given by a member of Computers in Personnel's staff. No speeches, nothing personal, just hand over the present and that was it. The three musicians deserved better than this, and so did Computers in Personnel.
Bob Briggs