Other Links
Editorial Board
Editor - Bill Kenny
London Editor-Melanie Eskenazi
Founder - Len Mullenger
Google Site Search
SEEN AND HEARD OPERA REVIEW

Tchaikovsky, Eugene Onegin: (Revival Premiere) Soloists, Chorus and Orchestra of Welsh National Opera, Conductor Alexander Polianichko, Wales Millennium Centre, Cardiff 16.2.2008 (BK)

Cast:
Tatyana - Nuccia Focile
Mme Larina - Naomi Harvey
Filipyevna - Kathleen Wilkinson
Onegin - Rodion Pogossov
Prince Gremin - Brindley Sherratt
Olga - Alexandra Sherman
Lensky - Paul Charles Clarke
Monsieur Triquet - Michael Clifton-Thompson

Production:
Conductor - Alexander Polianichko
Director - James Macdonald
Designer - Tobias Hoheisel
Revival Director - Caroline Chaney
Lighting Designe - Andreas Gruter
Choreographer - Stuart Hopps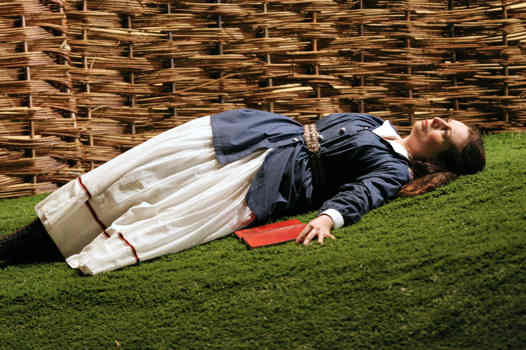 Nuccia Focile as Tatyana


When this production was launched in 2004, I wrote that 'A four hour Eugene Onegin makes for a restless audience unless it is very special.' And a deal of bottom shuffling was indeed the result, despite the fact that the production was musically excellent. James MacDonald had taken Tchaikovsky's description of his work as 'seven lyrical scenes' completely literally, inserting substantial pauses between each scene – as well as between acts - to provide the audience with respite from the emotional intensity of plot and score. It was a risky strategy then and remains so now, even though the pauses are shorter in the current revival.

The production runs to a more normal three hours and twenty minutes or so now, but I am still not sure that the pauses are justified, particularly as Tobias Hoheisel's sets are relatively simple and should presumably be easy to manage. An off-set partition mid-stage and equipped with a large cut-out, provides the focus for each of the seven scenes. Simple props within the set represent the exterior of the Larin estate, Tatyana's bedroom, Tatyana's Name Day party, the duelling ground and so on. It's hard to believe that these sets need long for rearrangement, though as it happens, this revival is also very good musically; the best of all reasons for seeing it. Be warned however: it could still feel like a long haul to some people.

There is nothing intellectually difficult about the setting. The action takes place in Tchaikovsky's own time, some fifty years later than in the Pushkin narrative on which the opera is based. The time shift is justified on the ground of the costume designs as techniques for dyeing cloth developed considerably between the 1820s and 1870s allowing brighter yet still authentic colours to be used, especially for the women's gowns and for military uniforms. Additionally, James MacDonald feels that the parallels between Tchaikovsky's own tangled emotional life and Onegin's, underscore the poignancy that the composer found in Pushkin while writing his masterpiece.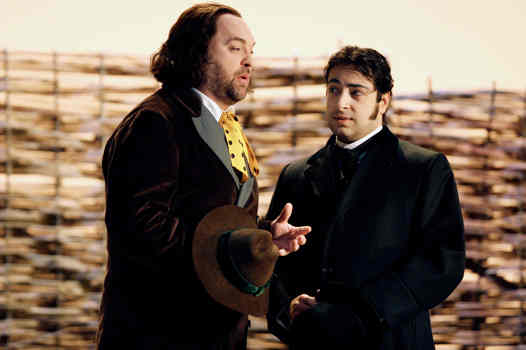 Lensky - Paul Charles Clarke and Onegin - Rodion Pogossov


To compensate for Tchaikovsky's condensation of Pushkin's story - we never learn what happens to poor Olga. Does she flee to a convent or happily marry a pig farmer in later life? - James MacDonald makes the narrative internally consistent. Tatyana is a romantic country girl, who reads novels about heroes who are tall, dark and cynical, and MacDonald's Onegin matches them exactly. Onegin is dressed in black; he is aloof, cold and yet not completely unfeeling, despite manipulating Lensky's emotions and then callously killing him. When he returns from his exile, Onegin reveals that he still has Tatyana's letter but even so, his protestations of love may still be manipulative and it feels right that Tatyana should spurn him.

Tatyana and Olga are portrayed as spirited young women, full of romantic yearning in their different ways. Having sent her letter to Onegin, Tatyana throws her clothes around her bedroom before falling asleep exhausted and Olga relishes flirting with Onegin at the Name Day party, clearly enjoying provoking Lensky's jealousy. On returning from his self-imposed exile, Onegin finds Tatyana the dutiful young wife of Prince Gremin who although a good deal older than her, is an attractive and noble man. This heightens the tensions behind Tatyana's rejection of Onegin: she has feelings for Gremin that Onegin will never fathom, such is his shallowness.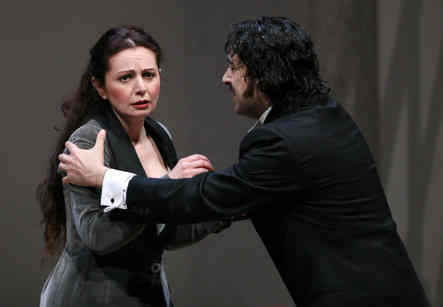 Nuccia Focile - Tatyana and Rodion Pogossov - Onegin



Musically, this is a very fine revival. Despite some small glitches in Act I between chorus and orchestra in this premiere,

Alexander Polianichko handles the score with great assurance revealing the full riches of Tchaikovsky's inspiration. The singing is also generally excellent. Nuccia Focile - recently returned from show - stopping successes as Nedda and Violetta in Seattle - offers a touching portrayal of Tatyana, moving effortlessly from the hesitant girl of Act I to the mature woman of Act III with an easy grace and displaying a fine range of vocal colour to match her character's development. Rodion Pogossov (Onegin) sings strongly too and though lacking both the physical height of Tatyana's idealised heroes and the vocal weight of Vladimir Moroz in the orginal production, he offers a convincing portrayal of Onegin's emotional ambiguities.

The original cast's Lensky was the Romanian Marius Brenciu who had carried off the spectacular honour of winning both prizes in the Cardiff Singer of the World contest in 2001. I remember finding him rather disappointing - in both the competition and in the 2004 Onegin - and was pleased to discover how well Paul Charles Clarke sang the role here. This was a good characterisation, always vocally secure but also emotionally appealing as a portrait of a sensitive and personable young man overtaken by a terrible fate.

No weaknesses whatever were discernible in the secondary roles, not even in Michael Clifton-Thompson's Triquet which was mercifully restrained from desperate 'camping', and there was one absolute tour de force. Brindley Sherratt's practised Gremin just gets better and better, with truly beautiful bass singing in his Act III aria and as noble a characterisation as anyone could wish for. All in all then, this Onegin is one more solid success for John Fisher's first full year as WNO's General Director. If you grit your teeth through the pauses between the scenes, that is.

Bill Kenny


Pictures © Neil Bennett

Back to Top Cumulative Index Page