Other Links
Editorial Board
Editor - Bill Kenny
London Editor-Melanie Eskenazi
Founder - Len Mullenger
Google Site Search
SEEN AND HEARD OPERA REVIEW

Tchaikovsky, Eugene Onegin: Soloists, Orchestra and Chorus of the Royal Opera House. Conductor: Jiří Bělohlávek. Royal Opera House, Covent Garden 10.3.2008 (MB)

Tatyana – Hibla Gerzmava
Olga – Ekaterina Semenchuk
Madame Larina – Diana Montague
Filipievna – Elizabeth Sikora
A Peasant Singer – Elliot Goldie
Lensky – Piotr Beczala
Eugene Onegin – Gerald Finley
M. Triquet – Robin Leggate
Trifon Petrovich – Jonathan Fisher
Zaretsky – Vuyani Mlinde
Guillot – Richard Campbell
Prince Gremin – Hans-Peter König

Steven Pimlott (producer
Elaine Kidd (revival director)
Anthony McDonald (designs)
Peter Mumford (lighting)
Linda Dobell (choreography)
Orchestra and Chorus of the Royal Opera House
Renato Balsadonna (chorus master)
Jiří Bělohlávek (conductor)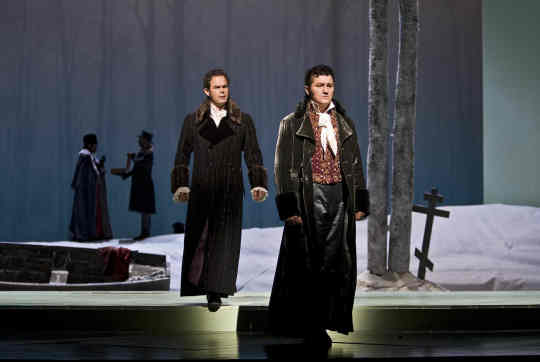 This was a splendid night in the theatre. The late Steven Pimlott's production – its revival dedicated to his memory – is set firmly in nineteenth-century Russia, so may be considered 'traditional' in that sense, albeit without scenery that is opulent for its own, rather than the drama's, sake. However, this does not preclude thought-provoking dramatic engagement. Each of the principal characters is allowed to develop rather than being shoehorned into an irrelevant concept. Tatyana's progress, if progress it be, from country girl to Princess Gremin is splendidly handled, as are Lensky's descent into mental instability and Onegin's more complex path. Yet the lack of irrelevant concept does not betoken a lack of concept tout court. Key to the entire production is the reintroduction of Tatyana's dream, present in Pushkin but excised – at least in explicit terms – from the opera. By portraying this, replete with fantastical animal-guests, on stage, during the entr'acte to the second act, we gain a real sense of the realist/anti-realist dichotomy pervading the opera. How much of the following ballroom scene, into which the dream so unnervingly yet convincingly merges, is 'real' and how much Tatyana's – or even our – projection? Tchaikovsky's score has of course been doing this all along, with its web of foreshadowing and reminiscence, formed from the dramatic kernel of Tatyana's Letter Scene. Psychoanalysis beckons, as was made clear in a programme note by the late Malcolm Bowie.

The subtlety of musical reference was well served by Jiří Bělohlávek's conducting, attentive to the implications of memory without feeling the need to hammer this home. Occasionally I missed a greater sense of urgency and a little neurosis – this is Tchaikovsky – would not have gone amiss, but Bělohlávek's relative understatement had its own compensations. After a slightly shaky start, the orchestra was excellent, although I could not help but wish that it had been given its head a little more often. Allowing the singers to be clearly heard, as they always could be, is fine in itself, but the orchestral score is no mere accompaniment, especially given its crucial role here in Freudian Traumdeutung. Bělohlávek's conducting was of course too subtle to sound simply as accompaniment, but ecstasy and anger need to be heard too.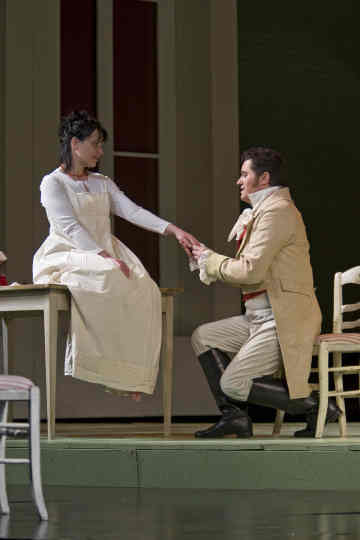 That said, there was a structural sense of everything radiating from the undeniable ecstasy of the Letter Scene, in which the orchestra sounded at its unforced best. Hibla Gerzmava, a couple of short-breathed phrases notwithstanding, shone here as Tatyana. She was superior in every way to her predecessor, Amanda Roocroft, whose flawed vocalism in particular had proved a fly in the ointment during the production's first run. Gerzmava, by contrast, sounded just 'right': secure and focused, yet passionate where required. Much the same could be said of Ekaterina Semenchuk's fine Olga, who really came into her own during the ballroom scene. If only the character did not disappear so abruptly from the action. Diana Montague and Elizabeth Sikora both impressed as Madame Larina and the old nurse respectively. Hans-Peter König delivered a marvellously secure account– in terms of both music and character – of Gremin's aria. Choral and dance contributions were all of an appropriately high standard too.

However, despite the lamentations of more than a few critics, this opera is Eugene Onegin, not Tatyana Larina. Another fine aspect of the production was its recognition that, viewed as a whole rather than simply from the perspective of the first act, Onegin is at least as important as Tatyana and becomes more so. As crucial as their relationship, is that between Onegin and Lensky. Tchaikovsky may identify most closely with Tatyana, but his homosexuality pervades the work in another more subtle way, than simply as a projection of his own character and experience onto hers, important though this remains. The romantic friendship, jealousy, and the tragedy of societal convention are a far more complex affair than a dour, literalist reading of the text would suggest. There is, moreover, no contradiction between this and the centrality of Tatyana's dream-projection, quite the opposite. Both production and score hint rather than render explicit, which seems quite appropriate, given the experience of the nineteenth century. (This is not to say that a more overt approach would not work, but it is not the only way. However, to ignore the issue seems to me at best unimaginative and at worst repressive.) I assume that this was the undertow of the suggestive scenic backdrop at the opening: Hippolyte Flandrin's study in male beauty, Jeune

homme nu assis au bord de la mer, although I do think that the connection might profitably have been made just a little clearer. More importantly, the direction and portrayal of the two principal male roles were excellent. Piotr Beczala was an ardent Lensky, poetic and increasingly insecure and indeed unhinged, yet without caricature or crudity. The timbre of his tenor is undeniably Italianate, but this did not seem to matter.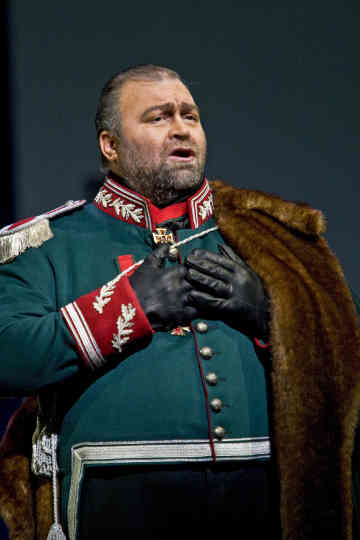 And then there was Gerald Finley's Onegin. His was a wonderful portrayal, encompassing gracelessness and gracefulness, withdrawal and sexual charisma, loyalty and betrayal. If Finley lacked the Slavic quality of Dmitri Hvorostovsky, his predecessor at Covent Garden, then Tchaikovsky is too big to be confined to national boundaries. Musically I do not think he could have been faulted, but the identification was such between musical and dramatic means, that the question only presented itself to me in retrospect. Score and performance gave the lie to a claim made in a programme note by Mark Fitzgerald, that that wonderful moment at which Onegin, now realising his complex predicament, reprises Tatyana's music from the Letter Scene, suggests 'a shallowness of character and a person unworthy of the attentions of the exalted Tatyana'. Where Fitzgerald discerned shallowness in the altered orchestration, Finley and

Bělohlávek quite rightly identified something darker, more urgent, both in timbre and foreshortening. This was a powerful moment indeed, and may be counted as an intensification rather than an unworthy repetition of the original music. Such an understanding, it seems to me, penetrates to the heart of this fine Onegin.

Mark Berry

Pictures © Clive Barda

Back to Top Cumulative Index Page