Other Links
Editorial Board
Editor - Bill Kenny
London Editor-Melanie Eskenazi
Founder - Len Mullenger
Google Site Search
SEEN AND HEARD INTERNATIONAL OPERA REVIEW

Mozart, Le Nozze di Figaro : Orchestra Comunitat Valenciana. Chorus Generalitat Valenciana. Conductor: Tomas Netopil. Palau de Les Arts de Valencia. 6.3.2008 (JMI)

Production from The Royal Opera Covent Garden.

Director: David McVicar
Sets and Costumes: Tanya McCallin
Lighting: Paule Constable

Cast:

Figaro: Erwin Schrott
Susanna: Tatiana Lisnic
Countess: Virginia Tola
Count: Ales Jenis
Cherubino: Rinat Shaham
Marcellina: Eugenia Bethencourt
Don Bartolo: Riccardo Zanallato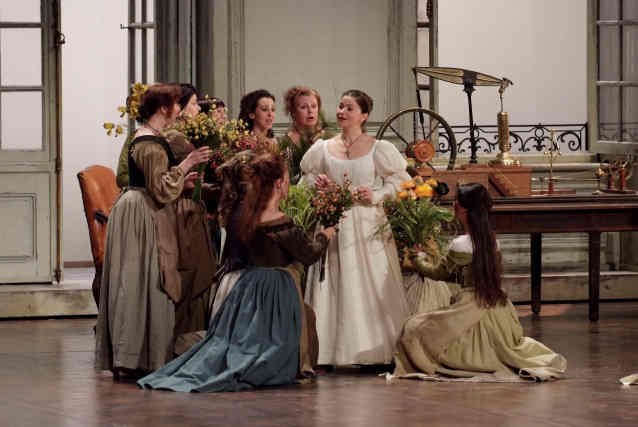 After the last season's Don Giovanni ,

Valencia continues with the Mozart-Da Ponte trilogy with this "Folle Journée". I can remember attending planning meetings in which the discussion was about the best Mozart opera to present and, of course, everyone showed a preference for one of components of the trilogy, although tastes were divided between the three. I have always admitted my personal addiction to Nozze di Figaro, which seems to me a work of genius, a wonderful, entertaining and enjoyable opera, which responds perfectly to being treated as the French expression mentioned above. It is usually very difficult to get bored with this opera or even to have the feeling that it is too long. This one was though.

To offer just one piece of objective information that is pertinent, most recordings of this opera last between 2 hours 37 minutes and 2 hours 43 minutes, excluding the traditional cuts. In Valencia with only one interval, the final curtain came down past midnight, which means more than 3 hours of music, although still with the cuts. This was certainly no Folle Journée : it was short on vivacity and long on boredom.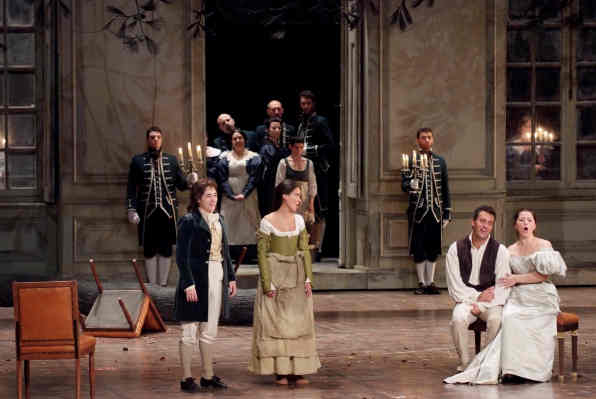 The musical director responsible of this performance was the young Czech Tomas Netopil. There is not much than I can add to what I've said already . When Mr. Netopil attacked the overture and I began to worry about what we could expect, I thought that if a conductor can't enjoy himself with this music, how is he going to keep the audience pleased and amused? I will not discuss his quality as conductor further and can only say that I did not like his interpretation of Le Nozze di Figaro much. But he fact that I do not like the Otto Klemperer's interpretation either, does not mean that I am not a great admirer of him. So here I'm simply saying that Netopil has a very different concept of this great opera than either my own or thato of many of his colleagues. Not even the magnificent

Palau's orchestra rose to its usual heights, as if they were short on conviction too. The chorus was fine with the little it has to do.

David McVicar's production from London's Covent Garden fulfilled all that can be expected from this magnificent stage director. The production is sober, attractive and totally suited to the Da Ponte libretto, with the only personal directorial touch being the use XIX century costumes. Both sets and costumes are very pleasant within a very traditional concept of the work, large grey walls and big windows are constant features during acts II and III, with fast changes of atmosphere a elements of atrezzo. There is very good light in too, particularly in Act IV. The least convincing aspect of the production has to do with the actual stage direction, which misses out on a feeling for comedy from the singers: and a Cherubino who does not touch the audience's hearts is more than surprising with a first rate director in charge. Fígaro and Susana are more alive, but fee too self-controlled. The Almavivas are very convincing either and something is wrong happens when Marcellina and Bartolo don't get public sympathy. I was expecting more from McVicar.

The biggest attraction of the performance was the presence of Uruguayan Erwin Schrott as Figaro, the more so as he has become a 'media' singer. He was one of the few vocalists on stage with enough voice for the house and delivered a very good performance, although I prefer him in other roles. His voice continues to be of first quality, without any trace of problems though I felt that he was not too convincing as an actor and was rather short on comic skills.

Susanna was interpreted by the Moldavian soprano Tatiana Lisnic who sang with taste and delicacy especially in her fourth act aria. Her voice is never less than pleasant , although rather too small for such a large house. The Argentinian Virginia Tola looked a beautiful Countess on stage, which made her husband's behaviour towards Susanna seem less than convincing. Her voice is very good too and she is an excellent singer generally, whose biggest problem is that her timbre becomes less attractive when forced, with a somewhat shrill higher register. There was neither glory nor pain in "Porgi amor" but she was more convincing in "Dove sono".

Another with too small a voice was the Slovakian baritone Ales Jenis as the Count. Too light for my taste, he did was not a persuasive Count, being almost inaudible on more than one occasion, mainly in the low part of the tessitura. A Cherubino who does not get applause in any of her two arias is indeed a "rara avis". This is what happened with the Israeli mezzo soprano Rinat Shaham. Put simply, she was merely anodyne.

Ricardo Zanellato is a well-known bass in other repertoire but really isn't suited to the character of Don Bartolo and Eugenia Bethencourt was also a failry dull Marcellina. Vicenc Esteve was a good Basilio and it should had been interesting to listen to him in his fourth act aria, but with Tomas Netopil's reading, it came over as unconvincing Correct Miguel Sola as Antonio, was not too brilliant on stage, the youngster Rocío Martinez offered a small and pleasant voice as Barbarina and Manuel Beltrán Gil was a suitable Don Curzio.

In recent years Mozart has become a real top selling composer, which seemed impossible three decades ago. The performance was sold out but there was no great final enthusiasm, with a courteous reception for all the singer artists and more intensity for Schrott, Tola and Lisnic. For unknown reasons the production team did not appear at the final bows. Although the tabloids weren't present in the Palau, Anna Netrebko was in Valencia accompanying her fiancé to celebrate Lorin Maazel's birthday after the performance. It is a real pity that neither was on stage or in the pit.

José M Irurzun