Other Links
Editorial Board
Editor - Bill Kenny
London Editor-Melanie Eskenazi
Founder - Len Mullenger
Google Site Search
SEEN AND HEARD INTERNATIONAL OPERA REVIEW

Verdi, Macbeth : Oviedo Filarmonía Orchestra. Chorus Ópera de Oviedo. Conductor, Miquel Ortega. Teatro Campoamor de Oviedo. 28.1.2008. (JMI)

Co -production: Opera Oviedo, Bolonia, Trieste and Ravenna Festival

Director and Choreography: Micha Van Hoecke.
Sets: Edoardo Sanchi.
Costumes: Marella Ferrera.
Lighting: Daniele Naldi.

Cast:

Macbeth: Carlos Álvarez.
Lady Macbeth: Tatiana Serjan.
Banco: Vitalij Kowaljow.
Macduff: Alejandro Roy.
Malcolm: Guzmán Hernando.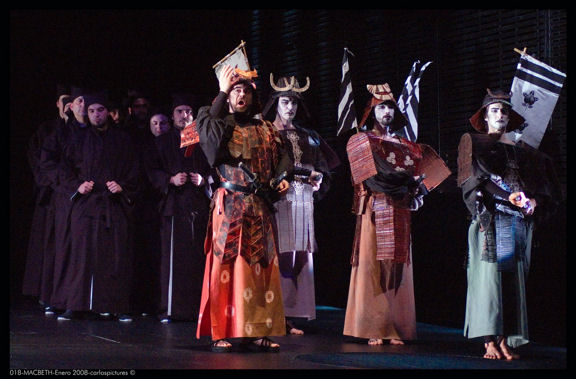 Macbeth - General Scene

The present Opera season in Oviedo comes to an end with Verdi's Macbeth in its revised version of 1865, which has become by far more popular than the original from Firenze. A few years ago, to present this opera in Oviedo would have been an illusion, considering the huge choral difficulties of this work. Thank God, things have been developed in a very positive way and today it is possible that these kind of difficult choral operas can be back on the stage. These Macbeth performances have been a brilliant ending to a good and interesting opera season.

The production has Direction and Choreography by Micha Van Hoeke. I should emphasize this last aspect, because we were offered the ballet that Verdi composed for the opera revision for Paris. Usually I am not much in favour of ballet in opera, except in some very special works, but in this occasion I find it a worthy effort in offering something new. It is quite normal in Van Hoecke's works to have the presence of dancers and extras, so the incorporation of the ballet to the opera is more understandable in this case. The production is in line with the minimalist concept, with a bare stage, an abundance of trapdoors in the floor and a big sloping mirror above. Taking in mind the continual nocturnal atmosphere of this opera, the lighting is most important and it is really outstanding in this case. The production follows the adaptation that Japanese film director Kurosawa did of Shakespeare's drama, with fully oriental costumes, better suited for Turandot or Butterfly. This is nothing more than the usual "original vision" from the part of stage directors. The direction makes a good use of extras and dancers, particularly in the witches' scenes witches. All in all, this is a good production, though with too many oriental touches, that add nothing add, although they don't disturb either.

The surprise of the evening was the musical direction of Miquel Ortega. More than once, I have been very critical of singers who want to have their own conductors, because this does always bring about a good musical result especially in the case of Mr.Álvarez (Macbeth) and his accompanists. This time , I have to admit that Mr. Ortega's reading was way above my expectations and my past experiences with him. He achieved a remarkable result from the orchestra. And in the Oviedo chorus, things continue to improve with even better results from the womens' section.

The opera's protagonist was indeed Carlos Álvarez, whom I found again on top form. After having seen him often as the usurper of the throne of Scotland (or Japan?), I think this was the most accomplished interpretation of all of them. He was brilliant as singer and actor, with his outstanding baritone, probably the best today. His least brilliant moment, perhaps because of too much was expected, of it, was his rendering of the aria "Pietà, rispeto, amore" :it was a little short of emotion.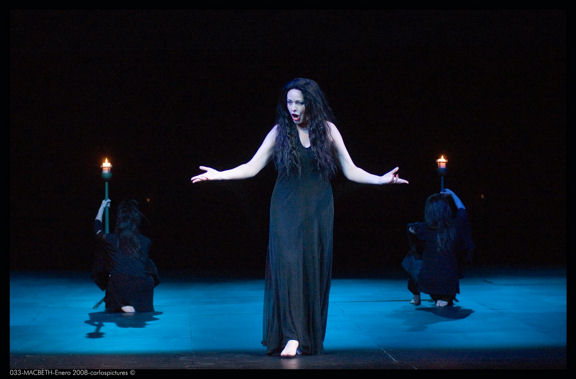 Lady Macbeth: Tatiana Serjan


Russian soprano Tatiana Serjan was Lady Macbeth and she proved that she can cope with the difficulties of this horrific role. She has a good stage presence and a suitable voice for the character. While her middle range is not of top quality, she improves when the tessitura goes upwards, and is able to sing softly, besides being a good actress. She managed to sing the high D flat during her sleepwalking scene without any difficulty and is a very good choice for one the most difficult operatic roles to cast.

Bass Vitalij Kowaljow, Russian as well, was a good Banco and a fine complement for the protagonist couple. Young local tenor Alejandro Roy was a sonorous and competent Macduff. He has an interesting voice, although I do not see him mature enough yet for a huge career - there were too many pitch problems during "La paterna mano". Guzman Hernando made some unpleasant sounds as Malcolm, but I found Alberto Feria had improved this time as the Doctor.

As usual, the theater was sold out and the audience was very pleased with the performance. The biggest success was Carlos Alvarez's and was thoroughly well deserved. Tatiana Serjan ran him a close second, and Alejandro Roy was also much applauded, although it is fair to say that he was playing at home here. The audience showed also similar appreciation for the rest of the cast and for the Orchestra, Chorus and Mr. Ortega.

José M.Irurzun



Photos © Carlos Pictures

Back to Top Cumulative Index Page