Other Links
Editorial Board
Editor - Bill Kenny
London Editor-Melanie Eskenazi
Founder - Len Mullenger
Google Site Search
SEEN AND HEARD INTERNATIONAL OPERA REVIEW

Puccini, La Bohème: Soloists, GNO Orchestra and Chorus Conductor: Loukas Karytinos, Greek National Opera, Athens 6.1.2008 (BM)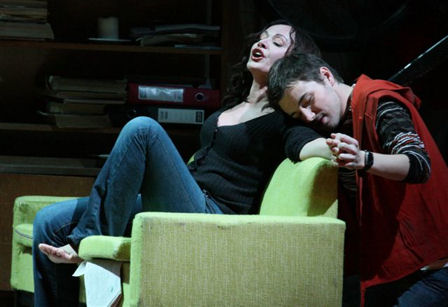 Graham Vick likes to explore familiar works on minor-league stages with young casts, the perfect setting for directing what is perhaps Puccini's most popular opera. The composer himself once said his music was that of "small things", and it would almost seem that Vick had this comment in mind in developing his take on La Bohème. His Christmas gift to the Athens public was a contemporary staging that was exceptional for the way in which it succeeded in engaging its characters, amongst each other and with the audience. There was absolutely no singing at each other at a distance or from across the room for Rodolfo and Mimi - this version allowed them to get quite physical (but fear not, no clothing was removed.) Far from turning into one of those tedious pseudo-modern productions out to condescendingly "shock" viewers, the result was just plain romantic - though never sentimental - and very poignant, with a final scene that was truly heartrending (and many a humorous touch in between!)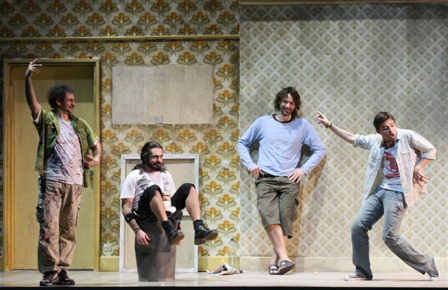 Naturally, none of this could have been achieved without a superb cast, and in particular the tremendous contribution of young Sébastien Guèze as Rodolfo, who literally stole the show with his glorious tenor, striking good looks and sensitive acting. (Have a peek at this – you'll see that he also has a good sense of humor: http://www.youtube.com/watch?v=_-06INjcHKg). The "Lyric Artist Revelation" title awarded to him in 2006 by the artists' association ADAMI couldn't be more aptly named, and I can only recommend that opera houses looking to recruit exciting new voices for future productions get cracking – chances are this one will soon be booked solid. Mimi was sung by Elena Kelessidi, a fine artist whose Eurydice of last season has left an enduring impression - which is why I prefer to venture into the facetious and put all her vocal pushing and sliding down to some chocolate bars she was seen purchasing before the performance. Irini Kyriakidou's Musetta was crystal-clear and radiant – perhaps she could have been cast in the lead role? As to the other men, Akis Laloussis was an engaging Schaunard, while Kyros Patsalides did exceedingly well as Marcello, his sonorous baritone reaching for the higher register with great ease and panache, and another young singer who undoubtedly classifies as a find is Tassos Apostolou, who sang an exceptional Colline, making his mark from the minute he first arrived on stage with his bicycle and giving an intensely introspective rendition of the "coat aria" near the end.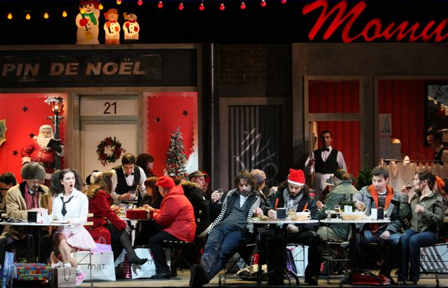 Richard Hudson's sets (especially the student abode-like lodgings of Act I) and costumes did a good job conveying what the surroundings of artists scraping out a living in some present-day European city might look like - scanty, but never seedy - with the possible exception of the women's not-so-Bohemian footwear.

As always, GNO's orchestra and the acoustics of the building itself obviously have their limits. Mind you, I wouldn't harp on this if it weren't for the fact that ticket prices here are more expensive than at many leading European opera houses (for example Berlin Staatsoper, where the most expensive seats for upcoming performances of this very same opera are 80 euros, whereas here they were a steep 110). Mercifully, Loukas Karytinos knows how to handle all of this by now and coax a pleasant sound from his musicians while doing his best for the singers, with whom he clearly enjoys much well-deserved popularity.

In his cult film "La Vie de Bohème", based on the same novella by Henry Murger, Kaurismäki has his Rodolfo declare that "opera is a dying art". Luckily, this Athens Bohème proved that nothing could be less true (even if some dying does go on at the end), by imaginatively conveying what it is like to be young and in love. Stefanos Lazaridis will be a difficult act to follow, but with any luck his successor, GNO's newly appointed artistic director Giovanni Pacor, will have equally intriguing ideas up his sleeve for forthcoming opera seasons.


Bettina Mara

Pictures © Stefanos