Other Links
Editorial Board
Editor - Bill Kenny
London Editor-Melanie Eskenazi
Founder - Len Mullenger
Google Site Search
SEEN AND HEARD INTERNATIONAL OPERA REVIEW

Verdi, Un ballo in maschera : Soloists, Chorus of De Nederlandse Opera, Rotterdam Philharmonic Orchestra, Conductor: Carlo Rizzi, Het Muziektheater, Amsterdam, 10.4.2008 (PK)

Production Director: Claus Guth

Cast:

Roberto Aronica (Riccardo)
Andrzej Dobber (Renato)
Tatjana Serban (Amelia)
Rosemary Joshua (Oscar)
Marianne Cornetti (Ulrica)
Thomas Oliemans (Silvano)
Friedemann Röhlig (Samuel)
Konstantin Gorny (Tom)
Ruud Fiselier (Un giudice)
Robert Koops (Un servo di Amelia)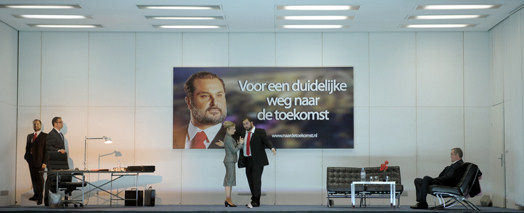 Rosemary Joshua (Oscar), Roberto Aronica (Riccardo), Andrzej Dobber (Renato)



Mixed thoughts about a 'political' Ballo



Most German opera directors are obedient, almost slavish followers of the Wagnerian ideology. They create solid productions, full of remarkable details, and their main purpose seems to be the educational character of the theatre. They use a performance to tell, or better, to teach the audience about man's place in society, and in following that principle they are just as drastic as Wagner himself was. However, there is one big difference: Wagner believed in the expressivity and the eternal force of a myth to reach his goal, whereas the modern German producer strongly believes in 'actualisation' of a story. That this actualisation automatically confines the meaning more to a certain place or time than an eternal myth, seems of no importance. Their productions are about 'here and now' and it seems of no concern to them if the libretto or even the music is not compatible with the images on the stage.

Negligence

When Claus Guth created his 'actualised' production of Verdi's Un ballo in maschera in Frankfurt in 2005 , he changed Riccardo from an English governor in 17th century Boston into a modern European politician who just had won the elections. Renato became his 'second man', the page Oscar his secretary and the fortune-teller Ulrica a Mediterranean cleaning lady. Apparently the fact that many details in the libretto became quite ridiculous, did not bother him very much, and at the same time his realisation was not free of anachronisms : in modern society, especially after 9/11, it is unthinkable that a jubilant or protesting crowd can march into governmental building without being withheld by the security service. But what else should we expect from a producer who once told a singer 'not to mind the text'? One thing however is undeniable: Guth created a strong theatrical performance with surprising contrasts. Sometimes his humour may be a little bit too childish or too strong in combination with the subtleness of Verdi's score, but this too is in line with his apparent negligence of text and music.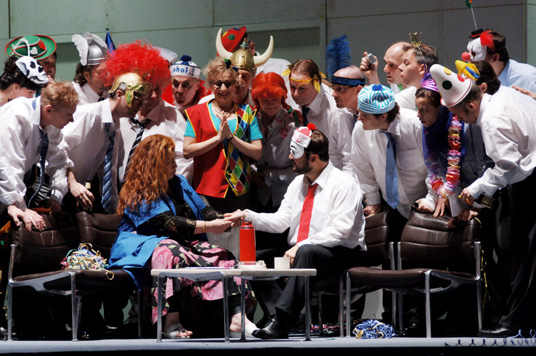 Marianne Cornetti (Ulrica), Roberto Aronica (Riccardo), Chorus of De Nederlandse Opera
Longing for 'chiaroscuro'

On the musical side much of the credit went to Carlo Rizzi. His conducting, although somewhat lacking in dramatic tension, was one continuous display of all the subtleties Verdi has hidden in his score. The combination of light and dark colours became especially evident in the playing of the lower strings and the woodwinds of the Rotterdam Philharmonic Orchestra, that underlined some well paced climaxes. On the first night, April 10th, the singing was not as excellent as could have been. As Riccardo the tenor Roberto Aronica displayed an open, 'Italian' singing that readily earned him a warm reception after his first solo, but during the next scene something went wrong and his voice lost all its steadiness. In the third scene his singing was more controlled again, but he wisely decided to be more careful during the remainder of the evening.

The Russian soprano Tatjana Serjan may not be the possessor of a real 'Verdi soprano' with the broad middle register that the love duet asks for. At that point she even sounded somewhat shrill, an effect partly due to her high intonation, but the pure vocal lines in the 'chamber scene' (here partly in some sort of dollhouse, partly in the garden) and especially the intensity of her 'Morrò' were impressive. The singing by the Polish baritone Andrzej Dobber may be a little too lyrical for a dramatic role as Renato, but his involved and stylistic singing completely captured the audience and overcame even the silliness of the staging.

After her most charming Cleopatra in Giulio Cesare last month, Rosemary Joshua returned to Amsterdam as Oscar, in this production a lively secretary, but not always with the champagne in her singing the music asks for. As Ulrica the American mezzo-soprano Marianne Cornetti was not only steady as a rock, but she also gave us the most colourful 'Italian singing' of the evening. For the conspirators Samuel and Tom, the Netherlands Opera had engaged Friedemann Röhlig and Konstantin Gorny, two light bassos who played the clown very well, but their singing lacked the combination of sarcasm and threatening that should mark the end of the second act. During the whole performance one was longing for Verdi's 'chiaroscuro', a Rembrandt-like playing with all shades of dark and light that makes this score so fascinating.

Paul Korenhof

Pictures © Monika Rittershaus

The distinguished Dutch music critic, writer and broadcaster Dr. Paul Korenhof is author of several books and a regular contributor to opera journals and magazines. He presents his own weekly radio programme and teaches music drama and literature at high school and university levels.

Dr. Korenhof's Dutch language version of this review appears in the online review magazine Opus Klassiek


Back to Top Cumulative Index Page