Other Links
Editorial Board
Editor - Bill Kenny
London Editor-Melanie Eskenazi
Founder - Len Mullenger
Google Site Search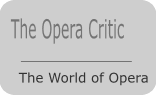 Price Comparison Web Site
SEEN AND HEARD CONCERT REVIEW
Haydn, Berg, Beethoven: Alban Berg Quartet, Queen Elizabeth Hall, London, 1.5, 2008 (CC)
Absolutely core ABQ repertoire, this, and how it showed. Hearing this quartet on top form is the rarest of privileges. The violist, Isabel Charisius, is now fully integrated into the ensemble (how nostalgic it was, by the way, to watch the EMI DVD of this ensemble live in Vienna on in the Beethoven Op. 132, with the great Thomas Kakuska). When Charisius was allowed the bass-line, as in some moments in the slow movement of the Haydn, she produced a magical, burnished sound like liquid gold.
Late Haydn string quartets are far more than mere curtain raisers. The one chosen for this occasion was Op. 77/1 in G of 1799 (sometimes nicknamed 'Compliments'), Haydn's penultimate quartet. There was not even a shade of harshness to first violinist's Günter Pichler's tone (it can on occasion be rather grating and his tuning can suffer). If the initial Allegro moderato could have been more jaunty, it was nevertheless impressive for the level of communication between the players. The rumbunctious Menuetto (really a Scherzo) led to the delightful finale, weherein Haydn takes a deceptively simple theme and propels it ever forward with unstoppable momentum.
The ABQ is one of the few ensembles that tackles music of the twentieth and twenty-first centuries with the same ease with which it despatches the Viennese Classics. The Berg Quartet, Op. 3 is a remarkable work and does not deserve its fate of being overshadowed by the Lyric Suite. The ABQ gave a performance that presented it as an unalloyed masterwork, right from the tremendous opening explosion of sound. There seemed to be an undercurrent of anger to the opening paragraphs. High cello entries were perfectly judged by Valentin Erben. Ghostly use of sul ponticello contrasted with the existential cry of the second movement. The whole buzzed with energy and was, most importantly, true to the spirit of Bergian angst. Superb
Of course it is in the late Beethoven Quartets in particular that the ABQ made its reputation. Back in February 2003, this quartet had given an unforgettable Op. 131. Now it was the turn of the great Op. 132 in A minor, and the quartet did not disappoint. The 'Heiliger Dankgesang eines Genesenen an die Gottheit' that comprises the extended central movement was stunning in its protracted concentration and interior communion. From almost viol-like chords, the music took on an internal luminosity that reached upwards to other worlds. This sense of space was implicit in the very opening of a first movement that went on to breathe monumentalism. Connnecting dramatic recitatives spoke volumes, while the grit of the finale rpovided an appropriate close.
A remarkable concert.
Colin Clarke