Other Links
<
Editorial Board
Editor - Bill Kenny
London Editor-Melanie Eskenazi
Founder - Len Mullenger
Google Site Search
SEEN AND HEARD ARTICLE

Actual Music: Saying what he wants to say - a young Greek composer with a compelling voice (BM)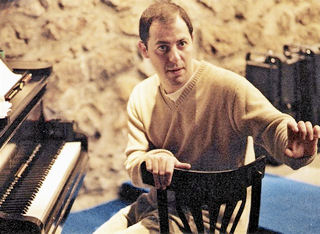 Philippos Tsalahouris
The first thing that strikes you about Philippos Tsalahouris is the seemingly boundless enthusiasm and engaging, down-to-earth sincerity with which he is inclined to discuss virtually any subject under the sun, including his work. And at the age of 38 he has an impressive number of compositions to show for himself, spanning a wide range of musical forms, from instrumental to opera (a complete list of which is available at www.tsalahouris.net).
His most recent achievement is the completion of his 4th Symphony, a tribute to Friedrich Nietzsche, which he began composing after reading the German philosopher's complete works last year. The first movement, "Reflections", has the chorus reciting excerpts from "Also Sprach Zarathustra", the third, entitled "January 3rd, 1889", describes how Nietzsche withdrew into the silence from which he would never recover after witnessing the brutal whipping of a cart-horse, while the second movement consists of variations on an exquisite melody – "Es winkt und neigt sich" - by none other than the philosopher himself (listen to the melody at http://en.wikipedia.org/wiki/Friedrich_Nietzsche).
"Many people are not aware that he was also a prolific and gifted composer," Tsalahouris explains animatedly, while at the same time juggling his prized tome of Nietzsche's complete musical works out of his two-year-old twins' reach during our meeting at his home in Kifissia, a northern suburb of Athens, the cozy living room featuring a grand piano strewn with scores and books, as well as an assortment of children's toys.
Whenever his symphony is premiered, it is likely to demonstrate once again that Tsalahouris is adept at flouting convention without killing appetites for new music. Here is a composer who says what he wants to say with music that is rewarding, accessible and enjoyable. It never attempts to be "interesting", self-indulgent or pretentious, nor does it slip off into the trivial or simplistic (not to mention the minimalist). Actual music, you might say, and it comes as quite a relief to many music-lovers in Greece, who, far from living in a time-warp on the shores of the Mediterranean, are quite familiar with contemporary music these days. But alas (and I hope poor Nietzsche would forgive me the equestrian reference) not only has the horse been broken in, but has been flogged to within an inch of its life by those who seem to believe that there is something unsophisticated about modern music that is pleasing to the human ear.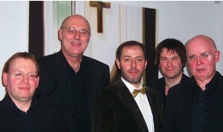 Philippos Tsalahouris with the Edinburgh Quartet

Of Tsalahouris' most recent offerings, mention should also be made of his Violin Sonata, premiered by George Demertzis (to whom the piece is dedicated) - one of Greece's leading violinists and a champion of Greek music - his 2nd String Quartet, a stringent, stirring piece performed on several occasions by the Edinburgh Quartet, and the "24 Greek Dances" for orchestra, baritone and chorus, following in the footsteps of the work of great European composers such as Bartok who were dedicated to exploring their countries' folk music. This composition was commissioned by a major Athens museum, the Benaki, home of the manuscript of Nikos Skalkottas' famous "36 Greek Dances", and was first performed at the Athens Concert Hall in July of this year to great acclaim, not least because Tsalahouris did not attempt to imitate the work of his compatriot, choosing instead to create a set of exquisite miniatures, primarily dedicated to Greek regions not included in Skalkottas' earlier cycle.
Being an avid reader, literature is one of his major sources of inspiration, and alongside his most recent symphony another noteworthy example of this is his setting of verses from Georg Büchner's "Lenz" as three choral pieces for mezzo-soprano, female chorus and organ. On my way to a performance of this work at the Athens Lutheran Church last May, I wasn't quite sure what to expect. In other words, I certainly didn't anticipate that the poignant, soaring music - with the solo part sung beautifully by Evgenia Kalophonou, who happens to be the composer's wife - would leave me on the verge of tears.
To quote loosely from a recent interview with Wolfgang Rihm, long established as one of the leading contemporary composers of our times, music can only be taken seriously if it touches those who hear it. Philippos Tsalahouris' music does precisely that, and one can only hope that more and more audiences will have an opportunity to find out about it for themselves.
Bettina Mara