Other Links
Editorial Board
Editor - Bill Kenny
London Editor-Melanie Eskenazi
Founder - Len Mullenger
Google Site Search
SEEN AND HEARD INTERNATIONAL OPERA REVIEW

Verdi, Luisa Miller: (New Production) Soloists, Orchestra and Chorus Teatro Reggio di Parma. Conductor: Donato Renzetti. Teatro Reggio di Parma 22.10.2007 (JMI)

Director: Denis Krief
Sets,Costumes and Lighting: Denis Krief
Cast:

Luisa Miller: Fiorenza Cedolins
Rodolfo: Marcelo Álvarez
Miller: Leo Nucci
Conde Walter: Giorgio Surja
Wurm: Rafal Siwek
Federica: Francesca Franci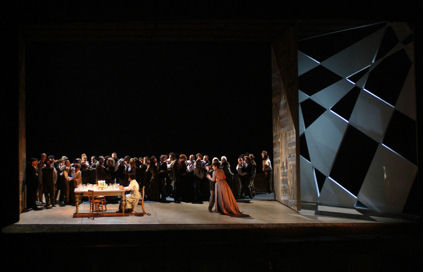 Parma has given an important twist to its Verdi Festival, which took place in the spring until recently. Previously, the festival consisted almost solely of offering one Verdi opera each year, and some years two. This year Parma has transferred the festival to October (the composer's birth month) and has prepared a full programme of events from the 1st to the 28 of the month, as many days as the number of operas composed by Busseto's Maestro. The programme includes three operas in Parma, Busseto and Modena, Verdian symphonic concerts, the Requiem with Muti, a concert by Leo Nucci, reduced presentations of other Verdi works by young soloists from the Teatro Reggio and interesting lectures by prestigious Verdi specialists. The city is full of festival advertisements, with posters of the artists and publicity in shop windows, including costumes from past Verdi productions. There's a wholehearted and authentic Verdi atmosphere, including special shops with Verdi's favourite dishes.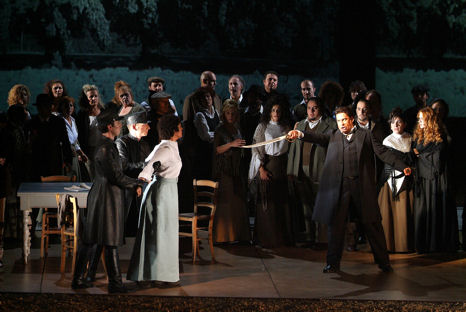 Many opera lovers consider that great Verdi begins with Rigoletto and that the earlier works lack the same musical quality. I am not the only one who disagrees with this idea, as for me the great Verdi period begins with Luisa Miller, which can be a real masterpiece, when presented properly. Fortunately, the fact is that Parma has taken care of every detail in this new production and has offered a Miller of the highest quality, having done everything possible to guarantee a great success. As far as cast, conductor and production go, the bar has been raised to the highest level.

The new production is in collaboration with Turin and Modena and is directed by Denis Krief, who also designed the sets, costumes and lighting. But if anything stands out in this production it is his magnificent direction of singers. Krief turned them all into true actor-singers, including the chorus who lived every moment of the opera rather than standing like statues, as happens so often.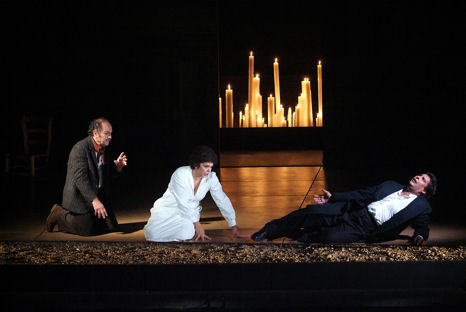 Krief updates the plot's action, bringing it apparently to the end of XIX century, although there are also personal touches, like some female chorus members wearing trousers. The stage reflects the idea of the two opposing worlds separated and yet confronted in the opera: the nobles and citizens. In the scenes with the Count Walter family, sets and costumes are invariably in black and white, with the sets in the form of geometric figures: by contrast Miller's house offers attractive costumes in brown and gray tones with simple sets, showing gorgeous video projections of trees, which change colour according to what happens in the action. There is a third world too, the Duchess's, which is kitted out in red - or in the case of the outstanding presentation of her reception where the chorus is dressed in all white formal dress. It's extremely attractive and adds up to a thoroughly modern production with splendid stage direction.

How this music shines, when there is great conductor leading the performance! Donato Renzetti gave an object lesson in how to conduct Verdi. His powerful, impassioned, ample tempi – with due attention to technical issues like the singers' breathing – allowed the Teatro Reggio orchestra to give its best, not to mention the chorus which was also splendid.

To round the production off, a cast of exceptional quality and character has also been assembled. Fiorenza Cedolins was a remarkable Luisa, for whom it's hard tp know whether to emphasize her vocal performance characterization. If she was was a great Luisa Miller in Madrid, she surpassed herself in Parma and is imquestionably today's Luisa par excellence. Her debut in Poliuto's Paolina next February in Bilbao will be something not to be missed.

Marcelo Alvarez was an intense and excellent Rodolfo. For me this tenor has the most beautiful voice I have heard in the last few years only comparable in beauty to the lamented Pavarotti. He sang everything with commitment, expressiveness and brilliance and was especially outstanding in his interpretation of the famous aria "Quando le sere al placido" and the concluding cabaletta. The voice has widened these days and he is no longer the light-lyric tenor of years ago, but a full lyric tenor moving rapidly towards spinto. His middle range maintains an incomparable beauty, although the top notes have lost some of their former brightness. Anyhow, an exceptional Rodolfo.

What can I say about Leo Nucci? Like Paganini, this artist seems to have a pact with Satan. It is incredible that at the age of 65 he can keep his vocal freshness and his intact facility in the upper register. In addition to which he is still a consummate actor. He was the perfect Miller in every sense: within the present panorama of verdian baritones, Nucci is unique and no-one matches at his level.

As Count Walter Giorgio Surjan was an honest performer although his voice can show unequivocal signs of fatigue and there is the beginning of an alarming vibrato in the higher notes. Rafal Siwek however was an outstanding Wurm. The voice does not have a particularly attractive colour, but he showed enough volume for the role and in addition was a fine interpreter. While Francesca Franci was a correct Federica, the mezzo- soprano Katarina Nikolic shone in the small part of Laura.

There were ovations and cheers during the performance from the sold out theater. with repeated requests of encores from the three exceptional principals. This was a huge success for them and also Maestro Renzetti with tumuluous bravos and a rain of confetti from the loggione. You really learn how great Verdi is when he is this well served !



José M. Irurzun

Pictures © Teatro Reggio di Parma