Other Links
Editorial Board
Editor - Bill Kenny
London Editor-Melanie Eskenazi
Founder - Len Mullenger
Google Site Search
SEEN AND HEARD INTERNATIONAL OPERA REVIEW

Gluck, Orphée: at the Royal
Stockholm Opera 8.12.2007 (Premiere) (GF)
Direction and Choreography: Mats Ek
Sets and Costumes: Marie-Louise Ekman
Lighting: Erik Berglund
Cast:


Orphée – Anne Sofie von Otter
Eurydice – Marie Arnet
Amor – Marianne Hellgren Staykov
Dancers, Chorus and Orchestra of the Royal Stockholm Opera/Sir Richard Armstrong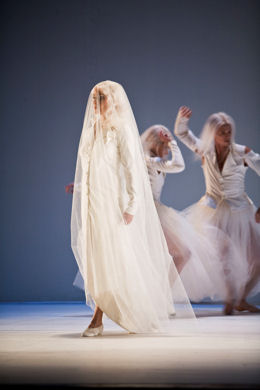 Not since 1944 has there been a performance of Gluck's most famous opera at the Royal Opera House in Stockholm. But Orfeo ed Euridice has still been played in the Swedish capital on numerous occasions through the years. It was the third opera to be performed by the new Royal Swedish Opera in 1773, with a tenor singing the title role the year before Gluck presented his revised version in French for tenor, and this version was given in 1786. After that there was more than a century before the opera appeared again, in 1894, and in 1924 and 1937 there were new productions. But also after 1944 it has been seen – at the Drottningholm Theatre from 1957, often in the Berlioz version but sung in Italian, as was long the norm. In later years Arnold Östman has revived both the Vienna and Paris versions, even the Parma version with Orfeo sung by a soprano (recorded by Naxos).

The new production at the Royal Opera House again utilizes the Berlioz version from 1859 but now sung more correctly in French. It is directed by Mats Ek, one of the most legendary Swedish dancers, whose parents were both important artists: his father Anders Ek was for many years one of the most prominent actors at the Royal Dramatic Theatre and his mother Birgit Cullberg, creator of the famous Cullberg Ballet, for which Mats Ek also was leader for a number of years. He has been a director and choreographer for many years but this is his first opera production and it goes without saying that the ballet plays an important part, not only in the traditional ballet numbers like the dance of the furies and the dance of the blessed spirits but also as a more or less constant backdrop to the action. The stage picture – created by Marie-Louise Ekman – is accordingly sparse, sometimes the stage is totally empty, in the last act there is a door, a lamp and an armchair, depicting, no doubt, the earthly home of Orphée.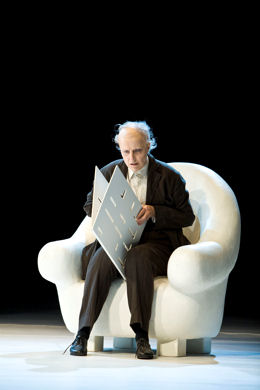 Orphée is in this production an old man, thin-haired with a trace of pot-belly, dressed in a badly-fitting black suit. He is inconsolable, mourning the loss of Eurydice and following him to Hades and back is a strong experience: meeting the disfigured Furies at the entrance, the Blessed Spirits in their airy white costumes – like elves – and the long dramatic journey back, where he eventually looks at Eurydice and she dies. As in all productions Amor – here tightly wrapped in white, looking like a mummy – restores Eurydice to life a second time but Mats Ek avoids a happy end by letting her disappear in the wings, leaving Orphée alone in his armchair. It is a de-glorified picture of Orphée and instead of appearing as an archetype he is made more human – and consequently the tragedy touches us even more than usual.

Mats Ek's direction is extremely detailed with every gesture, every movement deeply considered, making this production one of the most consummate theatrical experiences on this stage for a very long time, and the three soloists are deeply involved and credible in their acting.

The heaviest burden of course falls on the shoulders of Anne Sofie von Otter in the title role and she is nothing less than magnificent both scenically and vocally. Her bare face expresses all the sorrow, longing, despair, hope, joy, desperation and resignation that Orphée lives through and I don't think I have ever heard more nuanced singing in this taxing role. A glowing triumph!

Marie Arnet's Eurydice is also wonderful and her beautiful lyric soprano glitters enticingly. Marianne Hellgren Staykov, a superb Woodbird in Siegfried a year ago, again shows that she will no doubt be a force to reckon with in larger roles. Due to her mummy wrapping she has limited possibilities to act, even walk, and is mostly carried about by four men, sometimes even singing lying horizontally in their arms.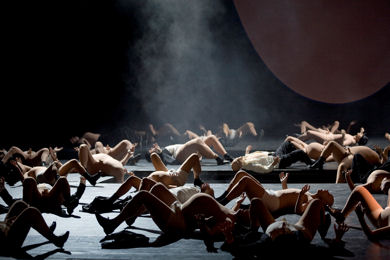 I wrote three soloists but in practice there are a lot more of them since both the opera chorus and the ten dancers are allotted very chiselled out individual characters and if I have any objections against this performance it is rather that there is too much background – or parallel – acting. Sometimes the dancers tend to take over and dominate the proceedings to the detriment of the central drama. Everything is skilfully done – even virtuosic – and there is warmth and humour a-plenty – as when the blessed spirits suddenly cease their dancing just to listen to Susanne Hörberg's superb playing of the famous flute solo, giving her a well-deserved round of applause. But there are also moments where the impact of the basically tragic tale is lessened through ironic-humoristic twists and turns. People react differently to such things and the problem might well be that I personally have a rather indifferent attitude towards ballet. I admire good dancing and good choreography but I could just as well live without it. Comments I overheard during the interval revealed that it was greatly appreciated.

I have had many opportunities to praise the Royal Orchestra the last three years and they play excellently in this performance, roused by Sir Richard Armstrong's inspired conducting. A special treat, for both the audience and – I presume – the orchestra, is that during the overture they are fully visible on the same level as the stage, but when the curtain raises they are slowly lowered down to their righteous location in the Underworld, only to emerge again during the final bars of the opera.

Orphée is on the agenda until the end of March 2008 and the title role is shared between von Otter and another international low-voiced Swedish singer, Anna Larsson.
Göran Forsling


Photos © Mats Bäcker