Other Links
<
Editorial Board
Editor - Bill Kenny
London Editor-Melanie Eskenazi
Founder - Len Mullenger
Google Site Search
SEEN AND HEARD INTERNATIONAL OPERA REVIEW

Tchaikovsky, Eugene Onegin: at Bavarian State Opera. Soloists, Bavarian State Opera Orchestra, Kent Nagano (conductor) Nationaltheater, Munich 3.11.2007 (JFL)

Production Team

Krzysztof Warlikowski (direction)
Malgorzata Szczesniak (sets and costumes)
Saar Magal (choreography)
Felice Ross (lighting)

Tchaikovsky, Eugene Onegin

Michael Volle (Eugene Onegin)
Olga Guryakova (Tatiana)
Christoph Strehl (Lensky)
Iris Vermillion (Larina)
Elena Maximova (Olga)
Günther Groissböck (Saretzki / Gremin)
Elena Zilio (Filippyevna)
Guy de Mey (Triquet)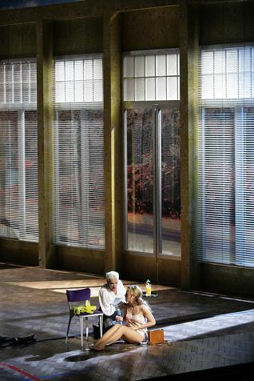 Elena Zilio (Filippyevna) and Olga Guryakova (Tatiana)

An overtly gay Tchaikovsky stand-in, frolicking about mid-opera on a stage replete with swirling disco ball. Where or when could I ever have seen such a thing? Oh, right. That would be the last time I saw a Tchaikovsky opera at the Staatsoper in Munich.

Back then it was Pique Dame during the shepherdess intermezzo—a David Alden production (still in the repertoire) and one that, disco ball aside, made sense of the opera in a way only the best direction can do. This time it was Krzysztof Warlikowski's turn with the ball, all in the service of his – infamous before it even started – "Brokeback Mountain" Eugene Onegin. Did his direction give intelligible and instructive cues as to the meaning(s) of the opera in the way that Alden's did? To give away the answer: probably not.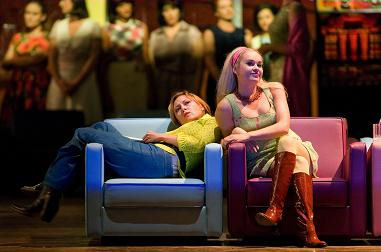 Olga Guryakova (Tatiana) and Elena Maximova (Olga)

But Warlikowski failed much less spectacularly than one might have assumed after the hoity-toity outrage the production received at the hands of bloggers (and this on account of a single picture of the production). And local critics, too, were merciless – and they had actually seen the production that opened on All Hallows Eve. As it turns out, Warlikowski's Onegin remains so tame for the first four scenes that during intermission even the most conservative audience members (by now having read local reviews and expecting the absolute worst) were confused only by their lack of confusion and outrage. Instead, most had been amused by the production. An American couple, seat-neighbors at a previous Roberto Devereux performance, had bought their Onegin tickets without knowing about the furor. Worrying before the performance, the wife said that she wished she hadn't bought tickets, anticipating a travesty of travesties. Later, chuckling throughout the first four scenes, she admitted with as much surprise as relief that it actually had been rather "maaaarvelous".

That's mostly because the acting was well done and its relation to the text was always comprehensible. A theater director by primary trade, Warlikowski cares much about acting and music making sense as a unit. If only the orchestra had followed the singers' music as closely as the prescribed stage-action did, the contribution from the pit would not have been the weakest spot of the night.

To get that out of the way: General Director Kent Nagano directed the less-than-secure orchestra in a square reading of the score, making the music sound very direct and thereby achieving clarity but little lyricism. Though the brass was secure for most of the opera, the strings had several sour moments, most notably in the Waltz of the fourth scene. Judging from reviews from the day before, it must have been a significant improvement from the opening night but still not up to the usual high standards of the Staatsorchester. When I last saw Onegin, in February at the MET (Renée Fleming, Dmitri Hvorostovsky), I had not been enchanted by the MET orchestra under Gergiev's baton; but in retrospect it seemed not so bad after all.

So what does Warlikowski, a Stettin-born, self-declared "cosmopolitan" who has lived and worked all over the world, do to Eugene Onegin? His interview in TAKT (in German) and in the accompanying program book (the lavish 150-page "notes" at the Staatsoper, chock full of essays, pictures, and assorted poems, are no booklets) do shed some light. The murder of Lensky is seen as an Amfortas-like wound that completes Onegin as a character. And the expanded upon 'close' relationship between the two men helps their seemingly juvenile and rash decision to duel to the death seem sound, even for two adults. There are the plenty references to Ang Lee's Brokeback Mountain and Tony Kushner's Angels in America - which Warlikowski has directed.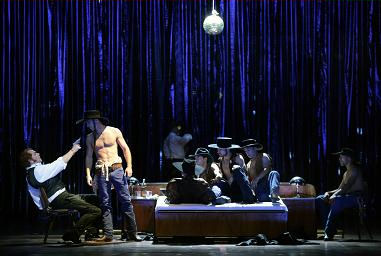 The Cowboys


The parallels drawn between Tchaikovsky, his life, and the influences on his Onegin, and the directorial team's interpretation of it are not as far fetched as they might seem. The composer's homosexuality, to start with the most obvious, is not conjecture, as his letters to his brothers show. The composer's disapproval of Tatiana's rejection by Onegin - who could be seen as written with a degree of self-loathing on the Tchaikovsky's part - may well have led to his own reassessment of having turned down Antonina Miljukova's emotional letter and marriage proposal.

Lensky's revolt, the irrational anger against his friend, and Onegin's disdain of Lensky's intent to marry can also be made to fit a subtext in which Lensky, in deference to Onegin, may have given up more than he should like to admit publicly or even to himself. Gay or not, Onegin is quite disgusted with Lensky's bourgeois choice and hurt that he cynically and heartlessly, mocks him. Lensky, in the throes of anger (and guilt, for having submitted one way or another to Onegin), rashly challenges Onegin to a duel, dismissing calmer and more reasonable voices.The action essentially becomes a fight between Olga and Onegin for Lensky's attention and friendship, sexual or otherwise: a 'best friend' fights against 'losing' his buddy and the fine life they had, after the buddy subscribes to the standard social model of behaviour.

All this is fine, even if the gay subtext need not have been quite so obvious. The opera is about human emotions that transcend social norms and sexuality and jealousy, love, devotion, anger, submission, humiliation are not specifically homo-hetero- or bi-sexual feelings, they simply are. No harm was done by having Tatiana (Olga Guryakova) and her family watch figure skating - to Tchaikovsky's Rome & Juliet Overture, played before the lights were dimmed, with patrons still filing into their seats: nor by arranging the duet between the naively joyful Olga (Elena Maximova) and Tatiana as a Karaoke session on Malgorzata Szczesniak's sets which, along with the costumes, look like a hybrid of the late 60s and a Technicolor modern-day Moscow). Iris Vermillion's Larina is portrayed as a still attractive socialite who won't say no to dance and entertainment. In the letter scene, Tatiana tape-records her feelings — no different, really, from a compulsively written letter—and the rejection takes place under the eyes of the chorus, making it all the more humiliating for Tatiana and Onegin who is (to some comedic effect) disturbed by her overt show of emotion.

The Waltz-scene moves the guests into chairs off to one side and while this staging may be convenient sidelining of a difficult-to-direct crowd, the tactic makes perfect sense for the way Tatiana's birthday party is arranged. Warlikowski hits the nail on the head squarely here. In depicting a modern upper-class Russian societal situation, Triquet (Guy de Mey) is a crooner and entertainer for hire (a bit more Elvis-impersonator than the conceited, French clown that Pushkin makes fun of) and the male strippers who entertain the bored ladies don't surprise much. It's a Russian Desperate Housewives, by and large convincingly acted out.

Only Onegin himself (Michael Volle) does not quite fit the picture. In this scene, he is genuinely distraught at Lensky's anger and apologetically tries to console his friend. I missed the superior carelessness, laced with arrogance, that rides Onegin like the Devil and which he cannot let go until face to face with Lensky (Christoph Strehl) in the duel. And at that point of course, it is already too late for effective regret.

As the real audience files back into their seats after intermission, nine scantly clad cowboys lounge about on stage suggestively for Scene Five (the Scena prior to Lensky's aria in Act II ) before they saunter back stage during the "Duel Scene".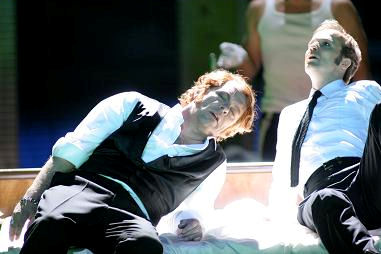 Michael Volle (Eugene Onegin) and Christoph Strehl (Lensky)

Except that there was neither a duel – nor a "scene", per se. Onegin and Lensky wake up in (literally or metaphorically) the same bed. Lensky's second, Zaretsky – more mafia-thug than gentleman, is sung by Günther Groissböck who also sings Prince Gremin, a touch that remains almost unnoticed due to his two wildly differing costumes. With the aria out of the way, the duelling begins. Lensky takes his shirt off, jumps back into bed where the a single revolver lies. Onegin gets there first and shoots Lensky through the chest. A palpable collective "What?" whispered through the opera house at this point, but everything is explained as the disco ball descends, blue velvet curtains are drawn around the stage and the gay cowboys enter dancing the Polonaise. Their slow-motion carousing and pillow fights frighten Onegin who, panicked and threatened, points his gun in futile defense against these (his) nightmarish visions Meanwhile the only thought that came to this reviewer's mind was : "Hey – pretty good choreography for those Polonaising cowboys!"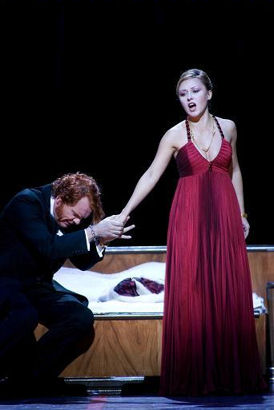 Michael Volle (Eugene Onegin) and Olga Guryakova (Tatiana)

This scene was what all audience members were looking for: the give and take of vigorous boos yelled from all ranks of the house and contrary bravos accompanied by loud applause lasted over a minute. Once that was taken care of Kent Nagano cracked a smile and everything was back to normal.

Act III is played out with the entire theater lit out in subdued red like a revue show. Tatiana is no longer the naively romantic teenager. She has grown into in her new role as a high society wife: steely but not without feeling, rational but not without pain. Much like Onegin - though more sympathetically so - she is neither good nor bad now but merely reacts to her surroundings, dealing with them as befits the situation. And she is right, of course, to turn down Onegin who may be genuine about his feelings but entertains them for the wrong reasons. Pushkin's, Tchaikovsky's and thankfully Warlikowski's Eugene Onegin, too, is not a Russian "Pride and Prejudice". Onegin really is bad news; his motives and actions are questionable and obscure, perhaps even to himself.

At this point, to the surprise of no one, a line of swaying drag queens enters, smoking, and sipping cocktails. Gremin sing his aria and Onegin laments. Then: more drag queens, silently commenting on the scene like a … very Greek chorus. Oh, what a bitter fate. Curtain. Eight minutes of generous applause and a tender smidgen of boos.

What helped the mixed reception were the vocal contributions. Elena Maximova's Olga might be a fairly small part but she sang excellently throughout, her fresh and radiant mezzo hues almost overshadowing Olga Guryakova's Tatiana although Guryakova was frenetically cheered for her lively and lyrical performance (occasionally pushing a bit toward the top). Michael Volle was an expressive and resounding Onegin, a role he seems to have grown into very nicely. Christoph Strehl sounded under stress and hesitant; near his limits. Usually that would not be not an example of the finest possible singing but here it actually fitted the character of Lensky very well. Groissböck got the inevitable applause for Gremin's aria which is just too beautiful not to cheer and was, at any rate, sung honorably. Iris Vermillion too, was darkly delightful with a chocolaty Larina ; the rest (Elena Zilio's Filippyevna, Guy de Mey's Triquet) more or less without fault.

Jens F. Laurson

Pictures © Wilfried Hösl. Published with permission of Staatsoper Muenchen