Other Links
<
Editorial Board
Editor - Bill Kenny
London Editor-Melanie Eskenazi
Founder - Len Mullenger
Google Site Search
SEEN AND HEARD INTERNATIONAL OPERA REVIEW

Laszlo Tihanyi, Genitrix: (World Premiere) Orchestra and Chorus of Opéra National de Bordeaux. Conductor. Laszlo Tihanyi Grand Théâtre de Bordeaux 25.11.2007 (JMI)
New Production Opera National de Bordeaux.

Director: Christine Dormoy.
Sets: Philippe Marioge.
Costumes: Cidalia da Costa.
Lighting: Paul Beaureilles.
Video: Eric Angels.

Cast:
Mathilde: Sevan Manoukian.
Felicité: Hanna Schaer.
Fernand: Jean-Manuel Candenot
Duluc: Christophe Berry.
Marie: Denise Laborde.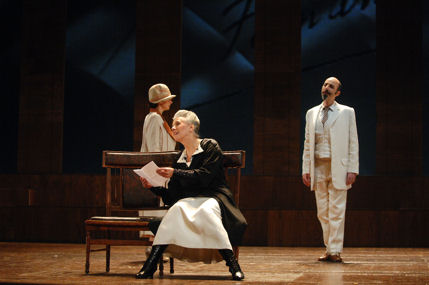 L-R Mathilde: Sevan Manoukian, Felicité: Hanna Schaer and
Fernand: Jean-Manuel Candenot


This production of Genitrix is the world premiere of this opera, commissioned by the Opéra National de Bordeaux and based on the novel of the famous Bordelais writer François Mauriac.

A few days ago I read in an interview with Cecilia Bartoli in which she say how she could not understand why today's composers don't write music for voices, as they did until fairly recently. I imagine that until first half of 20th century, a world premiere would have been received by all opera lovers as a very special occasion: these days it seems almost the opposite. In general, a world premiere of a new opera is seldom well received by aficionados and indeed, today it does seem that opera is not written for singers, who often almost an afterthought tacked onto the orchestral score. One might almost ask why opera is still being written at all, since interesting vocal lines are so often missing and the majority of new works seem destined to fall in oblivion. Doubtless, any opera based on a Mauriac novel would always raise interest in the author's home town. The question is though, what's likely to happen afterwards?

The work narrates the misfortunes of a triangle formed by a possessive and domineering mother, her weak son and his unhappy wife. Not a new subject for opera of course, since it is treated also the subject of Katia Kabanova, although the ultimate liberation of the unfortunate young wife in Janacek's work has no parallel in Mauriac: in this case she dies, after giving birth to a dead creature. The characters are very well described and it is an attractive subject dramatically, although it is probably more suited to the theater with added music than to opera, at least on this showing. Here, as in so many contemporary works, the singers are are given only recitative with musical accompaniment and there are no pages at all where the voices can sparkle.

Hungarian composer Laszlo Tihanyi seems to have been a Mauriac connoisseur from his youth onwards, to the point of having written a shorter opera with the same title as student. The present work offers two hours of richly orchestrated music with, as seems de riguer at present, much prominence given to percussion and brass. Altogether though, the score seemed me to me to contain more interesting and acceptable music than many others premiered recently.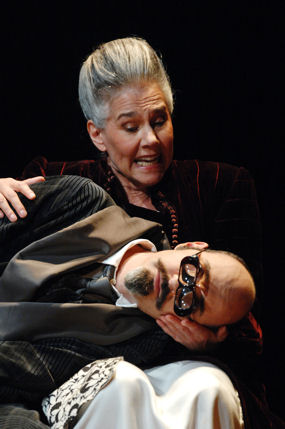 Felicité: Hanna Schaer and Fernand: Jean-Manuel Candenot

Christine Dormoy's production is also interesting with a simple stage set based on a big room with a bed in the middle and a large window which is usually closed, all very appropriate for the plot. opera. Costumes are appropriate to the period and there are also some interesting video projections. Ms. Dormoy does a good job with in defining the three main characters, and she has clearly received excellent collaboration from the cast.

If composers today don't write interestingly for voices, it's hardly surprising to find few great voices in new opera. Here, the singers do their job, but perform better as actors than musicians. The young and attractive soprano Sevan Manoukian was the unfortunate Mathilde with perhaps too light a voice for the needs of the character. Baritone Jean-Manuel Candenot was an agreeable enough Fernand, but without much of a vocal interest, whereas mezzo Hanna Schaer (the most well-known singer the cast) made Felicité - the possessive mother and the cause of all the plot's misfortunes - full of dramatic intensity. Tenor Christophe Berry was a very moderate Duluc in purely vocal terms, whereas Denise Laborde was a decent enough Marie.

Laszlo Tihanyi conducted his own opera and made a positive impression, since it is not easy to keep the attention of the audience in an opera like this. There was very good work from both Orchestra and Chorus, the latter always singing off stage.

The theater was full and this seemed an important event locally, attracting much media attention to the performance. The audience reaction was warm with equal applause for everyone involved. Will this opera stay the course? Somehow I doubt it.


Jose M. Irurzun

Pictures © Frédéric Desmesure