Other Links
<
Editorial Board
Editor - Bill Kenny
London Editor-Melanie Eskenazi
Founder - Len Mullenger
Google Site Search
SEEN AND HEARD OPERA REVIEW


Donizetti, L'elisir d'amore: New production, soloists, orchestra and chorus of The Royal Opera, Laurent Pelly (director and costume designs), Chantal Thomas (set designs), Joël Adam (lighting), Mikko Franck (conductor), Covent Garden, London 13.11.2007 (JPr)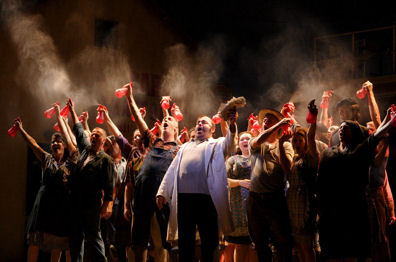 In my recent review of ENO's new Aida I mused on what 'Grand Opera' means these days and my thoughts were still on what a night at the opera should be as I saw this L'elisir d'amore at The Royal Opera.

Donizetti's melodramma giocosa has been popular since its première in Milan on 12 May 1832: the description alludes to its being a story with some humour rather than a comic opera. This is, if anything, a play extracting its laughs from the social mores of a small Italian village where Spring has sprung and love is in the air. Adina owns the local farm, her friend Giannetta and a group of peasants are resting and at a distance Nemorino, a young villager, sadly laments he has nothing to offer Adina but love. The farm-workers urge Adina to read the story of Tristan who won the heart of Isolde by drinking a magic love potion. Nemorino decides to take another magic elixir sold to him by a quack, Doctor Dulcamara, so that he can win Adina's heart - but to spite him, Adina has already announced her marriage to a swaggering army sergeant. The elixir turns out to be nothing but red wine and - as in most rom-coms - despite trials, tribulations and misunderstandings true love wins through in the end. Donizetti's music is potentially full of charm and the amusing story is timeless.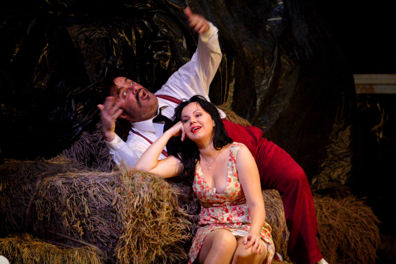 Although this co-production is new to Royal Opera, it has already appeared three times at the Opéra National de Paris where it premièred in June 2006. It is by the same team- Laurent Pelly, director and costume designer, set designs by Chantal Thomas and lighting by Joël Adam - that had such a great success recently with La Fille du régiment at Covent Garden.

The prostitute was always an important figure in Italian post-war cinema and this genre, typified by Fellini, is very much the world that Laurent Pelly wants to evoke. Adina comes across very unsympathetically and is first seen sunning herself on a ziggurat of hay bales as the curtain rises. There is a distinctly French take on Italian peasant life in the production however, and when the braggart sergeant swaggered in with his 'little and large' soldier companions I thought was at 'Allo 'Allo-the musical' watching Captain Bertorelli rather than Belcore.

No-one seeing this production can complain about cut-out sets this time (unlike across town at the Coliseum) because no expense has been spared, and apart from one far distant visual joke showing the departing Dulcamara, almost everything was solidly three-dimensional; there is a hay-baler, a tractor, a roadside trattoria, scooters and bicycles and the lorry-load of Dulcamara's elixir. The passing of time is realised by the lighting and a background that changes from sun-drenched to starry sky as the day progresses. The big scene change in Act I is accompanied by a front cloth with adverts entertainingly explaining how Doctor Dulcamara's potion is a cure-all for everything …and I mean everything … accompanied by suitable pastoral sounds, including crickets.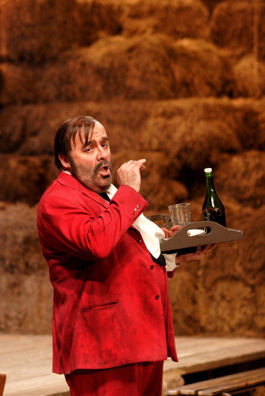 All of this should have worked much better than it did. What L'elisir needs is laughter and tears otherwise what's the point? I counted only four potentially big laughs when the audience chuckled together rather than individually. The short catalogue consisted of Dulcamara's 'Udite, o rustici', the end of the scene when a fast-moving Jack Russell terrier runs back and forth across the stage and then back, when Adina is showered with confetti to her evident dislike and finally when the quack doctor sings how his cure is not only for the love struck but it makes the penniless rich. We should be made also to care about Adina and Nemorino equally but for me she was too shrewish and he was too much of a dolt. There was little evidence that Adina had more feeling for Nemorino than any of the village girls capriciously attracted by the fortune he inherits when his uncle dies.

I enjoyed the evening, but once again think the raison d'être for performing this work is to have big broad performances that make the pathos and comedy live. None of this present cast was up to it in a way their Covent Garden predecessors have been. All are certainly superb physical actors, but there is no way I could imagine previous Nemorinos I have seen - such as Nicolai Gedda or Pavarotti (to whom this run of performances has been dedicated) - clambering up and down hay bales. However, the ability to make a character real on its own is the province of straight theatre and in opera the artists need to keep attention focussed by their singing. Here the singing was rather one-dimensional - unlike the sets.

Polish soprano, Aleksandra Kurzak (Adina) and Stefano Secco (replacing the originally cast Rolando Villazón as Nemorino) have perfectly fine small, young voices. Probably because of his relative inexperience Stefano Secco's 'Quanto è bella' came before he had really warmed up and Ms Kurzak seemed to be tiring the time she sang 'Prendi, per se sei libero' to confess her love for Nemorino, which should be the zenith of her part. His 'Una furtiva lagrima' must always be a show-stopper: here it was pleasant enough but no one was likely to demand an encore as with tenors of old.

I cannot imagine that anyone in the upper reaches of the opera house heard everything that these two sang but there were some very good directorial touches. At moments of exclamation it was a neat idea to have the villagers turn away from Adina and cover their ears and often throughout the work, characters turned toward the audience to draw us into the plotting. This too was a good idea.

A certain blandness also extended to Dulcamara and Belcore. The Italian, Paolo Galvanelli, is a Verdi baritone and not a buffo and there was a certain lack of comic timing and emphasis in his performance although his voice was certainly as potent as the villagers believed his elixir to be. Ludovic Tézier from France had an equally fine voice but sounded like Escamillo in his vaingloriousness when there should be more of an element of preening self-importance to Belcore. In the United Nations cast the Jette Parker Young Sri Lankan soprano, Kishani Jayasinghe, was a pert Giannetta.

I don't think the animated chorus or orchestra could be faulted in any way but I longed for just a little more sunshine in the Finnish conductor Mikko Franck's account of the score: this well may happen as the run continues and indeed the principal singers may even relax more into their roles.

While I never wanted L'elisir to be reinvented against perhaps a backdrop of farmers' worrying about EU subsidies or the effects of Bird flu or Bluetongue, for me this was a rather 'small house' L'elisir , something that might be put on at the Vienna Volkoper or in a successful West End. It was a thoroughly pleasant and inoffensive evening at the opera and perhaps there is no more to be expected when Royal Opera is let down by the star tenor around whom this production was planned.
Recently writing about Aida, I applauded the return of big voices and 'Grand Opera' and accepted that great acting would not be expected. Here we had committed and well directed acting with voices of potential but probably most were singing either the wrong roles or singing them too early in their careers. It seems the ideal would be something between the two extremes of course, but it's the quest to find that, which is what brings me back to opera, time and again.
Jim Pritchard

Pictures © Catherine Ashmore