Other Links
<
Editorial Board
Editor - Bill Kenny
London Editor-Melanie Eskenazi
Founder - Len Mullenger
Google Site Search
SEEN AND HEARD INTERNATIONAL OPERA REVIEW

Cavalli, La Calisto: at Bavarian State Opera: Soloists, Continuo Ensemble of the Bavarian State Opera Orchestra, Ivor Bolton (conductor) Nationaltheater, Munich 7.11.2007 (JFL)

Production
David Alden (direction)
Paul Steinberg (sets)
Buki Shiff (costumes)
Pat Collins (lighting)

Cast
Sally Matthews (Calisto)
Monica Bacelli (Diana, Il Destino, Furia)
Umberto Chiummo (Giove)
Lawrence Zazzo (Endimione)
Markus Werba (Mercurio)
Dominique Visse (Satirino, La natura, Furia)
Guy de Mey (Linfea)
Finnur Bjarnason (Pane)
Vito Priante (Silvano)
Geraldine McGreevy (Giunonoe, L'Eternitá)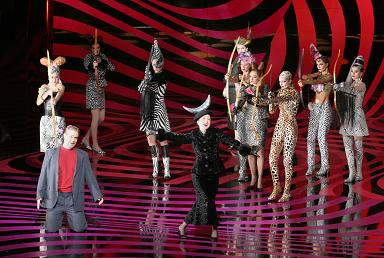 Endimione, Diana and the Huntresses

Pietro Francesco Caletti-Bruni (1602-1676), better known as Francesco Cavalli, has been largely ignored in the revival that baroque works have seen in opera houses around the world. That is surprising, given how many of his 40-plus operas survive and how well they serve very naturally as a bridge between the three extant and popular Monteverdi operas and the sheer numbers of equally popular works by Handel

Not all Cavalli operas are of equal merit, of course. The North American premiere of La Didone, for example, showed that to enjoy some four hours of secco recitativo you really need to love early baroque – a touch of masochism being a bonus. Ignoti Dei Opera's shoe-string production was a musicological early-music geek's delight, but it was - though shortened already - interminable and, in all truth, boring.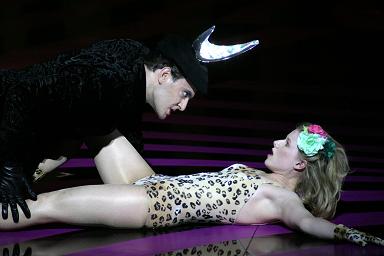 Giove (as Diana) and Calisto


La Calisto, Cavalli's 13th opera from 1652 is, to these ears at least, a vast improvement over the eleven years younger Didone; because the Munich Staatsoper – who introduced the opera into its repertoire two seasons ago - can luxuriate a performance with a staging and singers like few other opera houses in the world.

The story in a nutshell is that Giove (Jupiter/Zeus) falls in love with the chaste nymph Calisto (Calisto = the most beautiful) who is a follower of Diana (Artemis/Selene) goddess of hunting and the moon. Since Calisto resists Giove's advancements, he assumes the Diana (his daughter's) form and seduces her. Diana herself is desperately in love with Endimione (Endymion, alsp arguably a son of Zeus/Jupiter) but since Diana is supposed to be chaste her emotional state leads to complications. Giunone (Juno/Hera) discovers the illicit cause for Calisto's pregnancy and, vengeful and hurt, turns her into a bear – thus avoiding further amorous advances from Giove. Pitying Calisto's ursine state, Giove promises her eternal life as one of the stars. (In a common version of the story Zeus saves the bewitched Calisto from death at the hands of her hunter-son Arcas by turning him into a bear too and throws them up to the heavens, so creating the Ursa Major and Ursa Minor.)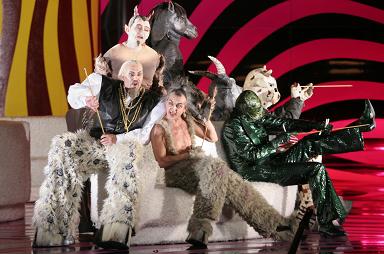 Satirino and Pane

The 20-head strong original instrument orchestra – a novelty for the Staatsoper when it introduced La Calisto in 2005 – is led by Ivor Bolton and plays (at Venice baroque pitch of A=465hz) from a score edited by Álvarro Torrente specifically for these performances. As there can be no "Urtext" in baroque music, continuo player Chris Moulds added little parts to suit dramatic needs of the staging. (Not that anyone would notice – without, or even with, the score in hand.)

And what a staging this is. One of the last new productions under the auspices of former General Manager Sir Peter Jonas, it brings together Munich's "Dream Team" for baroque opera, director David Alden and Ivor Bolton. The entire team, including the principal singers, have fine tuned Calisto now and their continuous work shows: this is a unity of music, singing, and staging that the composer and librettist (Giovanni Faustini) could never have imagined. It is a proto-Gesamtkunstwerk and the performance on November 7th was a wonder to behold, even with some minor imperfections that would have been noticeable to few in the audience, but were bemoaned by the cast afterwards.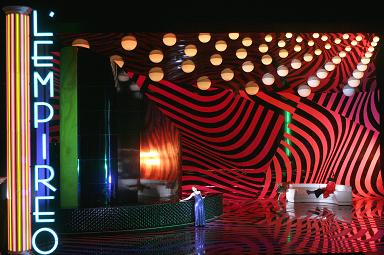 The Calisto Set


The set (Paul Steinberg) and costumes (Buki Shiff) are a colorful and quirky romp that seduce with visual appeal and they remove the story from any particular time or period (as should be, in a story about Gods, Demigods, and Nymphs) by means of abstraction. Words won't quite do justice to the amorphous walls with patterns of bright swirls, or the long bar where the subsidiary characters (Pane, Silvano, Satirino et al) gatherr for drinks, accompanied by assorted non-speaking creatures chosen from the signs of the zodiac and served by and amusingly realistic, dramatically oversized chameleon.

The figure of Linfea, a sexually desperate nymph who wants a man - D'haver un consorte / io son risoluta / voglio esser goduta" – "I'm absolutely resolved to have a partner; I wish to be enjoyed now"), is transposed for the tenor voice, which leaves Guy de Mey to sing the part in drag. Making Linfea a manly and ungainly transvestite-like character is apt, logical, and hilarious since the frustrated creature can't find a willing suitor except a young, equally horny Satyr. The Satyr – half countertenor, half singing goat – is embodied by Dominique Visse who visibly relishes every part of the role including a costume that is realistic down to the not-so-tiniest anatomical detail.

To leave a slightly disguised Umberto Chiummo on stage during the scenes where his Giove assumes the form of Diana, was a fine inspiration too. Chiummo acts and lip-syncs perfectly while Monica Bacelli (Diana) sings from the darkened orchestra pit. The one exception is Giove singing his own part in falsetto in conversation with Geraldine McGreevy's Giunone, clinging to his disguise even though his act is obviously up.

There are many similar (if less obvious) touches in the direction – and as a result the cockamamie story is told in a way that makes it riveting, plausible, and highly entertaining theater. The acting of the singers is fearsomely good – Sally Matthews' clear, strong voiced Calisto, Umberto Chiummo's strapping Giove, Monica Bacelli's lyrical and charming Diana, Guy de Mey's uproarious Linfea, and Dominique Visse's inspired Satirino foremost.

This is a well honed ensemble and there is always a hint of self-deprecating irony in even the most over-the-top scenes which saves the show from being hammed up. To mention all the delicious details of this production would make for a tediously long review and describing only a few would not get its cohesion across. Suffice it to say that with vocal contributions that were excellent throughout (countertenor Lawrence Zazzo's Endimione, Vito Priante's Silvano, and Markus Werba's Mercurio need also to be mentioned) this Calisto from Munich makes for the shortest three hours of baroque opera you will ever experience. For me it was one of the operatic highlights of this year and well beyond.


Jens F. Laurson

Pictures © Wilfried Hösl. Published with permission of Staatsoper Muenchen