Other Links
<
Editorial Board
Editor - Bill Kenny
London Editor-Melanie Eskenazi
Founder - Len Mullenger
Google Site Search
SEEN AND HEARD INTERNATIONAL OPERA REVIEW


Mozart, The Magic Flute: San Francisco Opera; Donato Cabrera, conductor; War Memorial Opera House, San Francisco. 31.10.2007 (PD)

Cast:

Tamino: Piotr Beczala
Pamina: Dina Kuznetsova
Papageno: Christopher Maltman
The Queen of the Night: Erika Miklosa
Sarastro: Georg Zeppenfeld

Production:

Director – Stanley M. Garner
Production Designer – Gerald Scarfe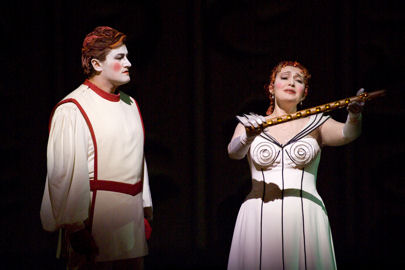 Piotr Beczala (Tamino) and Dina Kuznetsova (Pamina)

Following the somber, sober, and politically-charged Appomattox, SFO audiences were given a light-hearted reprieve on Holloween night with the imaginative staging of a "war horse" of another nature.

Back in the spotlight was Piotr Beczala, who had mightily impressed critics here three years ago with his performance in Tchaikovsky's Eugene Onegin. While this role hardly has the demands posed by that particular debut, he appears to be even more self-assured and powerful.

Dina Kuznetsova was a radiant Pamina, demonstrating that her acting has come a long way since she was last seen here as Musetta in La Bohème in 2003. Her voice was full and round, too, and she never faltered through any of the more demanding passages.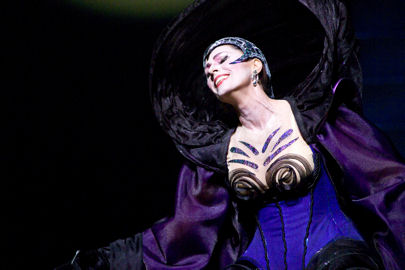 Erika Miklosa (Queen of the Night)

The show stealer, though, was the dynamic coloratura, Erika Miklosa, who by now owns the role of Queen of the Night. Dressed in a stunning "dominatrix" costume, she gave an over-the-top performance that proved to be the highlight of the evening. Her aria, "Der Holle Rache kocht in meinem Herzen," was campy, threatening, and dripping with revenge.

Vocal pyrotechnics aside, the other noteworthy aspect of this rendering was the production created by Gerald Scarfe. While looking a bit tired since it was first staged in Los Angeles back in the 90s, the fantastical creatures roaming about still managed to charm and enchant. Stanley Garner deserves praise, too, for his masterful direction.

Giving passable, but uninspired performances, were Christopher Maltman as Papageno, and Georg Zeppenfeld as Sarastro. The orchestra was well-rehearsed and given a free rein by its maestro, Donato Cabrera, and the company's chorus was in its usual robust form.

Paul Duclos
Pictures © Terrence McCarthy