S&H Concert Review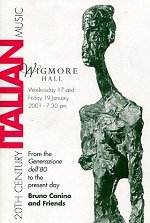 BUSONI Fantasia Contrappuntistica Bruno Canino and Antonio Ballista (pianos) Bruno Canino and Friends at Wigmore Hall, 18 January 2001.

These two Italian pianists have worked in partnership for many years. I have their LP of this magnum opus and those of us who were at the London premiere in the early '70s (?) of Berio's 1973 two-piano concerto (three pianos in fact - another in the orchestra) will never forget it.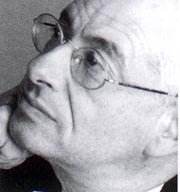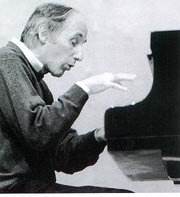 Their account of the 2-piano version of Fantasia Contrappuntistica showed all the benefits of long experience of playing together. Ballista [left]presented solid Bachian structure on one side (his was the piano without a lid and he seemed to compensate for that with slightly increased dynamics, so that the sound reaching the audience was in perfect balance) and Canino [right] had more of Busoni's flights of fancy. (I wondered whether Messiaen took a hint from this Fantasia when structuring, rather similarly, the division of labour in his Visions de l'Amen? He used to play the second piano, leaving the ornithological fireworks to his wife Yvonne Loriod - ADES 13233-2.) The Busoni work is a marvellous conflation of the music of the two composers, and has to be appreciated in historical terms. It dates from a time when Busoni, through his piano transcriptions, had been increasing general awareness of Bach's keyboard (including organ) music. It was good to watch the ball passing from one to other, and the prevailing touch (no over-pedalling) allowed all the contrapuntal detail to come through. There were some exciting rushes of adrenaline, when the pace hotted up, but the two were so well attuned that danger never compromised perfect synchrony.
Beforehand, we reached the interval in this first of a two part Journey through 20th century Italian music with dampened enthusiasm. Canino started with two Ricercari on BACH of Casella, the second a cheerful ostinato which gathered towards an energetic finish which augured well. But Ghedini's 7 Ricercari for piano trio long overstayed their welcome, well played by Ballista & colleagues though they were, and Alda Caiello (pianist & soprano) was less than convincing in songs by Dallapiccola & Malipiero; single items by each of these composers did not make a good case for exploring their neglected output further.
There is a second concert by Bruno Canino and Friends at the Wigmore Hall on Friday 19 January, with Maderna and a world premiere of Sollima to bring the journey up to date. A fine performance of the Fantasia Contrappuntistica is the main work in an unusual and highly desirable two-piano CD by Andras Schiff and Peter Serkin (ECM 1676/77 465 062-2 *****).
Bruno Canino can be enjoyed in a highly desirable CD of music by the contemporary Italian composer, Ivan Fedele, a recent discovery of mine about whom I hope to write more fully soon. Canino plays Fedele's Concerto per pianoforte (1993) with Luca Pfaff and the Orchestre Philharmonique de Radio Fance as the main work on a portrait CD released by Straadivarius, STR 33348 *****
Peter Grahame Woolf
CD REVIEW (From Piano Journal)
BUSONI Fantasia Contrappuntistica for two pianos REGER Variations and Fugue on a theme of Beethoven Op. 86 MOZART Fugue in C minor K.426 and Sonata in D major K.488/375a Andras Schiff and Peter Serkin (two pianos)
ECM 1676/77 465 062-2 [92.17] (PGW) *****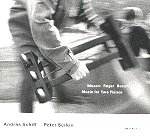 This two piano recital commemorates a rare meeting in New York of two great pianists. Not a regular duo partnership, their synchrony is astonishing and they play with a balance of finesse and fire, striking sparks off each other in a cunningly contrived programme which looks back to Bach, the most inventive fugue maker of all time.
The Busoni encompasses mystery, with flights of unique harmonic and pianistic invention; Reger builds a huge edifice upon a deceptively "innocente e cantabile" bagatelle, the last of Beethoven's Op 119. These major works are framed by Mozart; the 1783 fugue, better known in its strings version, and for relaxation and delight to finish, the most vivid and elegant performance of his two piano sonata you could wish for.
I cannot recall for a long time another two piano recording which has given comparable pleasure, and recommend it unreservedly as one not to be missed.
Peter Grahame Woolf
---
Seen&Heard is part of Music on the Web(UK) Webmaster: Len Mullenger Len@musicweb-international.com
Return to: Seen&Heard Index

Return to: Music on the Web