S&H Concert Review
PURCELL Suites from The Fairy Queen & The Indian Queen and Birthday Odes 1691 & 1693 The King's Consort/Robert King Wigmore Hall 15 February 2001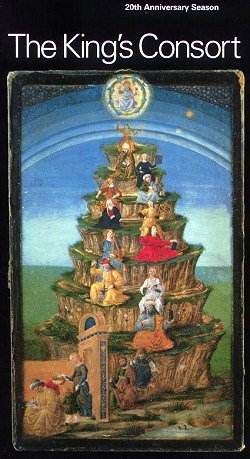 The Wigmore Hall is enjoying sold-out full houses for its Centenary Festival, so this concert was aptly entitled Celebrate This Festival, that of the fifth of the six Odes Purcell wrote for Queen Mary's birthdays. Its opening number, to those words, gave the tone of this superbly invigorating concert and was reprised even more scintillatingly for an encore at the end.
Concerts by The King's Consort under its eponymous director are always worth attending, but none more so than those of Purcell. No composer centenary celebration in recent times has been more revelatory or left a more enduring memory than that for Purcell's tercentenary in 1995, when we were astonished by the ingenuity and expressiveness maintained by this prolific and short-lived composer, many of whose compositions were being newly rediscovered and brought to live performance; few of those disappointed. This was in large extent due to the pioneering work of Robert King, who produced a definitive biography of Purcell and made with his Consort the most comprehensive collection of recordings ever of the music for Hyperion. (There were far fewer revelations from the exhaustive celebrations in Mozart's bicentenary year.)

CELEBRATE THIS FESTIVAL
Music by Henry Purcell (1659-1695)
Suite from The Fairy Queen
Prelude - Hornpipe - Rondeau - Chaconne
Celebrate this Festival (Ode for the Birthday of Queen mary, 1693)
** Interval of 20 minutes **
Trumpet Suite from The Indian Queen
Overture to Act III- Violin Tune to Act !V - First Act Tune - Air - Trumpet Air
Welcome, welcome glorious morn (Ode for the Birthday of Queen mary, 1693)
* * * *
The Wigmore Hall acoustics and atmosphere are ideal for this small scale orchestral and choral music. The band of a dozen seasoned baroque instrumentalists had the great natural trumpeter Christian Steele-Perkins for the Trumpet Suite from The Indian Queen and the eight solo singers doubled for the choir, as was doubtless usual in the 17th Century. There were notable contributions from the eight singers, Carolyn Sampson especially affecting in My pray'rs are heard and from tenors James Gilchrist and Charles Daniels, the latter a distinguished member of the King's team for many years. The altos were the leading countertenors of two generations, James Bowman and Robin Blaze.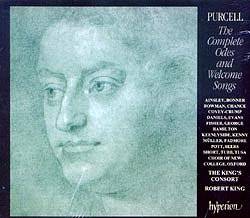 The Complete Odes and Welcome Songs of Purcell are now collected in a Hyperion Boxed Set which will not disappoint investors (CDS4403111/8 *****). £60
JOHN MARK AINSLEY, TESSA BONNER, JAMES BOWMAN, MICHAEL CHANCE, ROGERS COVEY-CRUMP, CHARLES DANIELS, ROBERT EVANS, GILLIAN FISHER, MICHAEL GEORGE, SUSAN HAMILTON, SIMON KEENLYSIDE, JONATHAN KENNY, RUFUS MÜLLER, MARK PADMORE, CHARLES POTT, MARY SEERS, NIGEL SHORT, EVELYN TUBB, ANDREW TUSA
CHOIR OF NEW COLLEGE, OXFORD
THE KING'S CONSORT
A slipcase containing:
Volume 1 (CDA66314)
Arise, my muse (for Queen Mary's birthday, 1690)
Welcome to all the pleasures (for St Cecilia's Day, 1683)
Now does the glorious day appear (for Queen Mary's birthday, 1689)
Volume 2 (CDA66349)
Hail! bright Cecilia (for St Cecilia's Day, 1683)
Who can from joy refrain? (for the Duke of Gloucester's birthday, 1695)

Volume 3 (CDA66412)
Fly, bold rebellion (Welcome Ode for Charles II, 1683)
Sound the trumpet, beat the drum (Welcome Ode for James II, 1687)
Celebrate this Festival (for Queen Mary's birthday, 1693)

Volume 4 (CDA66456)
Ye tuneful Muses (Welcome Song for James II, 1686)
Celestial Music did the gods inspire (for Mr Maidwell's School, 1689)
From hardy climes and dangerous toils of war (for the wedding of Prince George and Princess Anne, 1683)

Volume 5 (CDA66476)
Welcome, welcome, glorious morn (for Queen Mary's birthday, 1691)
Great parent, hail to thee (for the Centenary of Trinity College, Dublin, 1694)
The summer's absence unconcerned we bear (Welcome Song for Charles II, 1682)

Volume 6 (CDA66494)
Love's goddess sure was blind (for Queen Mary's birthday, 1692)
Raise, raise the voice (for St Cecilia's Day, c1685)
From those serene and rapturous joys (Welcome Song for Charles II, 1684)

Volume 7 (CDA66587)
Of old, when heroes thought it base (The Yorkshire Feast Song, 1690)
Swifter, Isis, swifter flow (Welcome Song for Charles II, 1681)
What, what shall be done in behalf of the man? (Welcome Song for the Duke of York, 1682)

Volume 8 (CDA66598)
Come ye songs of art, away (for Queen Mary's birthday, 1694)
Welcome, vicegerent of the mighty king (Welcome Song for Charles II, 1680)
Why, why are all the Muses mute? (Welcome Song for James II, 1685)
ROBERT KING director

Not supplied for review, but a birthday present to me which I wish to share by saying Welcome to all the Pleasures and to recommend it as a peerless bargain in this boxed set re-issue.
The twenty four surviving Odes and Welcome Songs are here collected, and benefit immeasurably by being heard in extenso. The high standard Purcell maintained throughout his prolific output and short life never ceases to amaze, especially as, to modern readers, the texts are so often obsequious and banal. The embarrasse de richesse inevitably means, as has been discovered with other composers, notably Schubert, that there is something a little arbitrary about the few which have become established and are regularly performed.
There is not a one which does not include one or more marvellous vocal settings and there are numerous instrumental Symphonies and ritornelli that are sheer delight. Robert King is the most knowledgeable guide and combines the skills of a historian with the flair of a true performer, and unbounded enthusiasm which ensures that there is never a dull moment or routine reading of any of these occasional works from 1680-95, nine for Royal birthdays, six for welcomes after travel, and a few 'one-offs'.
The enterprise took from 1989 to 1992 and is very much a team effort. The singers and players are all meticulously listed in the booklets, and many of the same names recur constantly. Besides taking some remarkable solo songs, they share in supplying the choruses. Research has shown that the original forces were generally small, with up to a dozen instrumentalists and no more than a double quartet of singers, who covered all the solos and joined forces for the choruses. This is a felicitous and wholly satisfactory arrangement, as has been fully testified in live performance at the Wigmore Hall and latterly the advocacy of a comparable system for presenting Bach cantatas has won increasing support.
The performances are all impeccably stylish and many of the individual items are unparalleled elsewhere, if indeed there are rival recordings. The ambience is well judged and the recordings maintain consistent quality. In connection with the Purcell Tercentenary in 1995, Robert King with his fortuitously eponymous musicians has also recorded the complete sacred Anthems & Services (CDA66585 to CDA66716) and this has, if it is possible, proved even more revelatory. It has to be hoped that Hyperion may be able to see their way towards making those available also in a bargain boxed set?
Peter Grahame Woolf
---
Seen&Heard is part of Music on the Web(UK) Webmaster: Len Mullenger Len@musicweb-international.com
Return to: Seen&Heard Index
Return to: Music on the Web