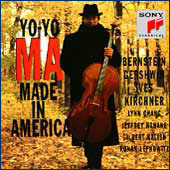 Yo-Yo Ma (cello), Gilbert Kalish (piano), & Ronan Lefkowitz (violin) / "Made in America" (Sony Classical SK 53126, coupled with works by Bernstein, Kirchner, and Gershwin)
This is a stunning performance, a clear demonstration that Ives' Piano Trio is one of his greatest works. (No wonder so many trios are recording it.) As with his orchestral music, Ives' chamber music sounds best when performers embrace the traditional, "Romantic" elements of the music and the dissonant, unconventional elements equally. Ma, Kalish, and Lefkowitz certainly do so. The first movement manages to be both haunting and lovely. The dissonance creates a palpable sense of striving for the unseen, the mysterious unknown. In the second movement, entitled "TSIAJ" ("This Scherzo Is A Joke"), they play with manic intensity. But what a joke! Ives' humor here is ironic, kaleidoscopic, and phantasmal. It reminds of Shostakovich and his reckless, existential polkas. There's certainly nothing "light" about it. As the music reaches it impassioned, surreal climax, you find yourself wondering, "How can that much music be coming from three musicians?" It sounds like orchestral music! Despite all that, the real blockbuster here is the third movement, Moderato con moto, which clocks in nearly three times longer than either of the first two movements. This is the "big movement," and they pull it off perfectly. Kalish's performance is especially gorgeous. What shimmering, transcendent pianism! The couplings are excellent as well.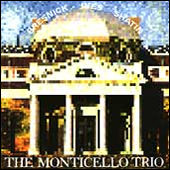 Monticello Trio / Tannis Gibson (piano), Mark Rush (violin), Mathias Wexler (cello) (CRI CD 583, coupled with works by Judith Shatin and Martin Bresnick, out of print)
This recording of the Piano Trio is an impassioned, daring performance that yields nothing to the Ma / Lefkowitz / Kalish disc in terms of interpretation or virtuosity. The first movement is beautifully grave, and the second movement is as jokey and reckless as it should be. But it's the third movement that always reminds me that this work is one of Ives' grandest achievements. The Monticello Trio's performance is especially notable for it's ability to shift effortlessly between a folksy, American "fiddle" sound and a more traditional, flowing European approach. No one other than Ives could have written this music, and they capture his unique sound-world perfectly. The Bresnick and Shatin works are very different but compelling in their own way, and the sound quality is top-notch. Unfortuately, the disc has not been reissued by New World, which has acquired the entire CRI catalog since the CD was originally issued.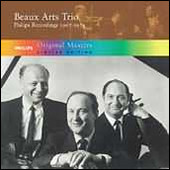 The Beaux Arts Trio (Decca "Original Masters" series 4751712, 3 CD set, coupled with works by Mendelssohn, Robert Schumann, Clara Schumann, Chopin, Tchaikovsky, Smetana, and Shostakovich)
This isn't the edgiest or most intense performance of the Piano Trio. But what it lacks in those areas, it makes up for in delicacy and transparency. I've never heard so much inner detail as I have in this version. The Beaux Arts Trio's interpretation works perfectly well on its own terms. For example, listen to the all-important third movement. Ma, Kalish, and Lefkowitz bring out a Mahlerian intensity, but the Beaux Arts recording has Brahmsian, melancholy warmth that's wonderfully engaging. (Incidentally, neither of these performances matches the Monticello Trio recording for it's idiomatically American flavor.) This is well worth hearing, especially if you like you don't mind a softer, gentler Ives than you might normally hear.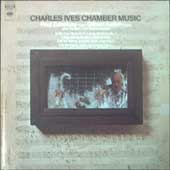 Paul Zukofsky (violin), Gilbert Kalish (piano), & Robert Sylvester (cello) / "Charles Ives Chamber Music: Four First Recordings" (Columbia Masterworks M 30230, out of print LP)
This performance is not nearly as intense or grand as the Sony disc featuring Ma, Ronan Lefkowitz, and Gilbert Kalish (on his second recording of this work). Even so, this version of the Trio has its charms. There's a home-made quality--even a quaintness--in this recording that I find appealing. The spirit of this performance seems to be in line with works such as the violin sonatas, whereas the Sony and CRI discs feature more polished, "bigger" statements. Both approaches work. (And any Ives recording featuring Gilbert Kalish is bound to be interesting.) In any case, you'll have a much easier time tracking down the Sony or CRI CDs. This recording has never made the transition to CD. (Yet another reason to keep your turntable spinning.)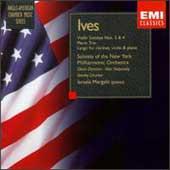 Israela Margalit (piano), Glenn Dicterow (violin), & Alan Stepansky (cello) (EMI CDC 5 55406 2, coupled with Violin Sonatas Nos. 2 & 4, Largo for Clarinet, Violin & Piano, out of print)
This recording of Ives' Trio is good, but it's not in the same league as the recording featuring Ma, Kalish, and Lefkowitz. Unfortunately, the other works on this EMI disc don't quite catch fire either. A one-disc overview of Ives' chamber music is a great idea, but this one doesn't measure up to the best performances. Stick with the Sony disc for the Piano Trio and go with Fulkerson and Shannon on Bridge for the Violin Sonatas.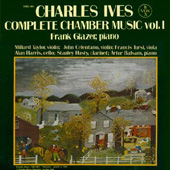 Frank Glazer (piano), Millard Taylor (violin), and Alan Harris (cello) / "Charles Ives: The Complete Chamber Music, Volume 1" (Vox Box SVBX 564, coupled with other chamber works, out of print LPs)
This trio's performance falls short of the high technical and interpretive standards set by the best performances. Tempos on this recording are much less extreme, notably in the second ("TSIAJ") movement, so the "joke" is less convincing. And in the all-important third movement, they produce nothing of the impassioned melancholy of the trio on Sony. On the positive side, this set contains many rarely recorded chamber works. This set is good for building your library, but it's clearly not a first choice. (It is out-of-print.)
Other Recordings
Other recordings of Ives' Piano Trio include:
Werner Bartschi, Win-Sinn Yang, Martin Mumelter (Koch Schwann 367142, coupled with "Music for Three" by John Cage)
The Beckova Sisters (Chandos 9844, coupled with works by Rebecca Clarke)
Cardiff Festival Ensemble (Argo ZRG 794 out of print LP, coupled with Copland's Piano Quartet)
Hartley Piano Trio / "The Hartley Trio Plays American Piano Trios" (Gamut GAMCD 536, coupled with works by Beach, Bloch, Copland and Cowell)
Matisse Trio (Aura Classics 419, coupled with works by Pablo and Solbiati)
Nieuw Amsterdam Trio (Decca DL 710126, coupled with works by Copland and Bloch) [premiere recording]
Osiris Trio (Channel Classics 13098, coupled with works by Beethoven, Dvorak, Shostakovich, and others)
Pacific Arts Trio (Delos 1009, coupled with Korngold's Piano Trio)
Trio Animae (Cascavelle 1072, coupled with works by Astor Piazzolla)