Editorial Board

London Editor:
(London UK)
Melanie Eskenazi

Regional Editor:
(UK regions and Worldwide)
Bill Kenny

Webmaster:
Bill Kenny

Music Web Webmaster:
Len Mullenger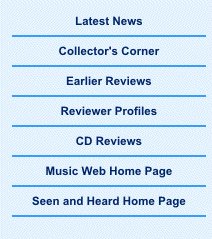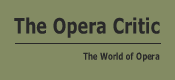 MusicWeb is a subscription-free site
Clicking Google adverts on our pages helps us keep it that way

Seen and Heard International Opera Review
Bregenz Festival 2007: Puccini, Tosca Spiel auf dem See, Bregenz, Austria 24.7.2007 (JMI)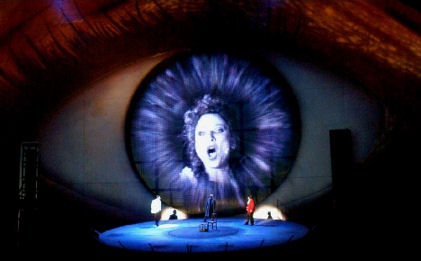 Last year's Bregenz experience on the lake was unforgettable, as we endured a Trovatore under a downpour that lasted longer than the reign of Franco! Presenting an outdoor opera seemed quite impossible as the rain had fallen all day and even intensified half an hour before the performance was due to start. In spite of the meteorological omens however, I had a feeling that somehow the show would go on as postponing an opera in Bregenz is a taller order than sinking the Titanic. It has happened before but only owing to the most exceptional circumstances. So, clad in sou'westers and raincoats and carrying paper to dry our seats, we entered the theatre taking our places amongst the packed, waterproofed audience. As incredible as it seems, the rain stopped just as the performance began, and thus we went from 'singing in the rain' to 'singing in the sweat'.

This year in Bregenz 26 performances of Tosca are being shown, and at a possible 7000 people per show, that represents a total audience capacity of some 180,000. The region itself is too small to be able to fill that many seats so the audience is mostly made up of tourists dressed as river fishermen. On this occasion the honour of being the highlight of the Festival went to a new Tosca production by the German Philipp Himmelmann. Naturally, performances on this lakeside stage must be both big and spectacular. If last year Carsen gave us Trovatore in an oil refinery, this time round we had Tosca through the eye of Big Brother which dominated the far end of the stage. With swinging structures, Johannes Leiacker's set design is more spectacular as a work of engineering than of theatre, especially in the last act.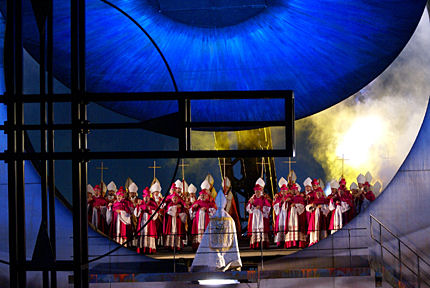 The first act is soulless and comes only momentarily to life with the opening of the eye which offers a very ordinary view of the Te Deum, a poor quality copy of the Nuria Espert idea in the Teatro Real's Tosca. The second act takes place upon an elevated platform with a total lack of life as the action has nothing to do with the opera. The eye opens to reveal Cavaradossi's elevated prison in the third act from where he, or rather his double, is shot and subsequently falls into the lake to the surprise and admiration of the holidaymakers. The Tosca duo, with Tosca outside the prison, like Amneris in the tomb scene in Aïda is so cold and absurd that it becomes pathetic. The costumes by Jorge Jara are contemporary and of little interest and Davy Cunningham's lighting is nothing special. Himmelmann's scenery design is at best ordinary, fit only for tourists who expect nothing more. Sheer boredom.

The music, directed by Ulf Schirmer, was unbearable. One of the most boring interpretations I have had to suffer. Apart from the lack of nuances and inspiration, his funeral tempos only helped to turn this Tosca into musical torture. I find myself unable to comment on the Wiener Symphoniker as the amplified sound, or should I say the over-amplified sound, totally disguised any quality the orchestra might have had. The Bregenzer Festpielchor were nothing to write home about, affording themselves the luxury of not coming in on time in the Cantata.

The most interesting vocal interpretation came from the Armenian singer Karine Babajanyan, playing Tosca, who caused a sensation last Spring in Essen as Leonora in La Forza del Destino. However, it remains difficult to reach any positive conclusion as to her performance due to the sound amplification which is always one of the biggest obstacles in being able to judge the quality of any vocalist. The impression is not a bad one, but she would need to be listened to in other circumstances. She appears to have a quality voice but was not well assisted by either of the musical directors. Compared to the rest of the cast she was phenomenal, but that often happens. Soltesz has opted for her again to play Elizabeth in Tannhäuser next season which would suggest that she is a quality performer.

The American Brandon Jovanovich is more Brando than Cavaradossi, which, in fact, says it all. Good presence but of no vocal interest whatsoever. Uncontrolled voice, poor vocal range and devoid of elegance. I'd had the misfortune of suffering his Cavaradossi before in Burdeos and this was more of the same, only amplified.

Peter Sidhom, a British baritone of Egyptian origin, was an unpolished and almost unbearable Scarpia. An Alberich disguised as Scarpia is only acceptable for tourists. Then again, I'm also in that category, so it's not even good enough for tourists.

Richard Angas was a deficient Sacristán and a horrendous Carcelero. Sebastián Soules will not go down in history as Angelotti. Adrian Clarke, dire as Sciarone. Hubert Francis, a weak Spoletta. Katia Velletaz, passable as Pastorcillo even though she doesn't know how to make paper boats.

There was applause for all from the full house. Unfortunately I wasn't able to show my appreciation as my hands were stuck beneath dense plastic.

If I am grateful at all to Bregenz it is for giving me the opportunity from my seat to contemplate the nightfall over the lake with Lindau's port on the opposite shore. Any aesthetic similarity between the beauty of the landscape and that of the performance is pure coincidence.


José M. Irurzun

Pictures © Karl Forster

With thanks to Naomi Overney for translating this review from Spanish (Ed)
Back to the Top
Back to the Index Page

Seen and Heard, one of the longest established live music review web sites on the Internet, publishes original reviews of recitals, concerts and opera performances from the UK and internationally. We update often, and sometimes daily, to bring you fast reviews, each of which offers a breadth of knowledge and attention to performance detail that is sometimes difficult for readers to find elsewhere.
Seen and Heard publishes interviews with musicians, musicologists and directors which feature both established artists and lesser known performers. We also feature articles on the classical music industry and we use other arts media to connect between music and culture in its widest terms.
Seen and Heard aims to present the best in new criticism from writers with a radical viewpoint and welcomes contributions from all nations. If you would like to find out more email Regional Editor Bill Kenny.
Contributors: Marc Bridle, Martin Anderson, Patrick Burnson, Frank Cadenhead, Colin Clarke, Paul Conway, Geoff Diggines, Sarah Dunlop, Evan Dickerson Melanie Eskenazi (London Editor) Robert J Farr, Abigail Frymann, Göran Forsling, Simon Hewitt-Jones, Bruce Hodges,Tim Hodgkinson, Martin Hoyle, Bernard Jacobson, Tristan Jakob-Hoff, Ben Killeen, Bill Kenny (Regional Editor), Ian Lace, John Leeman, Sue Loder,Jean Martin, Neil McGowan, Bettina Mara, Robin Mitchell-Boyask, Simon Morgan, Aline Nassif, Anne Ozorio, Ian Pace, John Phillips, Jim Pritchard, John Quinn, Peter Quantrill, Alex Russell, Paul Serotsky, Harvey Steiman, Christopher Thomas, Raymond Walker, John Warnaby, Hans-Theodor Wolhfahrt, Peter Grahame Woolf (Founder & Emeritus Editor)
Site design: Bill Kenny 2004