JOSEF LOCKE: Hear my Song, Violetta
Hear my Song, Violetta (Lukesch-Klee-Pepper) (5, 1947),
Come back to Sorrento (De Curtis-Aveling) (6, 1947),
I'll take you home again, Kathleen (Westendorf, arr. Parry) (5, 1947),
My Heart and I (Tauber-Tysh) (6, 1947),
The garden where the praties grow (trad. arr. Liddle) (1, 1950)
Santa Lucia (Cottrau-Marzials) (6, 1947),
Song of Songs (Moya-Lukas) (6, 1947),
While the Angelus was ringing (Villard-Manning) (4, 1949),
When you're in love (O'Connor-Fields-John) (2, 1949),
Galway Bay (Colehan) (7, 1948),
Down in the Glen (Gordon-Connor) (8, 1950),
Bless this House (Brahe-Taylor) (2, 1948),
How can you buy Killarney? (Kennedy-Grundland-Morrison-Steele) (3, 1949),
Within this heart of mine (Gay) (8, 1950),
Eileen O'Grady (Cormack) (1, 1950),
The Soldier's Dream (Helmer-Krier-Humphrey) (4, 1949),
Goodbye (Stolz-Graham, from White Horse Inn) (6, 1947)

Josef Locke (tenor), Gerald Moore (piano) (1), unnamed orchestras conducted by Herbert Caruthers (2), Geraldo (3), Woolf Phillips (4), Eric Robinson (5), George Scott-Wood (6), Debroy Somers (7), Danny Walters (8). All items recorded in London.

NAXOS Nostalgia 8.120549 [56.13]
Crotchet AmazonUK AmazonUS Amazon recommendations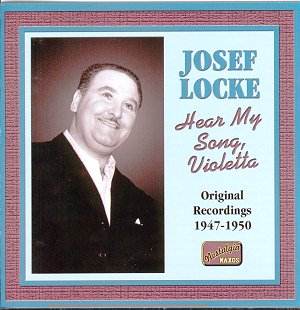 As it happened this record came to me while I was reading the booklet to another recently arrived CD and had just learnt that Svendsen's Third Symphony was destroyed by the composer's wife when, in a not-infrequent tiff, she threw it onto the fire. I noted that Torna a Surriento, Neapolitan anthem par excellence, was to be sung in English and thought of my Southern Italian wife and wondered what the future of this disc would be. Well, the disc's all right but I'm not sure if I am!
Now, to be serious, the once immensely popular Irish tenor (1917-1999) shows a fine voice, squillante, as the Italians call it, in a way not many non-Italians fully manage. This piece does seem strange in English and it is slower than Italian singers normally do it, but the English words seem to fit the tempo. Another curious piece is Hear my Song, Violetta, with its zany quotations from La Traviata.
Most of the pieces here are English originals and it is easy to see why the public loved him, with his generous tone, but also his honeyed head-tones (Within this heart of mine has a particularly soothing effect), a clear way with words and a natural musicianship (too much swooning in Galway Bay is the exception not the rule) and a way of presenting a song. Over a whole CD it becomes evident that his range was not wide but within his limits he was a fine singer. I found the two items with Gerald Moore, and especially the charming The Garden where the Praties grow, quite delightful and wonder if more discs in a delicate vein are around. I note, as some time back I noted in a very different context with regard to Bernadette Greevy, that real Irish singers don't camp up their accents. A touch here and there is quite enough.
With full notes (no texts but I honestly didn't miss them) and good transfers this can be taken as a definitive presentation of a singer who gave a lot of pleasure in his day. Apart from nostalgic or specialised interest, what has Locke to offer to a present-day listener? Well, if you like a really tenory tenor, with proper baritonal support and a heroic ring to his upper register, singing light repertoire, and singing it in English (yes, Gigli and Tauber sometimes sang in English, but the less said about that the better) then you should enjoy this. Certainly a voice of this quality would bring in the crowds today.
Christopher Howell.