Classical Music on the Web
Music Webmaster Len Mullenger
---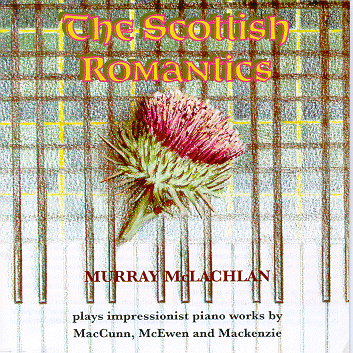 the divine art 2-5003 DDD
The Scottish Romantics - Impressionist Piano Works
Murray McLachlan, piano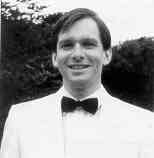 Hamish MacCunn (1868-1916)

Six Scotch Dances (15:42)

1. Welcome Dance 2:47

2. Kerchief Dance 3:42

3. Gillie's Dance 1:49

4. Dirk Dance 1:49

5. Plaid Dance 3:12

6. Farewell Dance 2:06

7. Valse

John McEwen(1868-1948)

Four Sketches for Pianoforte

(i) Prelude 2:38

(ii) Quasi Minuetto 0:56

(iii) Elegy 2:26

(iv) Humoreske 2:10

Sonatina for Pianoforte

(i) Allegro con moto 2:57

(ii) Andante semplice 1:30

(iii) Scherzo-finale 1:27

Three "Keats" Preludes (4:33)

(i) A white Naïad 1:18

(ii) A rapt Seraph 2:26

(iii) The dew by Fairy Feet 0:42

On Southern Hills (13:53)

(i) White Oxen 4:02

(ii) Drifting Clouds 2:19

(iii) 1'Improvisadou 7:20

Five Vignettes from La Cote d'Argent (6:38)

(1) Petite Chérie 1:12

(ii) Les Hirondelles 0:28

(iii) Pantalon Rouge 1:34

(iv) Crépuscule du Soir Mystique 1:51

(v) La Rosière 1.15

Alexander Mackenzie (1847-1935)

Odds and Ends, Book One

(i) Refrain 1:56

(ii) High Spirits 1:39

Chasse aux Papillons 1:24

Trois Morceaux (11:53)

(1) Valse Sérieux 2:12

(ii) Nocturne 4:58

(iii) Ballade 4:31

Harvest Home 2:04



Total Playing Time 78:26
---
Review by Colin Scott-Sutherland
---
The Scottish Romantics
Impressionist piano works
The music on this CD is largely unfamiliar and previously unrecorded. It was written by a group of distinguished turn-of-the-century Scottish musicians who were in their time well-respected academics, but modest to a fault about their own creative talents.
There is nothing pretentious or experimentally radical about their considerable achievements as composers, but the piano miniatures presented here communicate with a directness ,strength and mastery of technique which is often highly tuneful, rhythmically infectious and poetically moving. In short, here is a collection of delightful piano "lollipops" which have been shockingly neglected; a substantial corpus of well-crafted music for all to enjoy and admire.
Hamish MacCunn (1868-1916) is today remembered primarily for his stirringly-effective overture "Land of the Mountain and the Flood"; but it would be wrong to dismiss him as a "one-work wonder", as his substantial output includes four operas, cantatas, orchestral music and songs.
MacCunn was born in Greenock and studied under Parry at the Royal College of Music. He taught harmony at the Royal Academy of Music in London and became a distinguished conductor; holding posts with the Carl Rosa Opera Company and at the Savoy Theatre. According to The New Grove Dictionary of Music and Musicians, he wrote seven works for piano, and these are all presented here.
The "Six Scotch Dances", dedicated to the Duke of Argyll, date from the 1890s and display an affection and naïve warmth for the folk tradition of Scotland. This may be 'Highland dancing seen through Victorian spectacles', but it is no less exuberant, lilting and joyful for all that. The six movements are direct and straightforward, and open a welcome niche in the classical repertory for the kind of Celtic nostalgia which later composers, notably Percy Grainger and Edward MacDowell, were to investigate further.
In complete contrast is MacCunn's only other piano piece, the charmingly civilised and chic "Valse" of 1912. Dedicated to the composer's friend Marmaduke Barton, this is a slow waltz which owes more than a wee debt of gratitude to the famous "La plus que lente" by Debussy. The influence on Scotland of French culture had been noticeable from the time of Mary Queen of Scots onwards, so it was perhaps only natural for later Scottish composers to seek inspiration from impressionistic, Gallic sources.
The influences of Ravel, Fauré and Debussy can all be clearly heard in the music of Sir John Blackwell McEwen (1868-1948). McEwen was born in the Border town of Hawick and studied at Glasgow University and the RAM, subsequently teaching in Scotland and London before becoming Principal of the RAM in 1924. His large output of music includes the "Solway Symphony" and a substantial number of string quartets, choral musk and songs.
In many ways be is the Scottish equivalent of Sir Arnold Bax, and the wistful ingenuity of his textures and chordal progressions seems all the more surprising when it is recalled that for over two decades, as an RAM professor; be taught traditional harmony as an academic discipline.
This recording includes all MeEwen's 'character pieces' for solo piano, excepting only the monumental E minor Sonata, written at the turn of the century.
The "Four Sketches" are a diverse group of contrasting miniatures which nevertheless form a convincing whole. The lugubrious textures of the opening Prelude are accompanied by wrong-footing rhythms based on an obsessive dotted motif The 5/8 "Quasi Minuetto" which follows certainly clears the skies before a sense of foreboding returns in the "Elegy". The set ends with a bravura-textured "Humoreske" which vacillates between joy and dejection for its characterisation.
McEwen's Sonatina in G Minor is often set for Grade examinations; but its lean-textured wistfulness calls for a far wider audience: Here is a charmingly understated three-movement creation from a minor master, a work quintessentially idiomatic in its sparseness and carefully balanced chords. Especially touching is the delicate drone effect created at the centre of the finale; amid the high spirits and gaiety; there is still time for repose and melancholy of a peculiarly Celtic quality
Rippling impressionistic colours are most stirjkingly exposed in McEwen's tiny set of three preludes, listed in The New Grove as "Three Keats Preludes". Each movement is preceded by a fragment of verse from the great poet: no.1 is subtitled "A White Naïad in a Rippling Stream", while no.2 has "A Rapt Seraph in a Moonlight Beam" and the enigmatic no.3 is "The Dew by Fairy Feet swept from the Green". As a set, these Preludes are exquisitely crafted.
"On Southern Hills" is a hypnotically mysterious triptych of impressionistic evocations, possibly inspired by the Pyrenean mountains and peoples. In "White Oxen", the first movement, tonal ambiguity and delicate shades of colour accompany a stubbornly obsessive rhythmic motif which nevertheless avoids heaviness. By contrast, the second movement is so concerned with linear arabesques and flourishes that little opportunity remains available for chordal pulse rhythms. Its title, "Drifting Clouds", may have been inspired by a late Liszt piece with a similar name, "Nuages Gris".
Certainly its last movement, "L'irnprovisadou", is structurally the most ambitious. Its form is mysterious, organically conceived, yet without any preconceptions. It is as though MeEwen has succeeded in creating an improvised spur-of-the-moment method of composition to suit the intrinsic characterisation of his compositional material, yet there is nothing haphazard or rambling about the piece.
MeEwen's "Five Vignettes" are his happiest, most joyful 'character pieces' for piano. He composed them in May 1913 while on holiday at Cap Ferrat, and the final piece of the set "La Rosiere", is a musical evocation - on one single, busy stave - of a motor-boat, a mode of transport presumably used by the composer en vacances. As if to underline the source of his inspiration, MeEwen prints a photograph of the boat in question at the piece's conclusion!
The "Vignettes" begin with an exquisite miniature entitled "Petite Cherie", continue with swirls of bravura runs in "Les Hirondelles" (Swallows), touch on the military in "Pantalon Rouge" and then delve into the occult with "Crépuscule du soir mystique".
Edinburgh-born Sir Alexander Campbell Mackenzie (1847-1935) was McEwen's predecessor as Principal of the Royal Academy of Music in London. His enormous compositional output is distinguished by its high degree of craftsmanship and flair And if many of his works today appear to be too similar for comfort to those of Sir Edward Elgar, it should be remembered that Mackenzie was the elder of the two composers, and that Elgar was very well aware of the debt that he owed to Mackenzie in terms of his own artistic development.
Mackenzie's greatest work for solo piano is the single-movement "Fantasy" in E flat, a composition which explores its germinal motif with an Elgarian breadth of conception in 15 minutes of 'orchestral' pianism.
While it would be wrong to claim that Mackenzie's prolific collection of shorter pieces for piano are all of the highest quality; his pen produced many 'character' studies for the instrument which are extremely effective and colourful. The "Three Morceaux", opus 15, make beautiful recital-pieces and are always well received by audiences, even if they do lean heavily on models by Chopin and Schumann. Or; perhaps they are effective because they remind us of other composers; in a strange way, Mackenzie's gift for imitating earlier composers is distinguished, and his melodic gift can often convince even the most hard-headed of critics that his music deserves to be heard. Who can resist the poignant severity at the end of the second "Morceau" or the impassioned sweep in the central section of the third?
"Harvest Home", "Chause aux Papillons" and "High Spirits" are all bravura pieces designed to test the dexterity of the performer and thrill the listener in the process. Though the shadows of Mendelssohn and Tchaikovsky are apparent in the first two, "High Spirits" is a much later piece, dating from the l920s, and shows some interestingly harlequinesque harmonic splashes which add much to its characterisation. Its companion movement, "Refrain", has equal harmonic interest, and its rich-textured phrases provide much tactile pleasure, reminding one how intimate must have been the composer's knowledge of pianistic geometry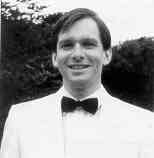 Murray McLachlan is Pianist in Residence at the University of Strathclyde in Glasgow and is one of the UK's leading young pianists. He has performed with all of Scotland's major orchestras and many in the UK and abroad, under distinguished conductors, in a wide-ranging repertoire which includes over 40 concertos.
Born in Dundee and raised in Aberdeen, McLachlan received a grant for study at the prestigious Chetham's School of Music, Manchester .After winning the school's piano prize, he studied at Cambridge University where he was an instrumental Exhibitioner; and later worked with Peter Katin and Norma Fisher.
McLachlan's extensive discography includes the complete sonatas of Prokofiev, Myaskovsky and Kabalevsky; the major works of Khachaturian and the 24 Preludes and Fugues of Rodion Shehedrin. With Chetham's symphony orchestra, under Julian Clayton, he made critically-acclaimed recordings of Ronald Stevenson's two concertos and the six concertos of Alexander Tcherepnin.
McLachlan has on four occasions performed from memory the complete cycle of Beethoven's 32 sonatas. He broadcasts for BBC Radio 3 and BBC Scotland, and has given many performances of the great romantic concertos with such orchestras as the Royal Philharmonic, Manchester Camerata and the London Concert Orchestra. Overseas appearances have included British Council tours to Belarus, Belgium and the Far East, recitals for the Paris Conservatoire and the University of South West Texas, and concertos in Malta.
In 1993, Murray gave the London première of John McLeod's piano concerto, and in 1995 the world première of McLeod's third piano sonata. As a chamber musician, he has worked with such distinguished performers as the Edinburgh String Quartet, the BT Scottish Ensemble, the cellist Alexander Baillie and the saxophonist Tommy Smith.
---
Review of this disc by Colin Scott-Sutherland
THE SCOTTISH ROMANTICS: Impressionist Piano Works by Hamish MacCunn,
John B. McEwen, and Alexander C. Mackenzie.
Murray McLachlan Piano.
Divineart Ltd 2-5003
For some reason (I think undoubtedly economic) the advent of CDs has unearthed a world of neglected unheard music - especially piano and vocal which previously had their home in the salon of the gifted amateur. I suggest economic - yet I also believe that there is a decided move towards a nostalgic realisation that what in the harsh light of the late twentieth century has been discarded, even reviled, for its sentiment, is now being taken up again, dusted over, and recognised for what it is - craftsman-like music that has a direct, even sensuous, appeal - what Bernard Shaw called one's "singing in
the bath musical stock".
A truly Scottish element in music has been difficult to assimilate in the classical language of the academies - and only now, in the music of such composers as Ronald Stevenson, are we hearing again what is derived from genuine Scottish folk sources - powerful yet often limpidly beautiful and not from the kind of tartan element that, at its worst, has its proper home on the terraces of Ibrox.This present disc is of the former variety - music of instant appeal - and from a company significantly styled Divineart Ltd. This CD also comes with a health warning "The divine art of music toucheth the very soule". Disciples of Nyman and Pärt need read no further - this is not for you.
But for the genuine music-lover this pot-pourri of "Scottish Romantics" will be something of a revelation. It will also be the cause of much frustration. Because this is the kind of music that the fairly competent pianist would rush out to buy and play. Alas, it will not be found unless in the boxes of the second-hand dealers. Three composers are represented - only one of whom will be at all widely known and that only for the one work. Hamish MacCunn (pictured so elegantly in Pettie's famous painting "Two Strings to her Bow) will certainly be familiar for his stirring overture Land of the Mountain and the Flood. Here however he is represented by his Six Scotch (sic) Dances - the outer movements echoing Bartok and Grieg, framing the Kerchief Dance and Plaid Dance - music of a delicate and unforgettable charm. A suave Valse (More Gallic than Gaelic) sophisticated as Poldini) concludes his contribution.
A.C. Mackenzie, one-time Principal of the R.A.M. (and according to Bax a man "with a notable gift of frenzy") is even less well known. Undeservedly. Odds and Ends they may be - but they are the expression of a highly cultured mind - with the fragrance of the Glasgow of Lamond). If Mendelssohn had been born in 1847 (instead of dying then) and had lived in Edinburgh he might well have written just such music as Chasse aux Papillons and Valse Sérieux - the latter reminiscent of Chopin certainly, but also of Raff and Moskowski. There will be few who do not at once warm to the lovely Schumannesque melody of his Nocturne (especially the tender rising end phrase of the tune) or thrill to the grand Victorian heroic element of the Ballade. The final spirited Harvest Home is a tour de force, yet within the competence of a good pianist - played here with great verve.
Rather more than half the disc is given to the entire piano output (with the exception of the big Piano Sonata) of John Blackwood (not Blackwell) McEwen also a former Principal of the R.A.M. - perhaps the least Scottish-sounding of the trio - certainly the most progressive in his use of the keyboard and the most impressionistic. While the suite On Southern Hills rather outstays its welcome the Quasi Minuetto (from Four Sketches) and the Sonatina will captivate the listener. The pianist Murray McLachlan, a persuasive advocate of much that is unfamiliar plays here a dual role and is superb in both. His exciting advocacy at the keyboard, is quite matched by his eloquent programme notes - some of the finest most literate notes by any musician that I have come across. No doubt some will criticise the hectic pace of his final Harvest Home but this really demonstrates quite conclusively his great joy in the music that is so far removed from the desperate aridity of so much present day expression. A disc to be highly recommended - music publishers take note.
Colin Scott-Sutherland
---
Return to: Mackenzie Page
Front page of Music on the Web
---