**************************************************************************

EDITOR'S CHOICE - FILM MUSIC CD OF THE MONTH - June - July 1998

***************************************************************************
Erich Wolfgang KORNGOLD

The Snowman (Act I); Fairy Tale Pictures (Premiere Recording); Overture to a Drama; Prelude and Carnival from Violanta Matthias Bamert conducting the BBC Philharmonic CHANDOS CHAN 9631 [65:41]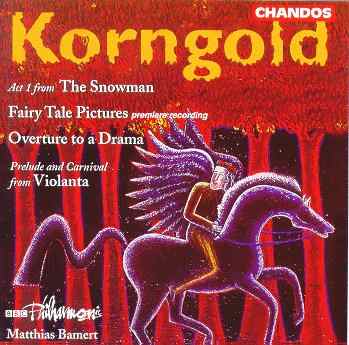 This is an important and fascinating addition to the Korngold discography. All the pieces here are early compositions dating back to when the composer was a child prodigy. No wonder his talent astonished such luminaries as Mahler, Reger and Richard Strauss and his works performed by giants such as Nikisch, Schnabel and Weingartner.
The earliest composition included is (the Prelude and Act I of) Korngold's ballet-pantomime The Snowman composed when the wunderkind was just eleven! It was orchestrated by his teacher, Zemlinsky. It caused a sensation, made Korngold an international celebrity and it conquered forty European stages. Quoting Brendan Carroll's excellent notes, "What makes this delightful music so remarkable even now is its completely 'Korngoldian' style; its personality, melodic ideas and harmony are all exactly like the mature Korngold. It is this extraordinary characteristic which sets Korngold apart from other prodigies." The story of the Snowman is another commedia del arte variation with Columbine being kept away from Pierrot by her fat uncle Pantalon (who fancies her himself). Pierrot disguises himself as a snowman to be able to stand outside her house and win her. The music is charming, very tuneful and so balletic - dancers would have every reason to be grateful for such graceful music. Much is waltz-inspired appropriate to the time and place (Vienna) of its composition. There are also comic and romantic touches - Pierrot's romantic serenade (a lovely melody) is given to a solo violin and a little oriental pastiche adds an interesting splash of colour.
The Seven Fairy Tale Pictures, originally composed for piano in 1910 were orchestrated by Korngold himself shortly afterwards when he was 13 years old. This orchestral version was performed only once in a rehearsal in Karlsbad in 1911 and never published or indeed performed until the BBC Philharmonic gave the world premiere performance in 1997 so this is its premiere recording. It is delightful and it clearly shows the way forward, the Korngoldian "fingerprints" are clearly discernible. Listening to "The Enchanted Princess", for example one is immediately reminded of the Sherwood scenes from The Adventures of Robin Hood. In "The Gnomes" Korngold shows his masterly sense of characterisation and the "Fairy Tale's Epilogue" has one of his most meltingly beautiful melodies.
The Schauspiel Overture (Overture to a Drama) was first performed in 1911 and was later in the repertoire of Fürtwängler, Mengelberg and Steinbach etc; it was played at the 1912 London Promenade Concerts making Korngold the youngest composer ever to be performed at this world-famous festival - a record he holds to this day. Again it is extraordinary. Listen to the eerie, mysterious opening - a sound world that could only be created by Korngold. Although this is absolute music - no specific drama was envisaged - there is romance and heroism aplenty and one could visualise the music scoring another Errol Flynn swashbuckler.
Finally to Violanta, Korngold's second opera - a Renaissance tragedy of lust, revenge and murder - written when Korngold was 17 and as such the most mature composition on this CD. The opera is richly orchestrated and atmospheric. Again, quoting Carroll writing about the Prelude and Carnival: "A strange and mysterious mood is created from the very first sounds we hear..." Korngold adroitly creates a heavy, doom-laden, sexually-charged atmosphere - the music for Alfonso cleverly ambiguous in accordance with his perceived promiscuity. The carnival scene is appropriately very colourful. The best of the later opera and film scoring is clearly foreshadowed here.
This recording is an absolute must for all Korngold lovers showing the film composer in the making.

Ian Lace
Discs on these pages are offered for sale via iMVS. American viewers might prefer to use this link to CDNOW. Please support this web-site
---