Erich Wolfgang KORNGOLD String Quartets Nos 1 (1924) and 2 (1934)

Flesch Quartet ASV CD DCA 1035 [57:31]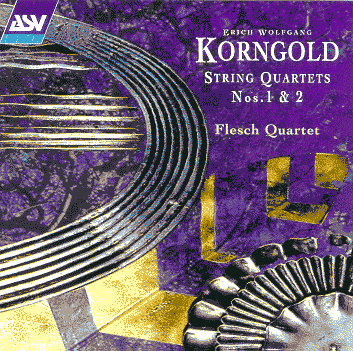 Rather like Lyrita, Hyperion and Chandos, ASV have established a house style for repertoire and booklet design. Their repertoire choice is quirkily swashbuckling. They are a label of exploration and adventure. ASV's choice of the Flesch Quartet is well and truly vindicated here as previously it was for the Rawsthorne string quartets. Their Viennese style of performance is accurately judged and balanced.
There is nothing of Hollywood in these two quartets, the second of which dates from just the year before he was invited to the USA. On first hearing the first quartet hardly registered with me at all. Later hearings reveal a work of half-lights and gentle melancholy. He had just finished Die Tote Stadt and at the age of 23 was enjoying a maturity which for most composers comes twenty years later. The work was premiered on 8th January 1924. The work had been two years in the writing. The world it evokes has much inwardness and a certain urbanity which I associate with turn of the century Vienna. It comes over as a sensually nostalgic work which is only a shading away from the chamber music of Herbert Howells (try the 1916 piano quartet and the 1923 string quartet). The quiet and sometimes skittish delight of Korngold's music surely reflects his love for Luzi whom he was to wed in Vienna on 30th April 1924. The last movement rather outstays its welcome. In Gramophone (Jan 1998) the reviewer of the Franz Schubert Quartet playing this work, Nimbus (NI5506), commented that the last movement had pre-echoes of the score for The Adventures of Robin Hood. In any event this is a strong work which encourages you to return.
The second quartet (especially the first movement) reminds me of John Foulds' Quartetto Intimo (on Pearl). It has some of that headlong tumbling energy and unbounded lyricism. Are the first movement's fanfare evocations deliberately echoing Beethoven's fifth I wonder. The second movement Intermezzo takes us on a stroll with the charming and unclouded Erich through the leafy Viennese streets. Everything is lovingly etched by the quartet. Perhaps this winning movement was the segment of the quartet which the Flesch performed in BBC's National Lottery Live programme in September 1997! If you enjoy the tuneful Bax String Quartet No.1 you are bound to like this as well. The following 9'02" Lento takes us back into the pastel, shadow and half-light world of emotion. The final waltz movement skips back to the world of the Intermezzo. It is difficult to believe that this work, premiered in Vienna on 16th March 1934, disappeared for years and had to wait until 1997 for its UK premiere. Presumably it was performed during Korngold's Hollywood years?
This is the first of two discs which will set out all three Korngold string quartets. The second disc (yet to be issued) will also offer the String Sextet. There was a 1977 RCA recording of quartets 1 and 3 (Chilingirian) and of No. 2 in a mixed Vox Box from the New World Quartet. I heard the Chilingirian a long time ago and recall fine performances and a dismissive review in Gramophone. The long-deleted Bay Cities disc of the second quartet (BCD1014) has a glowingly warm and husky performance which by a couple of degrees outpoints the Flesch in its gripping immediacy. There may be other recordings but I do not know of them . In any event here is an accessible and inspired CD of the first two and a strong pair of performances satisfying in themselves and whetting anticipation for the next disc. Perhaps the Flesch quartet will have a go at Bax's Third String Quartet a 40 minute work still awaiting its CD premiere?
On a personal note it is good to see violist Michael Ponder's name in the credits as producer. His viola playing no doubt gives him a sensitivity to the recording of string music which comes over very well in this disc. He has done some sterling work for various companies. His Klami collection on Naxos is impressively recorded.
Recommended then but not so much for the fan of full-blooded film music. If you enjoy chamber music you will relish these recordings and should snap them up without delay. Korngold completists will already be on the way to the shops!

Rob Barnett
---
Discs on these pages are offered for sale via iMVS. American viewers might prefer to use this link to CDNOW. Please support this web-site
---