| | | |
| --- | --- | --- |
| Erich Wolfgang KORNGOLD Piano Concerto in C sharp for the left hand Joseph MARX Romantisches Klavierkonzert in E Major Marc-André Hamelin (piano); Osmo Vãnskã conducting the BBC Scottish Symphony Orchestra HYPERION CDA66990 [64:39] | | |
| | | |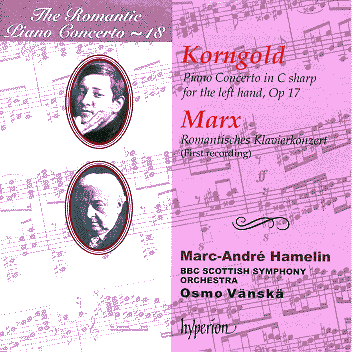 As readers may have probably noticed, this site refuses to be constrained by normal film music editorial policies. We will have no hesitation in including reviews of concert music by composers of film music and what better example to commence this policy than with music by Korngold who, with Max Steiner, really set the standards for symphonic film scores in Hollywood in the 1930s and 40s for so many successful Warner Bros films.
There is a definite link between Marx and Korngold. They were lifelong friends - in spite of a fifteen-year age difference between them and the gulf of exile which separated them when Korngold spent the years of World War II in Hollywood. They were both Austrian, both were typical products of the late Romantic tradition and they were both brilliant pianists. Marx was also an eminent teacher (for a time after the War he taught Erich's younger son Georg who would later go on to champion his father's music and, together with Charles Gerhardt, record 13 albums of classic film scores for RCA which did much to promote the genre).
This new album is a revelation particularly so the Marx work. It has been long neglected because it needs considerable pianistic virtuosity and, indeed, this is its first recording. The remarkable virtuosity of Marc-André Hamlin is therefore the perfect choice for this recording (he has earned a considerable reputation for his recordings of works from which many of his peers shrink away with horror - such as the fiendishly difficult music of Alkan). Here Hamlin treats us to a superb performance. Had it been more widely known in the 1930s and 1940s, film producers would have probably been falling over themselves to use this concerto as source material for their screenplays. It is very accessible, very melodic and full of the lush romantic gestures one associates with the music for the films of, say, Bette Davis - real chocolate-box and handkerchief material. Apart from a few heroic figures the accent of the music leans more towards the feminine. The influences are very diverse: Brahms, Lizst, early Scriabin, Rachmaninov and, in the central Andante, a mixture of Delius and, briefly at one point, the syncopations of Gershwin.
Korngold's Piano Concerto for the left hand was composed for the celebrated one-armed pianist Paul Wittgenstein. (Later, Richard Strauss, Franz Schmidt, Paul Hindemith, Sergei Prokofiev and Marice Ravel - among others - would also be approached.) Whereas Marx's Concerto is truly rooted in the Nineteenth Century, Korngold's more acerbic work is clearly a product of the Twentieth. Marx's treatment of his work in giving so much interesting material to the orchestra so that it does not play a merely supportive role to the soloist, would suggest that his concerto is more a symphony for piano and orchestra; likewise, Korngold's work, written in one long movement, and again giving much weight to the orchestra, might be considered a symphonic poem for piano and orchestra. Korngold's writing for the soloist is so imaginative and skilful that one frequently forgets that it is only one hand fleeting over the keyboard. The work itself is full of drama and passion employing most unusual aural colours.. Ironically, it anticipates the bitter, dramatic terseness of his late Symphony in F sharp. Although it was written in 1923, one can clearly hear a pre-echo of themes he would use in Hollywood in the next decade or two.
Vãnskã and the BBC Scottish Orchestra provide splendid flamboyant accompaniments and this album is unreservedly recommended to film music devotees. It should be mentioned that an equally fine recording of Korngold's Piano Concerto exists on Chandos (CHAN 9508). The all Korngold programme on that album also contains the Military March, Symphonic Serenade for string orchestra and Korngold's Cello Concerto written for the Warner Bros film Deception starring Bette Davis Paul Henried and the consistently-excellent Claude Rains.

Ian Lace
Discs on these pages are offered for sale via iMVS. American viewers might prefer to use this link to CDNOW. Please support this web-site
---
---